Get a Notarized Translation in a Safe and Fast Way
Some legal, medical, or business situations require getting documents notarized before submitting them. 
A notarization process may seem complicated, but when you possess the right information, you can go through it smoothly.
Do you need a notarized translation? DoNotPay provides useful advice and explanation of various notary services.
Should You Use a Certified or Notarized Translation?
When you need to provide a professionally translated document, you'll be required to present proof that you used a qualified professional and service. To be able to provide this proof, you can choose:
A certified translation

A notarized translation
These two types of translation don't have to be used together—in some situations, you can present only a certified translation. Some institutions might ask for both.
What Is a Certified Translation?
A certified translation is when a translation agency or translator provides:
A translated document 

A signed and stamped certificate verifying that it is a true, complete, and exact translation of the original document
This type of translation is mostly required for legal documents, such as:
Immigration documents

Court transcriptions

Business contracts

Adoption agreements

Birth

, marriage, or death certificates
The certificate of accuracy includes the contact information of the translation agency or the translator of the document.
What About a Notary Translation?
You can get a notary translation by a notary public who provides different notary services. This type of translation is usually required for:
School transcripts

Foreign

diplomas

College or university documents 
If you need to get a notarized translation, you should:
Take the translation to a notary

Show a valid photo ID

Swear an oath to the accuracy of the provided translation

Sign an

affidavit
The process finishes when the notary public puts his or her signature and seal on the affidavit. 
Notaries don't check or attest to the accuracy or quality of the translation. They only verify the signer's:
Identity

—a notary checks a valid government-issued photo ID document

Awareness

—a notary confirms the signers understand what they're signing

Willingness

—a notary validates the signers are signing the document of their own free will 
Some U.S. schools, universities, and companies require both a certified and notarized translation of transcripts, certificates, or personal documents. To be sure whether you should get a certified and notarized translation, you should get in touch with the institution where you need to submit the documentation. 
How To Get Notarized Translations
To get notarized translations of any documents, you will first need to find a notary public. A translation agency may cover this step as well, but that is not always the case. Here are some ways to search for a notary:
| | |
| --- | --- |
| Ways To Find a Notary | What To Do |
| Apps and websites | Use apps and platforms, such as: |
| Financial institutions or banks near you | |
| Other places | Visit some: |
Pick a Notary To Suit Your Needs
A notary public is a person who is familiar with the notary regulations and procedures of your state. Some notaries only work in an office and will ask you to come to their place of work after you've scheduled an appointment, but others might be more flexible. Here's a list of different notaries you can get a notarized translation from:
Use DoNotPay's Cost-Effective and Practical Notary Services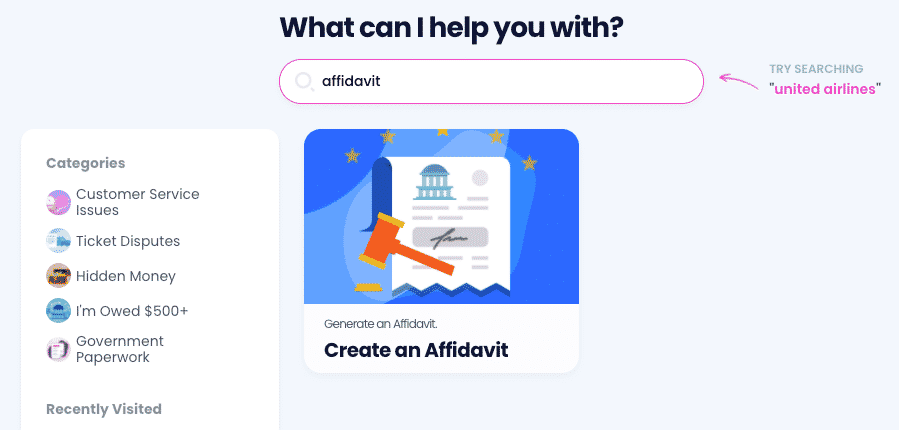 DoNotPay provides convenient online notary services. Get your documents notarized from any place and at any time. 
Don't waste your time:
Searching for notaries

Getting in touch with them

Scheduling an appointment

Driving to their office
Stay where you are, and we'll bring a notary to you via a video call! 
How can you do this? Sign up for DoNotPay and follow these quick steps:
Choose the

Notarize Any Document

feature

Upload the document you need to get notarized

Enter your email address

Go to your inbox
DoNotPay will email you a link—click on it to confirm your appointment with a notary. What should you do next? Make sure to join the video call at the agreed time.
We can get documents notarized in numerous states, such as:
How Else Can DoNotPay Help You Find and Save Cash?
Our Missing Money feature helps you find any unclaimed assets in your name in any state. An additional perk is that you can claim your money right in the app—no need for further research!
We can also make sure you don't pay for any unfair parking citations and get the rightful compensation from airlines for any canceled or delayed flight. 
Don't let big companies scare you into not claiming your warranties or insurance. DoNotPay helps you file these claims and appeal any rejections in minutes, which brings you closer to getting your money.
We can also delay your bill payments, get your college fees waived, or sign you up for paid clinical trials to earn some extra cash!
DoNotPay Keeps the Spammers Away
Whether you're dealing with email spam, text scammers, robocalls, or severe harassment, DoNotPay can help. 
Use our virtual credit card or the Burner Phone feature to sign up for free trials safely—without revealing your real info. DoNotPay will make sure that no company can reach you when you use our tools. 
We provide a fake email address, credit card info, and phone number that are in no way connected to your real data. 
We can also help you cancel services or request a refund without you having to contact the company directly.