Mobile Notary Cost Explained
Are you thinking about hiring a mobile notary because you're too busy to go to a notary's office? If you are wondering how much a mobile notary costs and whether hiring a traveling notary is the best option, DoNotPay is here to provide the answers.
Learn how to have your documents notarized without wasting money on a mobile notary. and get connected with an online notary in your state in a flash!
Notary Fees From A to Z
While every notary public charges different fees for notary services, most states in the U.S. set the limit on maximum fees that a notary can charge. A few states—such as Iowa—don't impose a limit but allow notaries to establish the fees freely, as long as they are reasonable.
Notary fees usually range from $0.25 to $20 per person, signature, or notarial act, depending on the state.
When it comes to home loan notarization, notary signing agents have the right to charge a higher fee because the process is time- and energy-consuming. Some notary signing agents charge up to $100 for notarizing home loan documents.
All notaries are obligated to display their fees in a visible place in their office or on the website.
How Much Does a Mobile Notary Cost?
Aside from the regular fees for notarial acts, mobile notaries can also charge travel fees. The total cost of mobile notarization depends on:
The number and type of documents you need to get notarized

How far the mobile notary you hire needs to travel

Your state's laws regarding mobile notary fees
While some states— such as New Hampshire—dictate the highest amount traveling notaries can charge per mile, Montana and many other states allow notaries to determine the prices on their own.
Not all states allow notaries to charge a travel fee. For example, mobile notaries in North Carolina can only charge the regular notary fees, no matter how far they need to travel.
The best option is to get in touch with a few notaries, inquire about their travel fees, and find out which notary is the most affordable one.
Is Wasting Money on a Mobile Notary Necessary? Learn About Other Notarization Options!
Hiring a mobile notary each time you have to get your document notarized can be expensive. If you wish to save some cash and don't mind visiting a notary's office, you can have your affidavits, real estate deeds, and other contracts notarized the traditional way by following these steps:
Finding a notary

on Google or one of these public institutions:

Scheduling an appointment

Gathering your documents and bringing them to the notary's office

Providing your ID for identity verification

Confirming that you know what's written in the documents

Acknowledging that you're signing the contracts willingly

Paying notary fees

Signing the contracts in the presence of the notary

Waiting for the notary to compose a notarial certificate and place his or her

notary signature

and stamp
In case your contracts or copies of documents are in digital form, you can head over to an electronic notary's office. The e-notarization process is the same as the traditional one. The only difference is that you should email the documents instead of bringing them. E-notaries provide notarial certificates in digital form. The certificate is marked with the notary's electronic signature and stamp.
If you—like most people—don't find these options convenient, you should get your documents notarized by an online notary.
Online Notarization—The Most Practical Way To Take Care of Document Notarization
Remote notarization is a convenient and time-efficient way to have your documents notarized whenever and wherever you want. All online notarization platforms work on the same principle:
You log in and upload the document you want to get notarized

The platform connects you with an available online notary via a video call

The notary verifies your identity, witnesses your signature, and performs a notarial act virtually

You get a notarial certificate, signature, and stamp on your document in digital form
Since the entire process takes a few minutes, you save a lot of time.
Online notarization may be quicker and simpler than the standard notarization procedure, but some platforms can be rather expensive. With DoNotPay, you can have your contracts notarized without paying an arm and a leg.
DoNotPay Connects You With Online Notaries in a Matter of Minutes!
DoNotPay's main goal is to help users solve all administrative issues as quickly as possible, which is why we created the Notarize Any Document product. Our app will enable you to book an appointment with a 24/7 online notary to notarize your wills, car titles, powers of attorney, and other contracts in no time.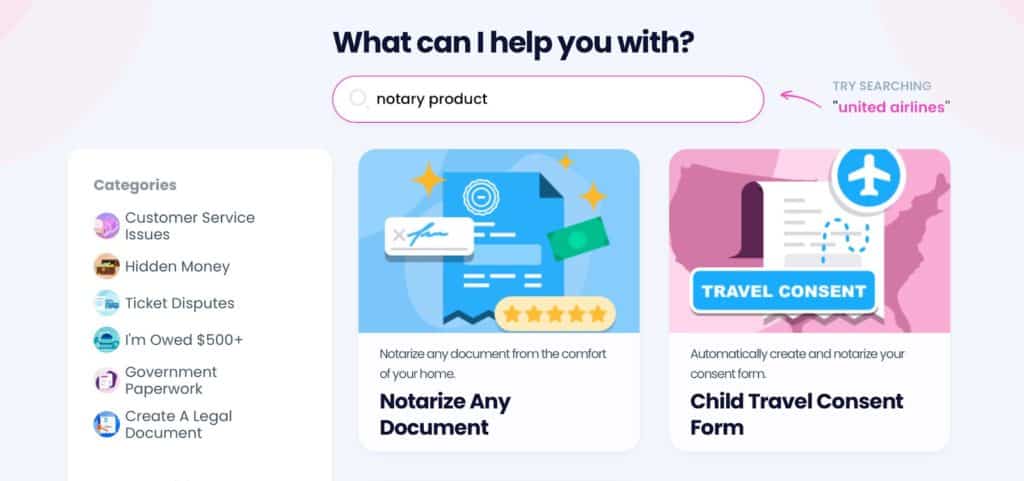 To use our product, follow these steps:
Open our

Notarize Any Document

product

Upload your document

Provide your email address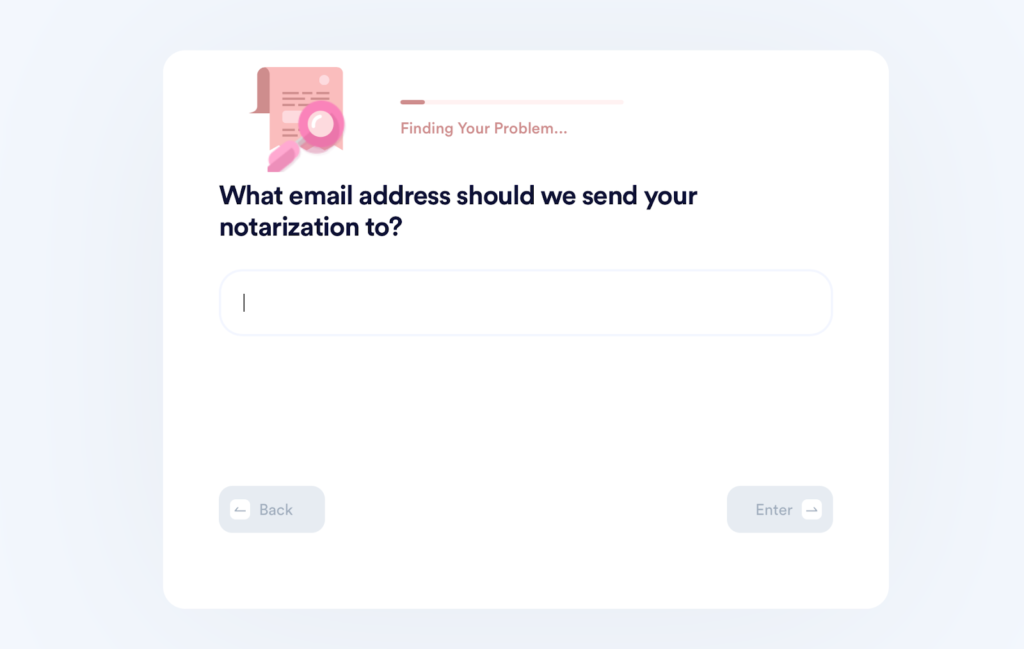 As soon as you click Submit, we will send you an email with a link that will redirect you to a webpage where you can schedule a meeting with a notary. Our app also allows you to create various legal documents—including lease and custody agreements—and have them notarized in one go.
You can count on us to help you take care of document notarization in any state, including:
If you're still not convinced, the following table will show you why DoNotPay is the most convenient solution for document notarization:
| | | | | |
| --- | --- | --- | --- | --- |
| Notarization Type | Effective | Convenient | Time-Efficient | Budget-Friendly |
| Mobile Notarization | Yes | Yes | Yes | No |
| Traditional Notarization | Yes | No | No | Yes |
| Electronic Notarization | Yes | Yes | No | Yes |
| Online Notarization | Yes | Yes | Yes | Usually no |
| Notarization With DoNotPay | Yes | Yes | Yes | Yes |
DoNotPay Can Do Your Paperwork for You!
Feeling like you're in bureaucratic hell? Our app will draft the paperwork you need and get you out of any hurdle before you know it!
We can compose most of the documents that you require for any administrative purpose in your jurisdiction, most notably:
More of What We Can Do for You
Our multifaceted app can call and record the conversation with the customer service of the company that just won't let you go! If you are having trouble canceling an unwanted service via the traditional channels, use DoNotPay to get it over and done with!
We can help you stop the persistent robocalls and robo texts from the nagging company and request a refund for unused services in a matter of minutes.
We'll also lend a helping hand in stopping spam mail—whether it's electronic or paper. Our Spam Collector product unsubscribes you from unwanted emails and cleans up your physical mailbox too!