A Detailed Guide to Alabama Homeschool Cover Schools
Parents nowadays have more options when it comes to teaching at home. The learning environment and methods mostly depend on the local homeschooling laws.
In Alabama, homeschool cover schools are a popular option among families who don't want their children to attend public schools. will explain how these cover schools work and present multiple choices you can consider.
What Are Alabama Homeschool Cover Schools?
Before the homeschooling law in Alabama was updated in 2014, parents could only have their children homeschooled by enrolling them in cover schools, also known as umbrella or church schools. The goal of these institutions is to:
Should You Enroll Your Child in a Cover School in Alabama?
When deciding on a homeschool option, you should always have your child's best interest in mind. Take a look at the table below to see the advantages and disadvantages of umbrella schools in Alabama:
Pros
Cons

Offering extracurricular activities and similar social events for children
Having regular support meetings for parents as well as a curriculum lending library
Getting transcripts and diplomas
Having graduation ceremonies for enrolled students

Charging fees (some schools)
Having to submit attendance records to the school
Requiring a statement of faith to enroll (some schools)
How To Enroll Your Child in a Cover School
If you want to start homeschooling your child in an umbrella school, you will need to:
Submit a church school enrollment certificate
Keep an attendance register
Comply with any policies established by the cover school
Most Popular Cover Schools in Alabama
You should choose the umbrella institution for your child with great care because opting for the wrong school will have a negative effect on the student and their future. There are numerous options available, but the conditions vary significantly.
Here is a list of schools to consider:
Asbury Academy allows parents to expose children to their religious belief system
Calvary School accepts students from every part of Alabama regardless of religion
Way Home Christian School provides administrative services to homeschooling families in every part of the state
Contemporary Education Academy is Bible-based and includes an online e-center and free placement tests
HOPE Christian Academy covers the entire state. This school provides diplomas, graduation, curriculum counseling, and record maintenance
Essential Church School accepts students from K-grade 12. It allows off-site instruction for families in the Birmingham metro area
Everest Academy has a year-round enrollment and accepts students from all parts of Alabama
Crossroads Christian School requires parents to be members of an evangelical church
You can also look for a cover school in your country if the ones mentioned don't seem like a good fit.
Other Options for Homeschooling in Alabama
Two more options are available to homeschooling families in Alabama as of recently:
Private tutor—You must hire an educator who is an Alabama-certified teacher
Private school—You can establish a home-based private school or use your home as an extension of an existing private school
Do You Need To File a Notice of Intent To Homeschool Your Child in Alabama?
Regardless of the homeschooling option you choose, you must send a letter of intent to homeschool to the superintendent of your school district. This notification will let them know not to mark your child as absent or truant in public schools.
It's crucial to include all required details in the letter, so you must compose it carefully. If you want to avoid writing this legal document yourself, you can turn to DoNotPay for help!
Use DoNotPay To Create a Notice of Intent To Homeschool in a Flash
Using DoNotPay to create a notice of intent to homeschool guarantees an airtight legal document. We will also handle the entire procedure fast, so you don't have to worry about deadlines. The world's first robot lawyer offers you the following options:
Downloading the PDF and sending it yourself
Having us send the letter on your behalf
Getting the letter of intent notarized with our help
These are the only steps to take:
Choose our Notice of Intent to Homeschool product
Answer a few questions about your school district
Provide us with the essential info about you and your child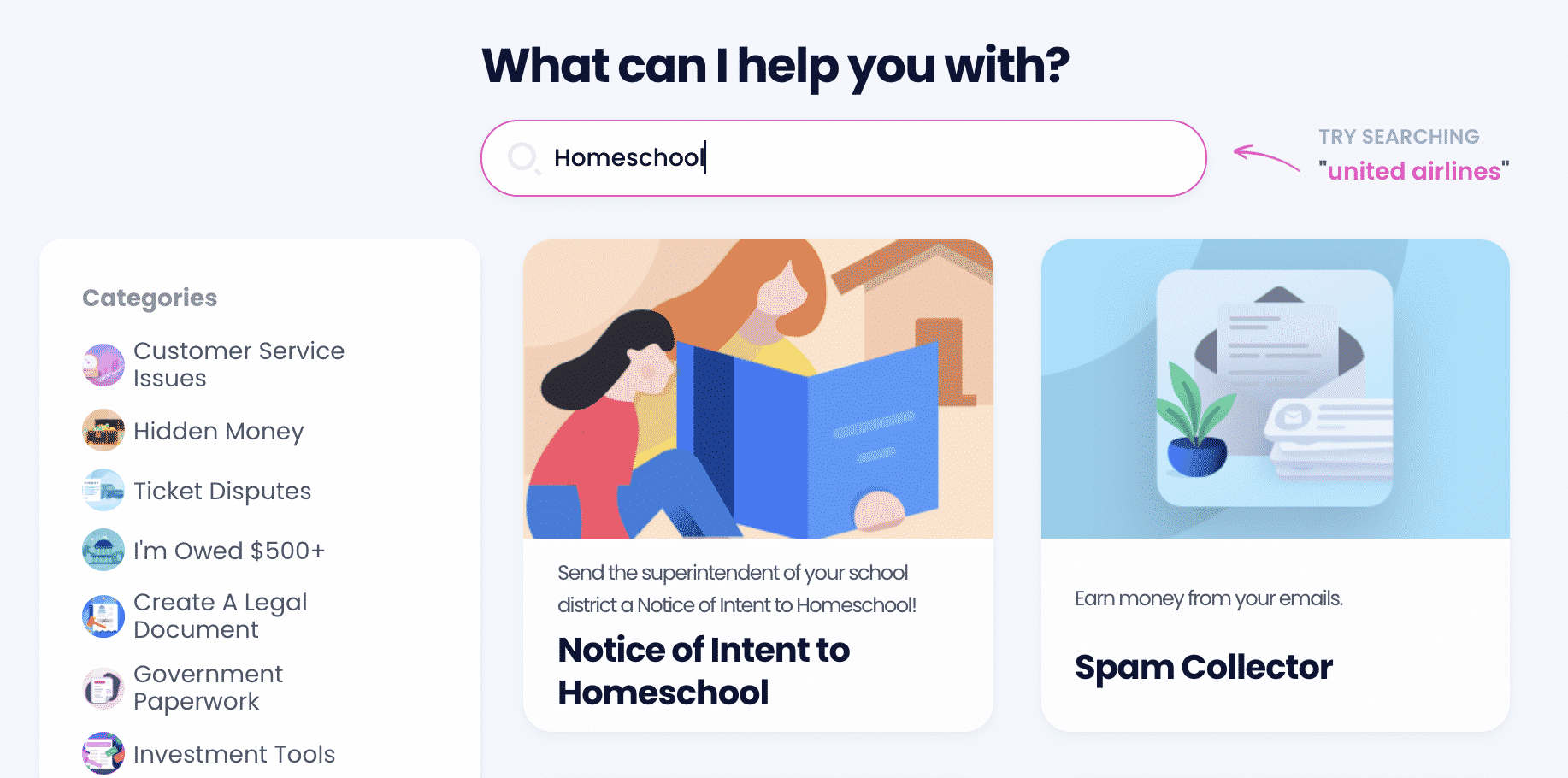 Homeschooling 101—DoNotPay Offers Valuable Info
There are numerous factors to consider before starting home-based education, and DoNotPay helps you tackle the essential issues, including:
Can DoNotPay Help Me With Any Other Admin or Legal Issue? You Bet It Can!
DoNotPay's robust products can assist you in fighting companies, individuals, and institutions that have wronged you in any way. Once you subscribe to our platform, we'll ensure that you never have to deal with any of the following again:
Our Product Range Offers So Much More
Subscribing to DoNotPay will bring you peace of mind as you won't have to go through tedious task completion on your own anymore. With our AI-powered app, you can get what's rightfully yours in the blink of an eye.
If you want to claim warranty or insurance, find your missing assets, get compensated for a canceled flight or a violent crime that you were a victim of, track your missing parcel, or draw up a child travel consent form, divorce settlement agreement, power of attorney, or any other legal document, you can count on us to lend you a helping hand.
Sign up today to get access to the entirety of our product range and forget about dealing with time-consuming and energy-draining chores!