The Rundown of the Coinstar Gift Card Exchange
Does a Coinstar gift exchange work? Can you get real cash for your gift card at a Coinstar gift card kiosk? DoNotPay has all the answers!
, learn how the Coinstar gift card exchange works, and redeem the card for money in a few straightforward steps.
The Essentials of the Coinstar Gift Card Exchange
Initially, the Coinstar gift card exchange kiosks offered the opportunity to sell your gift cards for instant cash. The company doesn't have this service anymore, and the kiosks can now be used for other matters. Here is what you can do with your spare coins at a Coinstar kiosk:
Exchange coins for notes
Use your coins to get eGift cards
Donate to a charity organization
Add cash to your Amazon account
Buy Bitcoin
There is no fee for the exchange unless you are exchanging your coins for notes, in which case you will be charged an 11.9% service fee.
How To Find a Coinstar Gift Card Exchange Location
If you wish to use a Coinstar kiosk, here's what you need to do:
Go to the Find a Kiosk page on the Coinstar website
Enter your address, including the city, state, and zip code
Press Enter
The page will show you all kiosks near you, along with the addresses and directions.
What Gift Cards Can You Get From a Coinstar Kiosk?
Coinstar partners with over 150 stores and restaurants to provide eGift cards in exchange for cash at their kiosk. A few are mentioned below:
Gap
Starbucks
Amazon
Apple
Lowe's
Nike
Red Robin
Sephora
For the full list, check out the eGift Cards page on their website. The availability varies by retailer and kiosk location.
How Does the Coinstar Gift Card Exchange Work?
You take your coins to a kiosk near you and select the card you want. Each eGift voucher works like a plastic gift card and has a unique code printed at the front. Whenever you need to buy something from a store you love or pay the bill at a restaurant, use your code to make the payment.
How To Exchange Your Gift Cards for Cash
Coinstar might not be of much help anymore, but that doesn't mean you have to give up. If you have a used gift card lying around, you have the following options to convert it to cash:
| | |
| --- | --- |
| Method | Brief Explanation |
| Buy items using the gift card and sell them | There are two ways you can do this: |
| Sell it to someone you know | If you don't have any use for your gift card and know someone who does, give it to a friend or a family member in exchange for cash |
| Sell it online | Sell the card online on Facebook, Craigslist, or eBay. Bear in mind that you might not get the exact value of the gift card |
| Use a reseller website | A lot of websites specialize in reselling gift cards. If you don't find a more convenient option, you can resell it there. There is a risk of getting scammed, so make sure that you do proper research before going for this option |
| Trade your card for another one | Find an online platform that provides card exchanging services. You can exchange your gift card for different ones, such as: |
You might have multiple options to exchange your gift card, but we offer the easiest solution! Subscribe to DoNotPay to get your remaining balance back without a hassle.
Use DoNotPay To Get Your Cash in a Flash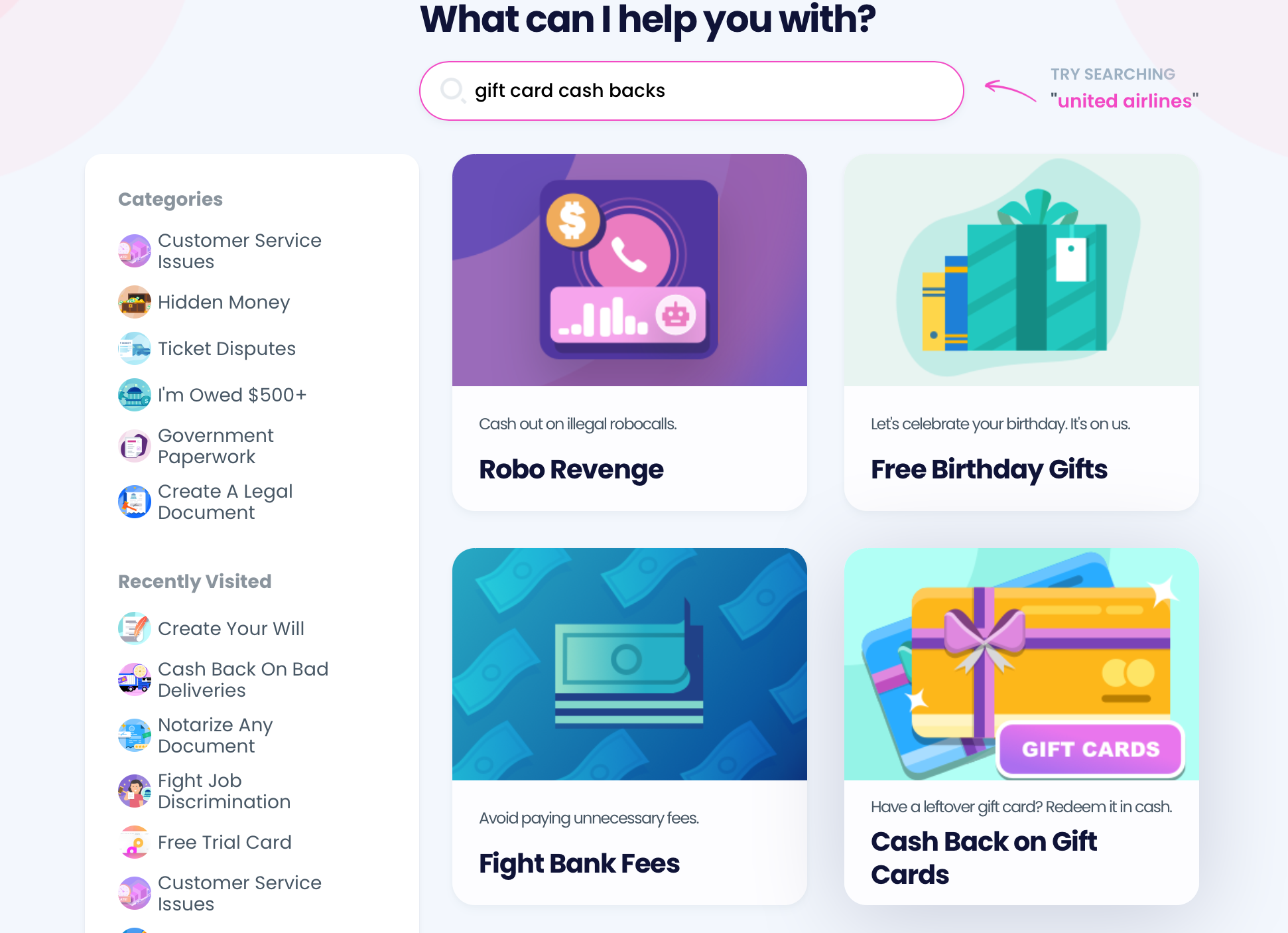 If you want to redeem the remaining balance on a gift card, use DoNotPay to do it without a hassle. With our exciting new Gift Card Cash Back feature, you can get your leftover balance as cash in a few steps. Here's what you need to do:
on your web browser
Go to the Gift Card Cash Back feature
Enter info about the gift card, such as the company, gift card number, and the remaining balance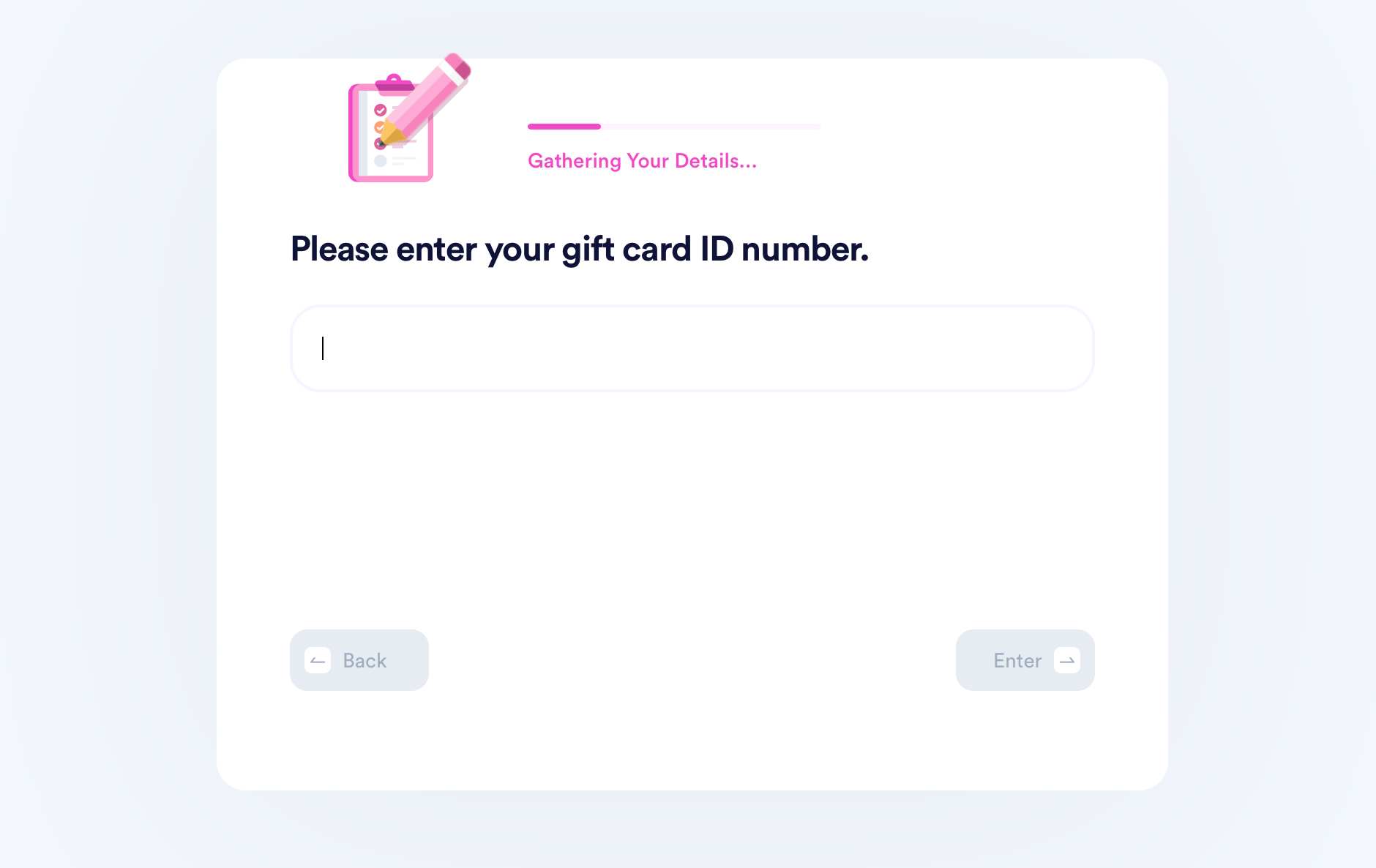 And you're done! DoNotPay will check if your state has a cash back policy and file a request on your behalf. Don't worry if your state doesn't have a cash back policy—we will try to locate the company's office in Puerto Rico or one of the 11 states where it's possible to get the gift card cash back and send your request there. You should receive your money within three weeks.
DoNotPay Can Help You Check Your Balance on Various Gift Cards
Do you want to know where to get free gift cards? Or do you have a stack of used gift cards that you want to redeem for cash? DoNotPay's learning center offers numerous articles related to various cash back topics and company-specific gift cards. See the list below for more information:
Easy-Breezy Ways To Deal With Not So Breezy Issues
Administrative and similar tasks don't have to be as complicated as we've known them to be. With DoNotPay, dealing with paperwork and companies is done in a few clicks. Let the world's first robot lawyer help you:
Draft various legal documents
Money Troubles? I Don't Know Her!
As our app's name says, DoNotPay's mission is to put a stop to losing money and overpaying. We will help you get your hands on free trials and snatch free raffle tickets. DoNotPay can also provide solutions for you to get help covering bills and reduce your property taxes.
If you want to get some additional funds, use our app to sign up for clinical trials. You may also take our practice tests to ace a government test and land a better-paying job.
It doesn't hurt to check whether you are owed some unclaimed money, and we can help you with the application.