A Guide to Performing a Sheetz Gift Card Balance Check
Do you have a used Sheetz gift card lying at the bottom of a drawer? You can still use it, so don't throw it away. If you have some remaining balance on a Sheetz gift card but don't exactly know how much money is on it, you're in the right place. DoNotPay is here to provide a thorough guide on how to do a quick Sheetz gift card balance check.
That's not all! DoNotPay can also help you turn your gift cards to cash in a few clicks.
How Does the Sheetz Gift Card Work?
Sheetz offers both physical and digital gift cards. With Sheetz gift cards, you can:
Pay for gas
Buy food in Sheetz stores
Purchase coffees or beverages
Pay for a car wash
Sheetz gift cards can't expire, and you can redeem them at over 500 participating Sheetz stores. The value of a Sheetz gift card can range from $5 to $500.
Sheetz won't replace your gift card if you lose it or if it gets stolen.
How To Check Your Sheetz Gift Card Balance
You can perform a Sheetz gift card balance check in three ways. See the table below for more details:
How To Check Your Gift Card Balance
Steps
Online
You can go to the Sheetz website and follow these steps to check your balance online:

Type in your gift card number
Enter the verification number
Click on Check Balance

By visiting a store
Find the closest Sheetz store by doing the following:

Click on Find a Sheetz
Type in your address, city, or a ZIP code
Click on Search Nearby

Once you find a store in your proximity, head over there and ask the cashier to check your gift card balance.

There's also an option to search by state

Over the phone
Follow the steps below to find out your Sheetz gift card balance over the phone:

Call 1-855-899-0030 or 1-888-239-2856
Ask the customer support agent to check your balance
Provide your gift card number and verification number to the agent
You Checked Your Sheetz Gift Card Balance—What's Next?
If your Sheetz gift card balance check shows that you have a small amount of money at your disposal, don't throw the card away because you can still use it. Here are some ways you can take advantage of your used gift card:
Purchase items—If you have more than $10 on your gift card, it's still redeemable at any Sheetz store. You can head over to the nearest shop and spend the remaining money
Exchange the gift card—Various websites enable the exchange of one company's gift cards for other gift cards. You can visit one of them and find out how you can exchange your Sheetz gift card for a, let's say, Target or Amazon gift card
Give away or donate the card—You can always give your gift card as a present or donate it. Multiple charities accept unwanted gift cards as donations
Sell the gift card—You can visit a store or a kiosk that's designated for gift card reselling. You'll usually find them in malls. Another option is to sell your card online. Note that you'll probably get around 80% of your card's value if you decide to sell it
Get cash back for your gift card—Sheetz officially doesn't redeem gift cards for cash, but that's what DoNotPay's here for. to get your money back fast
After You Do Your Sheetz Gift Card Balance Check, Use DoNotPay To Get Your Money Back
Do you have only a few bucks left on your card? This probably means you can't sell it. So how can DoNotPay help you turn your gift card into cash? After you answer several questions, we will check your state's gift card cash back laws. If your state doesn't have a gift card cash back policy, we'll check if Sheetz has an office in one of the states that do and send your request there.
You should get your money back within 14 business days.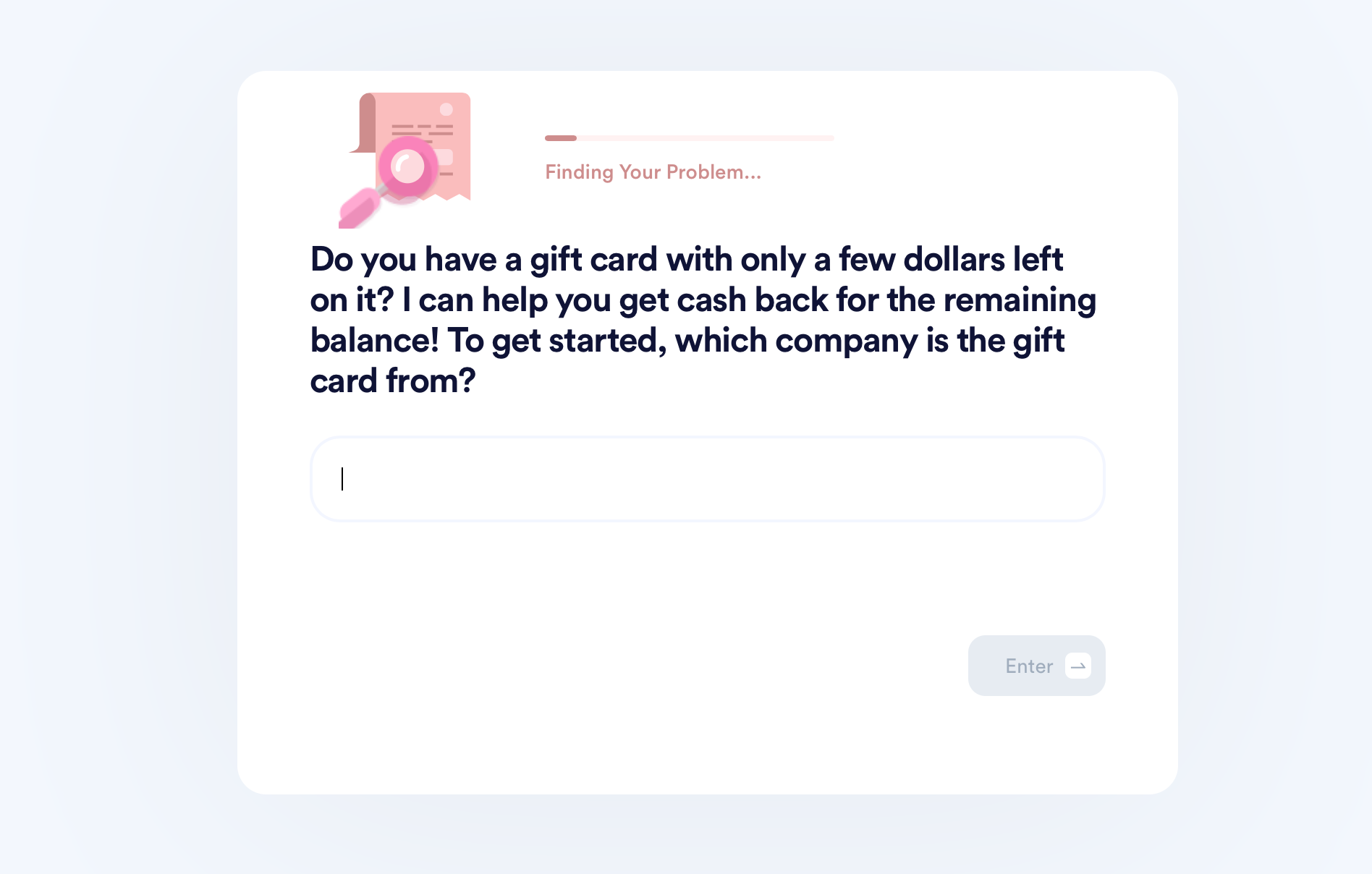 To send your cash back request in a matter of minutes, and do the following:
Find our Gift Card Cash Back product
Enter the details about your gift card, such as its number, the remaining balance, and the issuing company
Provide your email and click on Sign and Submit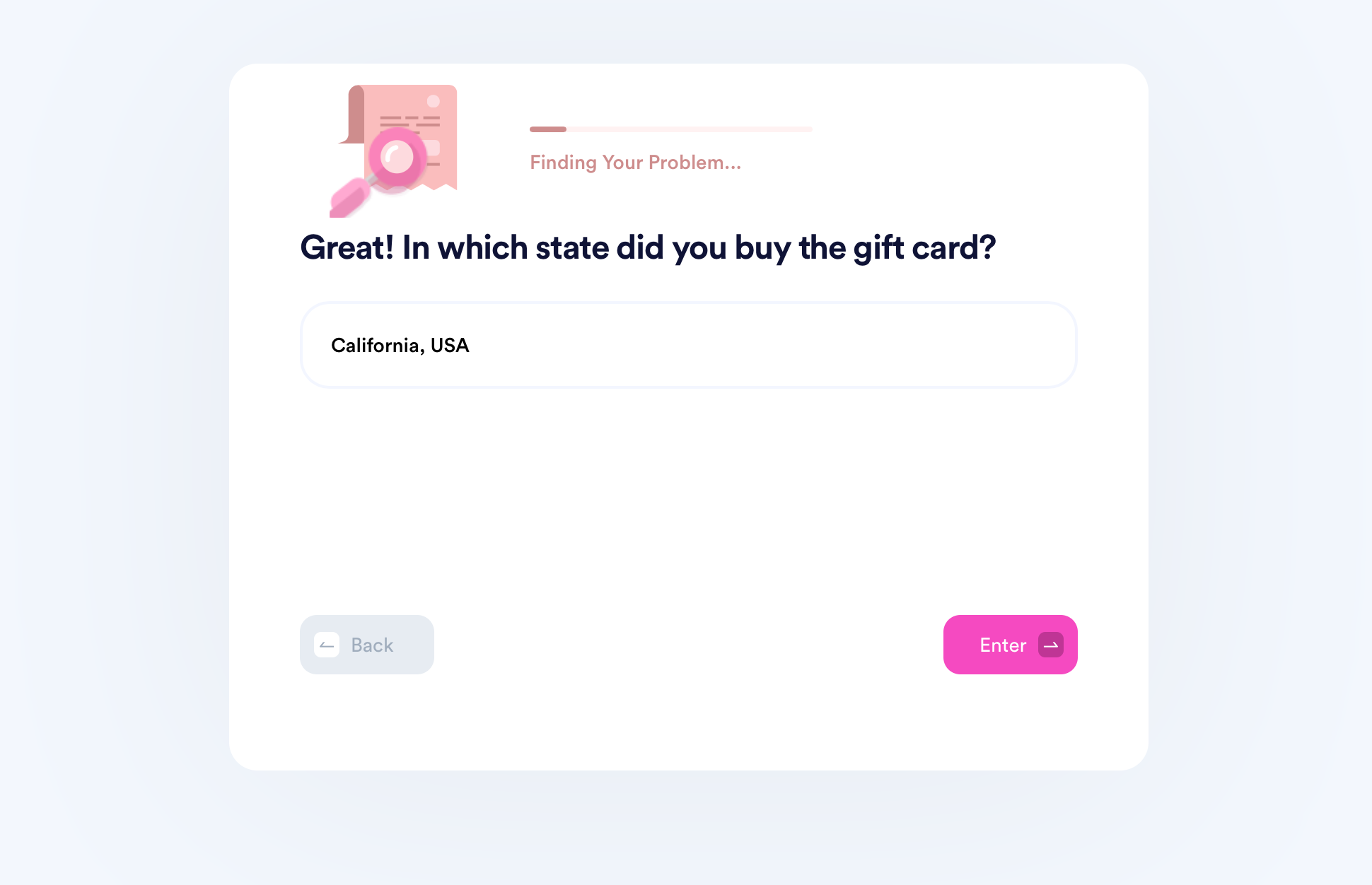 DoNotPay Helps With Other Gift Cards as Well
We have a learning center that you might find helpful. You don't have to sign up for DoNotPay to read our articles, but if you want your problem solved immediately, you should create an account.
Our platform offers information on how to:
Check gift card balance for any of these companies:
Use DoNotPay's Features to Your Advantage!
DoNotPay offers a myriad of helpful services you can use to resolve your everyday hurdles.
Do you need help paying bills or finding and claiming missing money? Are you interested in applying for clinical trials in your area? We can help you solve these and many more issues in no time!
Here are some other problems you can handle effortlessly with our help:
Hiring a Lawyer Can Cost a Small Fortune—Rely on DoNotPay Instead
If you're on a tight budget and can't pay a lawyer to help you create legal documents, file a claim in small claims court, or handle stalking and harassment, DoNotPay has a solution for you.
Our app will help you create various documents, including child travel consent forms and complaint letters for a problematic neighbor.
Are you a victim of a crime and need help applying for reimbursement of your crime-related expenses? You can sign up for DoNotPay and allow us to handle your crime victims compensation on your behalf.
DoNotPay can also connect you with an online notary and enable you to get your documents notarized from the comfort of your home.