WoW Account Banned—Everything You Need To Know To Recover It
Ban waves are common in World of Warcraft. Players' accounts get suspended and banned daily, so if you received a WoW account banned notice, know that you are not an exception.
If you are thinking about canceling your WoW subscription, you should try unbanning the account first. You can use our detailed guide to find out:
We will also let you know how you can skip the back-and-forth discussion with the support team by using the DoNotPay app.
If you want to learn more about a banned Roblox, Fortnite, RuneScape, Pokemon GO, Clash of Clans, or Rainbow Six Siege account, check out our handy guides!
Possible Reasons for Getting Your WoW Account Banned
Breaking any terms of use or rules listed in the Code of Conduct will get your account temporarily or permanently banned. The ban notification will come in the form of an email with detailed information about the violation you are accused of.
Some of the common reasons why players get banned from the game are:
WoW Account Suspended, Banned, and Silenced—The Difference
When WoW detects a violation on the game server, it will investigate the issue, assess the seriousness of the offense, and punish the wrongdoers accordingly. There are three forms of account penalties:
Silenced account
Suspended account
Banned account
Silenced Account
If your account is silenced, it means that other players reported you repeatedly for spamming or being abusive on chat. In this case, you won't be able to use in-game chat for a set time. With each new silencing penalty, the duration will be longer.
Suspended Account
A suspension restricts you from accessing your account. Players who are guilty of making a minor offense for the first time—like sharing an account—will get suspended. If you believe that Blizzard had no good reason to suspend you, submit a suspension appeal.
Banned Account
More serious violations—including cheating or selling accounts—will be punished with a permanent ban. Your account will be terminated, and you won't be able to use it again. If you did nothing to hurt the integrity of the game, WoW might have banned you by mistake. You need to appeal WoW's decision to recover your account.
How To Get Unbanned From Wow
You are allowed to stand against Blizzard's decision to ban you by sending an appeal. To initiate the process, you will need to submit a ticket on Blizzard's website. Follow these steps to get your issue sorted out:
Open the Blizzard Support page
Log in to your account
Pick World of Warcraft as your game
Click on the I would rather categorize the issue option under the form
Choose the Account category on the left-side panel
Select Appeal Account Action
Click on Appeal Penalty
Select Continue and after that Continue Appeal
Fill in the form
The most important segment is the description. You need to explain politely but convincingly why Blizzard should unban your account.
If writing appeals isn't your strongest skill, there is a way you can avoid that nuance—. We will compose a spot-on letter and give WoW reps no other choice but to prioritize your request.
How To Unban WoW Account With DoNotPay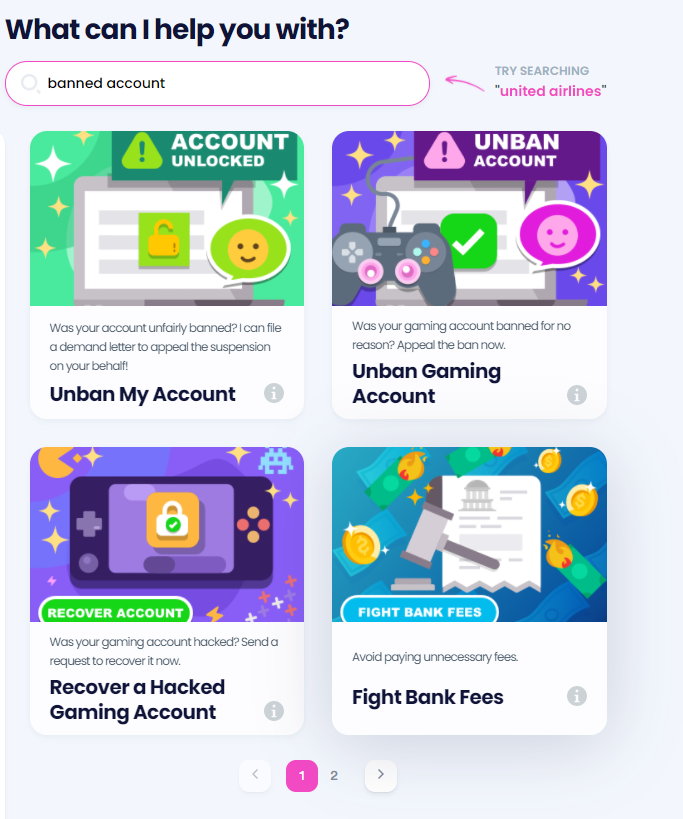 DoNotPay is an effective AI-powered app that will generate a customized demand letter and send it in your stead.
Sending an appeal with our app is as easy as it gets—all you need to do is:
Choose the Unban Gaming Account product
Answer a few questions, such as:

What the name of the company that banned you is
When got banned
What your WoW username is
Whether you want to request a refund
Finalize the questionnaire with your digital signature, and we'll craft a professional demand letter for WoW.
If you're having trouble with any other Blizzard account and are thinking about giving it all up and asking for a refund, know that the Unban Gaming Account product can get you out of that mess! If you got banned from Overwatch for no reason or made a minor offense and want to unban your account, open our app and follow the same three steps. The demand letter will be on its way in no time, and you won't have to worry about it anymore.
You can use this tool to resolve any issue with your gaming accounts, including:
Use DoNotPay and Submit Appeals to Any Platform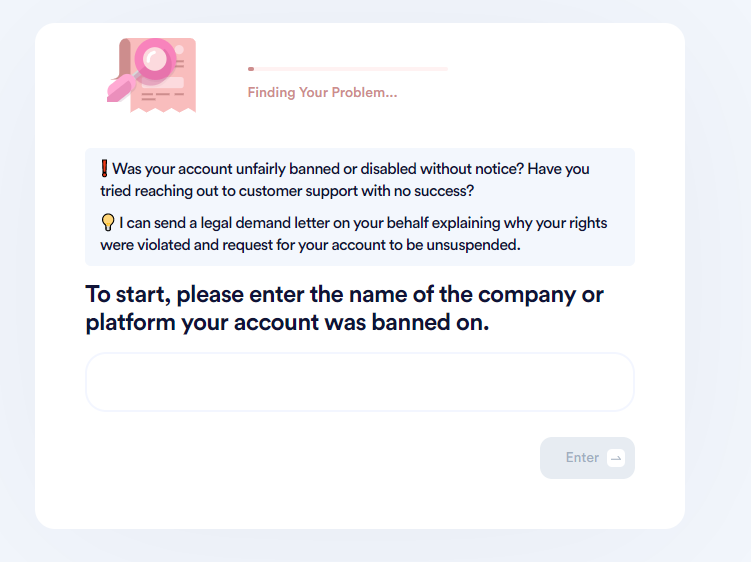 When your YouTube account gets suspended or Twitter bans you from the network, turn to DoNotPay. With the help of our app, you can get back on any platform or service.
Get all the information about what happens if your account gets locked, suspended, or banned on different platforms in our comprehensive guides:
Solve Your Legal and Bureaucratic Issues With DoNotPay
The primary purpose of our app is to provide you with practical tools that can speed up all the drawn-out tasks you must complete. All you need to do is choose a suitable feature from our offer and get your problems solved in a heartbeat!
Once you create an account with DoNotPay, you can:
Feeling Unsafe or Harassed? DoNotPay Can Help You!
Have annoying calls and messages become your everyday problem? Don't give up on your peace—rely on DoNotPay and deal with robocalls and restless text and email spammers easily.
We also take care of your privacy, allowing you to create burner numbers and virtual credit cards to avoid revealing sensitive information when signing up for various online services.
If you are being stalked by somebody or discriminated against at work, we will do our best to help you fight for justice and report the case accordingly! We will also safeguard your creative work from copyright violation and ask for violent crime compensation on your behalf.