Reddit Account Suspended—Recover It With DoNotPay
Finding your Reddit account suspended can be frustrating. If Reddit is crucial to your social life or your business, every minute counts.
DoNotPay is here to help. Our guide will explain all you need to know about Reddit suspensions and show you how to send an appeal to the platform to lift the suspension off your account. DoNotPay can also help you appeal the suspension with our Unban My Account feature by sending a demand letter to Reddit.
What Happens When a Reddit Account Is Suspended?
When your Reddit account is suspended, you will receive a notification and the reason for suspension. With a Reddit suspension, you can:
Log in to your account
View messages, notifications, and posts
Communicate with the admin
Delete/edit your posts and comments
If you have a Reddit suspended account, you will not be able to:
Submit new posts or comments
Send messages
Create subreddits
Use the advertising system
Vote
Edit Wiki pages
Moderators with suspended Reddit accounts will not be allowed to moderate pages, check moderator mails, or manage subreddit content.
Why Is My Reddit Account Suspended?
If you violated any of the terms in the Reddit Content Policy, your account will be suspended. Some of the common reasons for a suspension are:
Harassment
Violent threats
Cheating or engaging in content manipulation
Invasion of privacy
Posting sexually explicit media or suggestive content involving minors
Impersonating an individual
Posting illegal content
Interfering in the functioning of Reddit
According to Reddit, a suspension is there to inform you that you broke the rules and that your account has been connected to suspicious activities, but you have a chance to correct your behavior.
If you continue to break the rules, you may receive additional restrictions, and your account may be permanently suspended, or you could end up banned from Reddit.
Is Your Reddit Suspended—Were You Wronged?
Reddit suspensions are usually legit, but it could also happen that you are suspended for no reason. There could be an error in the system, or someone could have wrongly reported you. It could also be that your account was hacked and you have been wrongly accused of something that you didn't do. This is when you should get in touch with Reddit to unban your account.
Types of Reddit Suspensions
Your Reddit suspension can be temporary or permanent. You can check out the differences between them below:
| Type | Temporary Suspension | Permanent Suspension |
| --- | --- | --- |
| Reason | You violated the content policy | You violated the content policy, or your account is compromised, and you cannot recover it |
| Duration | A set number of days, determined by the gravity of the violation | Indefinitely |
| Public? | No, only visible to you | Yes, Reddit will post on your page that your account is suspended, and the announcement will be visible to other users |
How To Appeal Your Reddit Suspension Yourself
If you feel that your Reddit (or subreddit) suspension was unjust or incorrect, you can submit an appeal directly to the platform. It's important to stay calm and professional—but firm.
To send an appeal to Reddit, here's what you need to do:
Open the appeals form in your browser
Type in your username
Describe why you think you have been wrongly suspended
Check the content policy statement
Hit the Submit button
You can also appeal by replying to the suspension notification sent to you.
According to Reddit, they review appeals but do not guarantee the reversal of the suspension. They also do not indicate a timeline on when they will get back to your appeal request.
Appeal Your Reddit Suspension Using DoNotPay
You may have to wait for ages before you receive a response from Reddit. The good news is that you have DoNotPay as your pocket-sized assistant to appeal your Reddit suspended account. Instead of waiting for a response from Reddit, you can send an appeal letter and demand that your suspension be reviewed within two weeks.
To use DoNotPay, here's what you need to do:
Search for the Unban My Account tool
Enter your account details, including the ID, email address, and phone number
Describe the issue and any warnings you received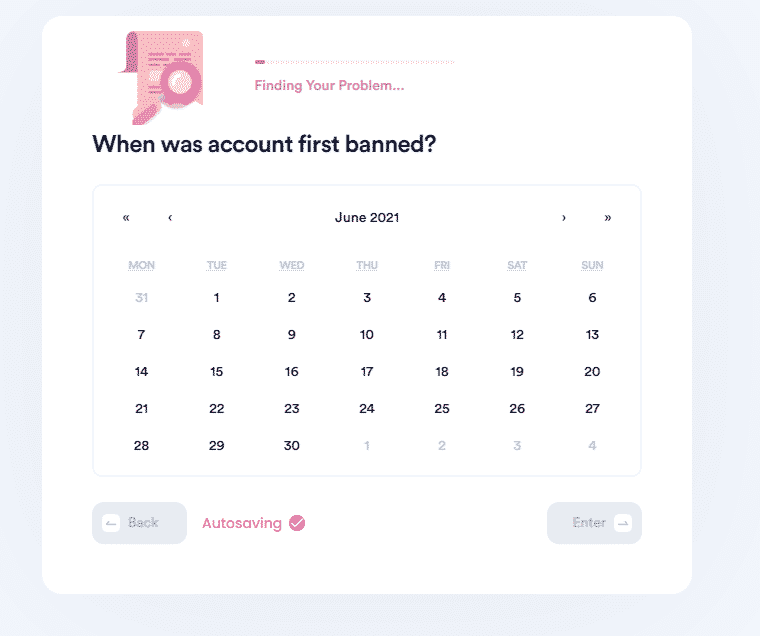 DoNotPay will send a demand letter with a two-week deadline on your behalf and request that Reddit representatives either lift your suspension or contact you with more information within that time.

DoNotPay Can Also Help You Get Unbanned From These Platforms
If your accounts are banned or suspended from other online platforms, you can take comfort in knowing that DoNotPay is here to help. You can use the Unban My Account feature to help appeal the ban or suspension on your other accounts anytime. Check out our guides on getting unbanned from other platforms:
Not Happy With the Outcome of Your Reddit Suspension? Sue the Company!
If you feel Reddit treated you unfairly, DoNotPay can help. You can use our app to get justice from any company that does you wrong by suing them in small claims court.
DoNotPay can save you ample time, money, and effort that you would otherwise spend on getting a lawyer, paying outrageous lawyer fees, gathering paperwork, filing a complaint, and preparing for court appearances.
DoNotPay Helps You Tackle All Kinds of Problems From the Comfort of Your Home
Are you too busy to go to Target, Walmart, or photo studios to get your passport photos taken? DoNotPay offers you the possibility of taking them yourself and having them edited without going anywhere!
Thanks to our app, you don't need to visit the post office if you want to initiate a return. You can also skip going to a notary office because we'll help you get your documents notarized.
Here are some other tasks you can complete with ease using DoNotPay:
We Help You Get Fuss-Free Subscriptions to Any Service
Interested in a specific service or platform? Make sure to get the best out of your free trial without getting charged and ending up with an unwanted paid membership. Even if you make a mistake, DoNotPay can end your subscription in a few simple steps!
Our system allows you to generate virtual credit card numbers to prevent platforms from getting your real bank details and using them for unauthorized transactions. We also offer burner phone numbers that will help you go through any subscription or verification procedure without disclosing personal details.