Twitter Locked Account—Why You Got Locked Out and How To Regain Access Effortlessly
Social media is an integral part of our lives, and being locked out of one of your accounts is immensely frustrating.
When it comes to Twitter, locked account issues can be resolved in a couple of ways. You can appeal your suspension by reaching out to the platform's customer support and asking for help. Bear in mind that they receive thousands of complaints daily and that you might have to wait some time before you get some help or feedback.
Our app has a quicker solution! Subscribe to our DoNotPay and use our Unban My Account tool to send an effective and urgent complaint regarding your suspended account. You'll get the info you need in a fraction of the usual waiting time.
Why Has My Twitter Account Been Locked?
There may be several reasons why you got locked out of your Twitter account, and the most frequent among them are:
Safety concerns
Twitter Rules violation
Age limitation
Strange activity
Twitter Suspended Due to Safety Concerns
Do you see a message or an email saying you can't access your account for security purposes? This means that the system detected something resembling a security breach. If there is the slightest possibility your account has been compromised, Twitter will lock it and notify you via email about this issue.
This message will also contain the steps you should take to confirm your identity and unlock your account. If you can't find this email, make sure you check your Junk, Spam, or Social folders.
Locked Account—Twitter Rules Violation
If you violate any of the Twitter Rules of conduct, your account access will be limited. This means you'll be able to:
Access your account
Browse posts
Send direct messages to your followers.
You won't be allowed to:
People who visit your profile won't see your tweets, but they may see a notification saying you are in violation of Twitter Rules.
Violation of Twitter Rules most frequently boils down to posting inappropriate content. This is why you might have to delete some Tweets before you move on to appeal the suspension. You should also be careful in the future as frequent Twitter Rules violations can get you permanently banned.
Twitter Locked Account—Age Limitations
It is against Twitter's Terms of Service to use the platform if you are younger than 13. In case you created your account before you turned 13, but now you are old enough to use it, you can appeal the suspension. Keep in mind that before you file a suspension removal request, you'll be required to delete the content you shared before you turned 13.
Twitter Suspended Due to Strange Activity
Strange activity in Twitter's terms includes aggressive following and engagement activity. If the security system detects such behavior on your account, your access will be suspended for a certain period, which will be specified in the suspension notification.
You will be able to continue to use Twitter but only within certain limits until your penalty period passes. You could try to regain access by verifying your personal data.
How Do You Unlock a Twitter Account?
Regardless of the reason why you got locked or banned from Twitter, the simplest way to file an appeal through the platform is this:
Log in to your locked or suspended account
Go to the Help Center
Scroll down to the footer to find the Contact us link
Click the link in the Locked and suspended account issues section
Fill out the offered form
In case you were suspended without the option to appeal or verify your data to speed up the suspension processing, you can also delete the suspended account and create a new one.
Still Waiting for a Response From Twitter? Locked Account Gets Unlocked in These Three Easy Steps With DoNotPay!
When you file a Twitter suspension appeal through the platform's support page, you may have to wait for an extended period before you receive any response.
DoNotPay has a quicker solution to your issue. Become our member and gain access to the Unban My Account tool that needs only a few pieces of your data to create an original complaint and help you get unbanned.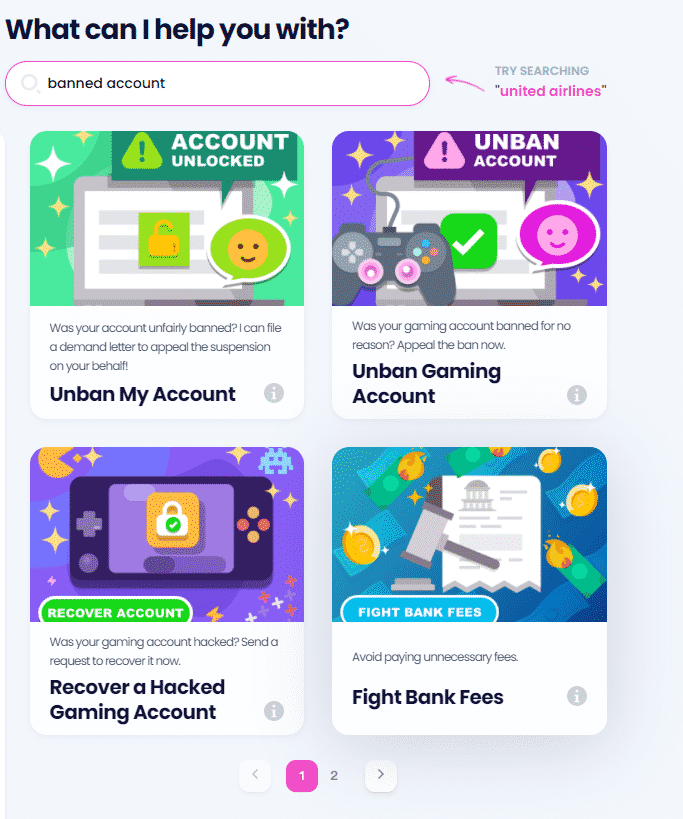 Here is how it works:
Type in the name of the company that banned you
Provide your account details like:

Account ID
Email and phone number
The date when the issues started

Tell us if you think your suspension or ban is a manifestation of racial, national, religious, or any other discrimination against you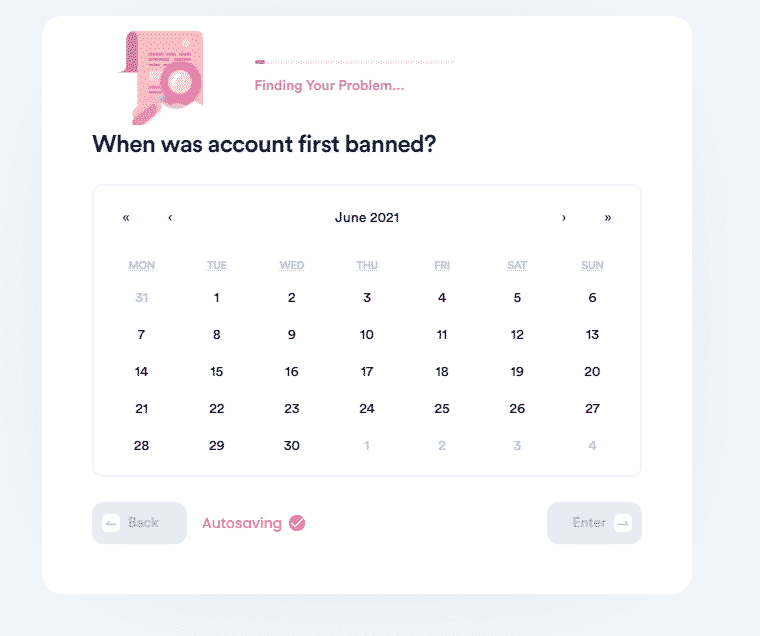 Using this data, our app will create a complaint letter and send it to Twitter, giving the company's complaints department two weeks to respond. This way, they will be pushed to set your case as a priority and do their best to provide you with feedback as soon as possible.
DoNotPay can help you in the same way if you've encountered suspension issues on other social media platforms, including:
DoNotPay's Abilities Exceed Social Media Platforms
Unban My Account wasn't built to provide help only with social media accounts. We can get you unbanned on many other platforms, including shopping, streaming, and emailing. A similar tool available through our app, Unban Gaming Account, helps you lift bans from your gaming accounts as well.
Take a look at the table below for some examples of the platforms we are here to assist you with:
DoNotPay Is Committed to Solving All Kinds of Problems for You
Are you lost in the sea of administrative tasks? By subscribing to DoNotPay, you gain access to many products and features that can assist you in:
Check Out What Our Robot Lawyer Can Do for You
Not too skilled at drafting contracts and agreements? Keep calm and let DoNotPay, your virtual assistant, do it for you! Our app can generate various legal documents, including divorce settlement agreements, child travel consent forms, and powers of attorney. All it takes is to click a few times or answer several quick questions—we do all the rest!
Besides providing personalized documents, DoNotPay takes over other tiresome legal tasks. These include having your documents notarized, filing lawsuits in small claims court, requesting crime victims' compensation, or submitting HR complaints.