League Account Suspended—Everything You Need To Know
If you recently had your League account suspended, you must have a lot of questions about it. Can you appeal the suspension? Why were you banned for no reason provided? If you got your League account suspended, this guide will help you figure out if you can recover it or not. You will also learn about the easiest and fastest solution for getting unbanned using .
Types of Suspensions in League of Legends
Riot Games gives players time to learn the terms of use and correct any unacceptable behavior by issuing penalties in varying degrees of severity. When a user gets their LoL account suspended, the suspension can mean:
Chat restriction for three days
Chat restriction for seven days
14-day suspension
Permanent suspension
The penalties are usually issued in that order. Chat restrictions mean that the number of in-game messages you can send is limited until the penalty expires. Repeated violations may result in a 14-day suspension and a permanent suspension eventually.
With every penalty, you are given evidence of what went wrong with your previous and current suspensions. Depending on the severity of the offenses, you can get a temporary suspension without previous chat restrictions or get an instant permanent ban.
Reasons for League of Legends Account Suspension
These are the most common reasons for getting your LoL account suspended:
Unacceptable behavior
Financial disputes
Undermined security
Unacceptable Behavior
A user can get suspended due to behavior that goes against the Riot Games terms of service. The League of Legends community can report fellow players for disruptive conduct through the Instant Feedback System.
This results in investigation and penalties if deserved. These are the most common examples of unacceptable behavior that can get your account suspended:
Harassing other users
Making offensive remarks to other players during the game
Spamming the chat room
Boosting your Matchmaking Rating (MMR)
Suspensions that fall under this category are difficult to lift, especially if the suspension reason is legitimate.
Financial Disputes
Your account can get suspended due to chargebacks or illegitimate transactions. The type of suspension due to payment issues may vary from one case to another, depending on the violated policy. You have to seek more details about your specific situation by contacting the support team.
To avoid future suspensions due to financial disputes, remember the following:
Ensure you have sufficient funds or credits before purchasing items in the Riot's store
Buy Riot Points (RP) from Riot Games only—avoid third-party sellers
Don't purchase anything without permission from the cardholder
Don't make several purchase attempts if they are declined
Undermined Security
Riot Games may suspend a user account if there is any suspicious activity because it can mean the account is compromised. It may also result from suspicion of account selling, which is a breach of the terms of use.
Although penalties in this category vary from case to case, it is possible to get further information about your particular situation and get unsuspended by contacting customer support.
To avoid future bans under this category, keep this in mind:
Don't share your password with anyone
Avoid clicking on suspicious or phishing links
Avoid buying, selling, or sharing accounts
Note that you may not get help from the customer support team if you aren't the original account owner in case of suspension in this category.
Can You Get Permanently Banned From League of Legends?
Riot Games permanent bans are possible but can rarely catch you by surprise. This means that before your account is permanently banned, you have:
Received evidence—chat logs, for example—that prompted your previous and current ban
Been banned before for inappropriate conduct
Been informed that further inappropriate behavior would result in a permanent ban
Depending on the severity of the offense, it's possible to get permanently banned without prior warnings or restrictions. When an account is permanently banned, you can't use it to play the game anymore. It's difficult to get unbanned from permanent bans that resulted from the Instant Feedback System or any other ban that is not a mistake.
How To Appeal League Account Suspensions
Riot Games uses an Instant Feedback System to gather information on any inappropriate conduct by the players of League of Legends. The system is not flawless, and a player may at times get an undeserved penalty.
In such cases, users are allowed to appeal the ban or suspension. If the penalty is legitimate, the chances of the suspension being lifted are low. If you had your League account suspended, follow these steps to send a request:
Visit Riot Games Support page
Click League Of Legends
Scroll down and click Submit a ticket
Choose Discuss a Personal Suspension, Ban, or Restriction under Choose a request type
Check the box to confirm your agreement with the statement
Type something under Subject, for instance, suspension appeal
Describe the issue under Description
Select the appropriate reason under Do you know why your account was restricted or suspended
Choose No under Have you shared this account with anybody else
Skip the check box for I am happy to share my support ticket with other players
Add any relevant attachments
Click Submit
Note that you must be logged in to submit your appeal. When explaining why your account should be unsuspended, don't use the excuse of someone else using your account at the time of the ban. Remember that you are responsible for any unacceptable behavior that is traced back to your account.
How To Submit Your LoL Suspension Appeal With DoNotPay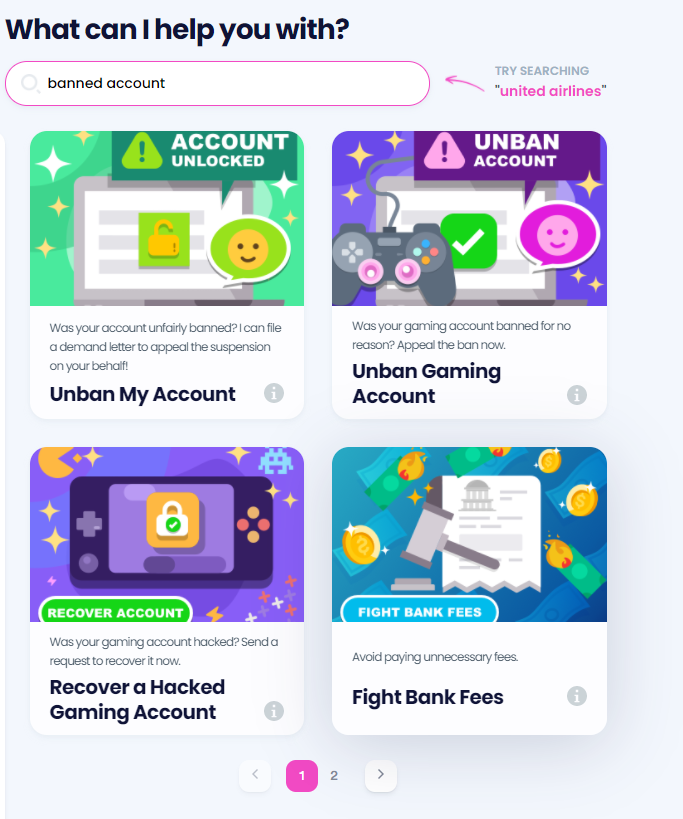 Appealing a suspension is not like pressing an automatic unban button. The quality of the appeal request you submit influences the company's verdict.
That is where most people get it wrong. If your suspension can be appealed, you should present a strong case. If you need help with drafting a strong appeal letter, turn to DoNotPay.
All you need to do is:
Find the Unban Gaming Account tool
Provide answers to a few questions
Click Sign and Submit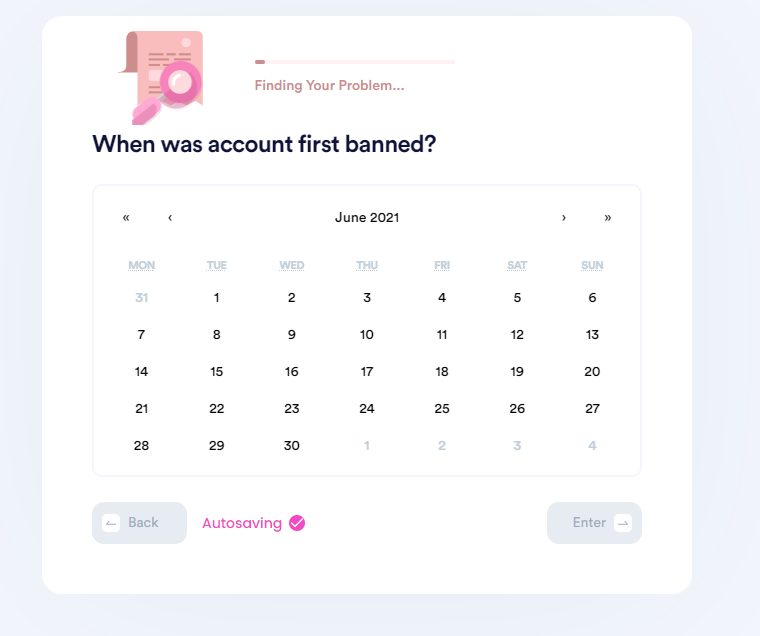 DoNotPay will automatically draft your custom letter and send it to Riot Games for you. The letter gives the company a two-week deadline to inform you of its decision. If you believe that you got suspended due to your religion, race, color, sex, national origin, disability, or veteran status, we will help you fight back.
You can also use the Unban Gaming Account tool for other gaming accounts, like Steam, Roblox, and Dark Souls 3.
Recover Your Suspended or Banned Accounts From Other Platforms
If you are having suspension or ban issues on other platforms, you can use our Unban My Account product to recover your accounts on your own schedule. Note that DoNotPay helps you appeal the original ban or suspension. If you have sent your request and received a negative response, appealing again won't do much.
Check out the following guides and learn how to solve other ban or suspension issues:
What Other Issues Can Our App Solve?
DoNotPay can support you through various burdensome procedures and turn them into a breeze! Here's a table showing a tiny part of our extensive offer:
DoNotPay Can
Services
Create various documents

Divorce settlement agreements

Powers of attorney

Many other legal documents

Protect your safety and privacy
Get your money back
DoNotPay Is Your Ticket to Simpler Life
Don't bother going through complicated tasks alone—we are here to take care of them! Seek our help if you want to get in touch with customer service quickly, fax anyone online, or get your documents notarized. Besides providing these amazing services, DoNotPay can make preparations for your travel adventures by assisting you in getting passport photos at home and obtaining tourist visas.