Uber Account Suspended—Mystery Solved
Getting your account suspended is frustrating for both drivers and riders. Why was your Uber account suspended? Do you have a chance of getting it back? These are the questions that any suspendee would ask, and DoNotPay has the answers!
Learn what could stand behind your suspension and what your options are for resolving the issue. DoNotPay can help you appeal the suspension with a top-notch demand letter!
How Will I Know That Uber Suspended My Account?
You'll know that your account has been suspended if the app shows one of the following messages:
Your account has been disabled because of an activity that violates our terms and conditions
Your account has been locked due to security reasons
Please contact support about your Uber account
Your account has been temporarily deactivated due to unusual activity on your profile
Why Is My Uber Account Suspended?
Community guidelines give general instructions of acceptable and unacceptable behavior to both drivers and riders. Uber can serve you a suspension if it finds that you violated its policy or community guidelines. Based on Uber Community Guidelines, you mustn't:
Disrespect anyone
Put someone's safety at risk
Violate the law
Drivers and riders must also respect the terms and conditions of using the app to avoid their accounts getting locked. You can review all Uber's policies on the website's legal page.
Note that if you haven't been online for 90 days, Uber will automatically suspend your account.
Why Was My Uber Driver Account Suspended?
Potential reasons behind your driver account suspension can be that:
Your background check is taking too long
Someone else has been driving in your stead
You have a low rating
Your acceptance rate is low
The vehicle documentation is inaccurate
You cancel the rides too often
The car you put on the app isn't the one you drive
You disrespected the rules of the Uber referral program
You weren't driving safely
Why Was My Uber Rider Account Suspended?
The following situations can lead to a suspension of your rider account:
You damaged the driver's property
You are using the same bank account on multiple accounts to claim credit
The rating of your profile is low
You used a stolen credit card or phone to request a ride
The ride you ordered was for an unaccompanied minor
You created a fake account to get promo codes
You were behaving inappropriately or disrespected the driver
How To Recover My Suspended Uber Account
There is no guarantee that you can get your Uber account back. Even if you don't find a reason for suspension, Uber might still refuse to lift it.
While the outcome may be uncertain, you should address this issue and try to get your account up and running again.
When you face a problem—whether that's a suspension or a banned account—you can contact customer service.
Here are your options for getting in touch with Uber:
Call customer service at (800) 593-7069
Select the Help option under your profile photo in the app and click on the Call Support button
Send a message in the app by finding the Send Message option under the Help section
Visit the office in person by booking an appointment at your local Uber Greenlight Hub
Find the Uber Support account on Twitter and tweet your question
Message Uber on Facebook
Reaching out to customer service doesn't always go smoothly. You might get a vague answer or wait for days to get a response. If you've ever had an issue with an online account—for example, you got locked out of Twitter or your Facebook profile was suspended—you know that the support team can fail to assist you.
When the company is ignoring you, there is a certified way to get a response. If you appeal your account suspension by using DoNotPay, we will make sure that Uber addresses your issue in no time!
DoNotPay Can Help You Get Your Suspended Uber Account Back!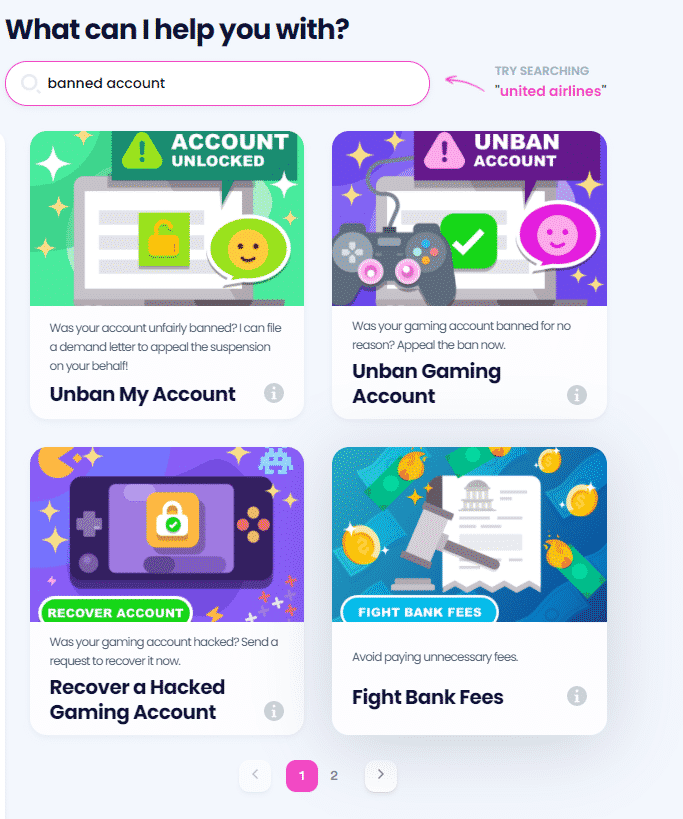 DoNotPay can help you appeal an account suspension or a Uber account ban. We will create a demand letter that will put legal pressure on the company to address your request. We guarantee that Uber will take your complaint more seriously with our help!
How does DoNotPay work? Take a few simple steps to start the process:
Find the Unban My Account product
Answer basic questions about the issue, such as:

What's the name of the platform?
What's your username?
Were you given any explanation for the suspension?
Did you have a paid account?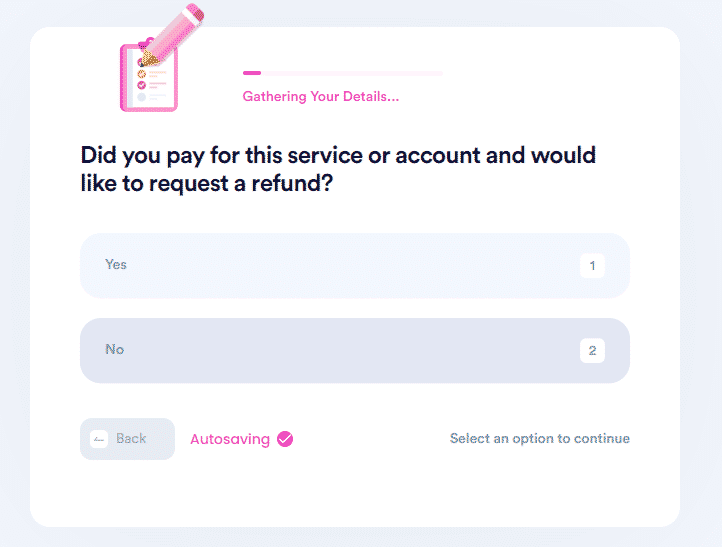 This is where your struggle ends. DoNotPay will send the demand letter and give the company a two-week deadline to get in touch with you.
DoNotPay Can Help You Recover Your Account From Many Platforms
No matter if you got banned from Facebook for no reason or you want to appeal the Twitter suspension, DoNotPay has your back. If you subscribe to our app, you will have a tool for appealing suspension or getting unbanned from any account.
Here are some of the platforms we can help you with:
Our useful guides can help you decipher why you got banned from Snapchat or what to do if the app locks your account. With our help, you can identify the issue and send your suspension appeal to Twitter, Facebook, Instagram, Uber, or any platform that is keeping you away from your account.
DoNotPay Is an App for Everyone
Whether you need help with drafting paperwork, searching through government databases, or managing your bills, DoNotPay has a feature that'll make your life easier. The number of features keeps growing, and you can check out a table showcasing some of them:
| | | |
| --- | --- | --- |
| Solving Legal Issues | Saving Money | Protecting Privacy |
| | | |
Get More Done With Our Do-It-All Platform
DoNotPay can take care of any daily hurdle you come across. For a small yearly subscription fee, you get access to various features that you'll find handy on a daily basis. Besides everyday chores, signing up for DoNotPay will help get you:
The list could go on for days. You can even get in touch with an inmate or fight for discrimination at your workplace!