Here's What To Do if You Got Overwatch-Banned for No Reason
Was your account on Overwatch banned for no reason? It's frustrating to find your account suspended or banned, especially when you believe you haven't done anything to provoke that.
Small mistakes in online conduct can slip by without you noticing, though. As they pile up, you can get banned, but the good news is that it's a solvable problem in most cases.
Blizzard has a support section you can use to appeal your suspension or ban.
If you'd like to speed things up, subscribe to DoNotPay and submit an appeal with our new tool—Unban Gaming Account. Our service can make sure you don't wait for weeks to get a response.
Overwatch Account Banned—The Potential Reasons
Overwatch is distributed via Blizzard Entertainment's platform Battle.net, so all Blizzard's player conduct policies apply.
These policies refer to players' behavior, and if a user violates any of the rules, others can report them. Reports regarding the following aspects can lead up to a suspension or a ban:
Communication—Vulgar, offensive, discriminatory, or any inappropriate language aimed at harassing or threatening other players. These rules apply to chat, voice communication, or group finder
Naming—All customizable names (player names, Battle tag, or guild names) must be formulated so as not to be offensive or inappropriate. Any offending account will be suspended or banned and the controversial name changed. Role-playing servers might have different standards when deciding if a name is inappropriate
Cheating—All actions giving you an unfair and unearned advantage over other players, such as using third-party programs for automation, exploiting bugs, or sharing the account, will result in a ban. Even stricter penalties await you if you are scamming, account sharing, or win-trading
Behavior—Any behavior intended to ruin the experience for other players is expected to be reported and penalized. False reports are also subject to penalties
The Steps To Take if Your Overwatch Account Is Banned
Blizzard's website states that if your account got suspended or banned, you should have received an email about the violation you committed. In case your account got hacked, which led to the ban, the company will provide the instructions to secure your account.
If you have problems with your Overwatch competitive account, the bans and suspensions can't be appealed.
To appeal a ban on a regular account, you can follow these steps:
Go to Blizzard's homepage
Click Support and then choose Contact Support
Close the pop-up and choose Account, App & Shop Support icon
Fill out the Tell us about the issue form or choose to categorize the issue and follow this path:

Account
Can't log in
Appeal ban or suspension
Contact us

Click Can't log in?
Select My Battle.net Account is locked
Type in your email address and click Continue, or go straight for Contact Customer Support and then provide your email address and other data they might request
Once you submit a ticket, there is a waiting period before you receive a reply. If you've received a final response, the company will ignore your subsequent appeals, and there are no actions you can take against this decision.
Overwatch Account Banned for No Reason? Customer Support Unresponsive? Act Quickly With DoNotPay!
Contacting customer support to complain is often unproductive.
Is there a more efficient way to get unbanned from Overwatch?
DoNotPay can help you get unbanned by putting some pressure on the company handling your gaming account.
Our Unban Gaming Account tool is designed to collect your account information, compose a strong demand letter, and send it to any platform, including:
This will prompt them to prioritize your complaint instead of ignoring it, which is not rare.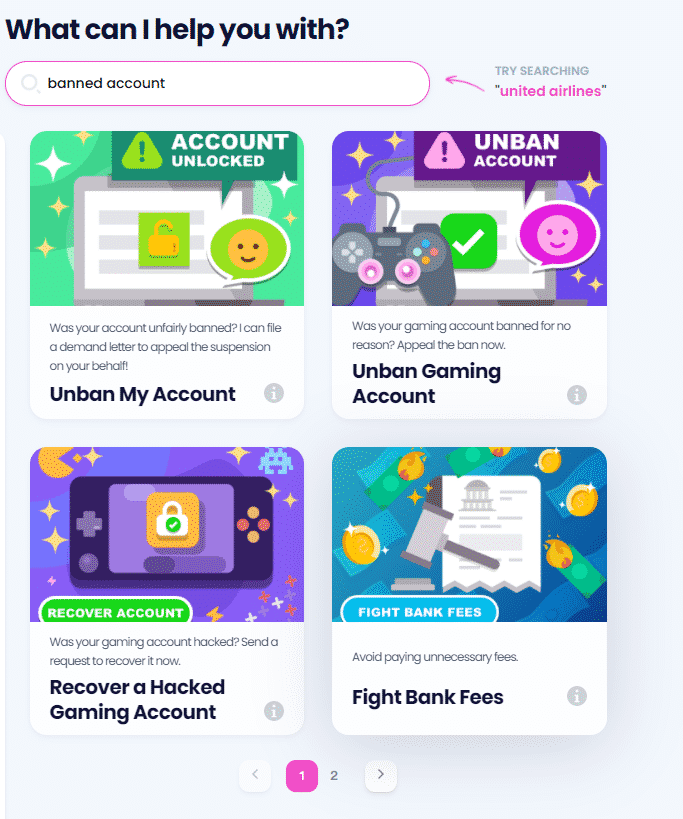 Here's all you need to do to speed up your appeal process:
Log in to DoNotPay and click Unban Gaming Account
Answer a few questions to let us know:

What your account details are
When the problem occurred
Whether you made any payments towards the platform and whether you'd like them to be refunded

Pick the corresponding option from our list to let us know if you feel discriminated against (discrimination based on race, gender, religion, etc.)
With this info, we will create a comprehensive demand letter and send it to the platform with a two-week deadline to unban your account or provide additional details.
DoNotPay Is Here To Help You Get Unbanned on Many Other Platforms
We don't only focus on gaming platforms. Our extensive service portfolio includes the Unban My Account tool that creates appeal letters for any online service. We cover anything from social media to online shopping.
Take a look at some of the accounts we can help you get back:
DoNotPay Is Committed to Solving All Kinds of Problems for You
Are you lost in the sea of administrative tasks? By subscribing to DoNotPay, you gain access to many products and features that can assist you in:
Check Out What Our Robot Lawyer Can Do for You
Not too skilled at drafting contracts and agreements? Keep calm and let DoNotPay, your virtual assistant, do it for you! Our app can generate various legal documents, including divorce settlement agreements, child travel consent forms, and powers of attorney. All it takes is to click a few times or answer several quick questions—we do all the rest!
Besides providing personalized documents, DoNotPay takes over other tiresome legal tasks. These include having your documents notarized, filing lawsuits in small claims court, requesting crime victims' compensation, or submitting HR complaints.