How To Get Unbanned From Rainbow Six: Siege—DoNotPay Has All the Answers!
If you are wondering how to get unbanned from Rainbow Six: Siege, here is some advice, including an explanation on how to use DoNotPay to make the process easier.
Rainbow Six: Siege is a game by Ubisoft, and in case your Ubisoft account is suspended, the steps you can take to resolve these issues are similar.
Whether your account is suspended or banned, you need to turn to the Ubisoft support team, but getting the response can sometimes take forever.
, and let us help you compose a complaint letter that will get support agents to take you seriously and speed up the review-and-reply process.
Why You Got Banned From Rainbow Six: Siege
A ban on Rainbow Six: Siege can either be temporary or permanent. Both these sanctions can be appealed, but the chance of the appeal being successful is greater in the case of a temporary ban.
Any violation of Ubisoft's Code of Conduct or Terms of Service can lead to some sort of restriction—long- or short-term.
Here is the list of the most frequent offenses players can make when playing Rainbow Six: Siege:
Killing a teammate (triggers tracking throughout the game and afterward)
Disconnecting from a game
Violating the Code of Conduct

Threats, harassment, discrimination, stalking, endangerment of others, doxing, or any other illegal behavior—The code also covers the promotion of illegal activities, as well as impersonation of other people
Toxic behavior, such as bullying, intimidation, any expression of hate, or lashing out at other players
Anything that provides an unfair advantage and thus disrupts the balance of the game—This includes creating, using, or trading in cheats, as well as exploiting any glitches in the game. Buying accounts or cosmetics from any third party is also considered as creating an unfair advantage
How To Appeal a Ban in Rainbow Six: Siege
For appealing any ban or suspension, you must contact Ubisoft customer support.
You can access their contact page from your Rainbow Six: Siege interface, and here is how:
Go to Rainbow Six: Siege Homepage
Hover your mouse over the Services drop-down menu
Click Support
Go to the new tab that opens—you will see different issues related to the game listed there
Scroll down to the Contact us button and tap it
Fill out a contact form and report your issue when the new page opens
If you cannot access the Rainbow Six: Siege page, go directly to the Ubisoft website—start at the Help drop-down menu and follow the same steps as above.
If you need a quick response regarding your ban, submitting a complaint via any of Ubisoft's websites isn't a good idea as they might need a long time to reply. DoNotPay can help you file a complaint with minimum effort and time invested.
Rainbow Six: Siege—How To Get Unbanned in Three Steps
Reaching out to support via email or the contact form is better for your case than using live chat. It allows the agents to analyze your case thoroughly but also leaves room for some stalling. DoNotPay is here to help you eliminate this possibility.
Our Unban Gaming Account tool collects your data, creates an appeal letter with a two-week deadline for response, and sends it to Ubisoft.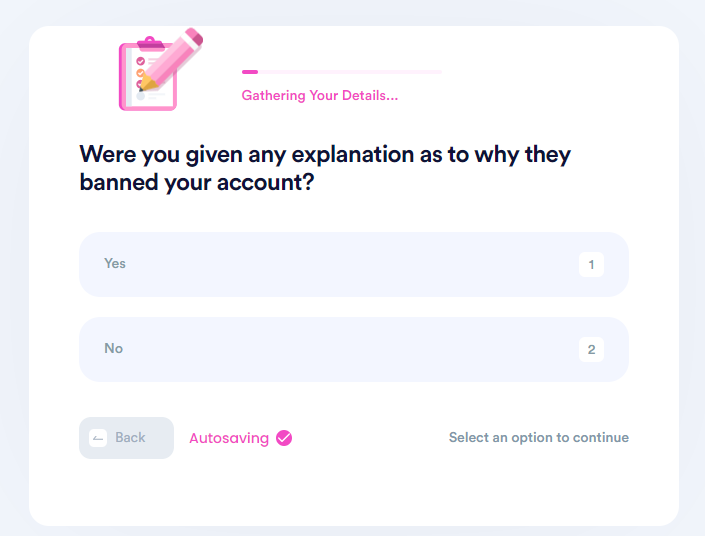 Here is how you can compose your complaint letter in three steps:
and choose Unban Gaming Account
Reply to a few questions regarding the service you are trying to recover:

What the ID of your account is and which email and phone number you used for logging in
If you received any warnings and when your access issues began
Whether you sent any payment to the platform and if you would like a refund

Share with us any concerns that you have about being discriminated against based on your race, religion, gender, or any other reason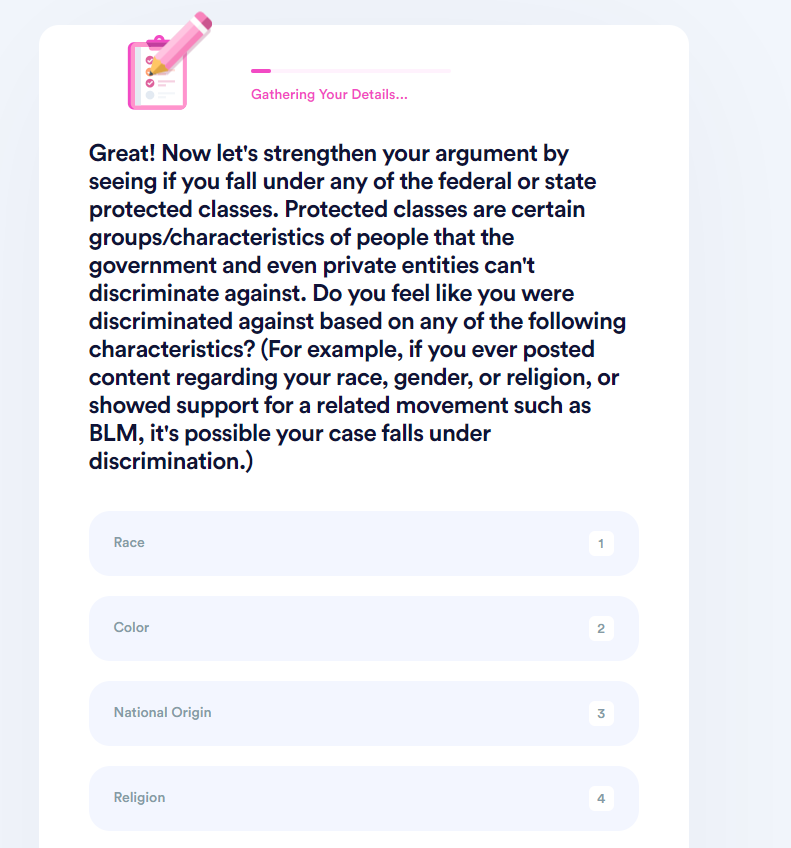 All these details will help our app compose a letter with persuasive argumentation that will benefit your case. It will push the support team to see your complaint as a priority and respond in the shortest possible period. If they still ignore you, you can take your case to a small claims court with DoNotPay's help.
DoNotPay Can Help With Other Games
Are you having similar issues with your other gaming accounts and need to appeal another suspension?
Ubisoft's releases aren't the only ones that DoNotPay can help you with. If you have problems accessing your other gaming accounts, our app is here to help you compose a clear and professional complaint letter about your bans from the following games:
Non-Gaming Platforms That DoNotPay Can Help You With
Another tool that DoNotPay offers is Unban My Account. This service helps you with problems related to numerous platforms, including social media, e-commerce, etc.
Check out the table below for some of the platforms that Unban My Account tool covers:
Discover the Entire Spectrum of Our Features
A click or two will be enough to discover the amazing universe of DoNotPay's tools and products. Our app is here to show you the best way to get:
Financial Issues? Let DoNotPay Take Care of Them!
DoNotPay can track down your unclaimed money, submit insurance claims, or request compensation for delayed flights on your behalf. This way, you can save some money and get what you're owed. Our app can also make it easier for you to lower your utility bills, cancel active subscriptions and stop further charges, or appeal parking tickets.