How To Get Unbanned From Tinder—All You Need To Know
Tinder is the most popular dating app right now. With 57 million users on the platform, you won't be the only person in line asking for an answer about their banned or suspended account. Should you make peace with the fact that your account is lost, or should you find out how to get unbanned from Tinder?
We can help you find out why you got banned from Tinder and what you can do to solve this issue. If you want to file an appeal for your banned or suspended account, turn to DoNotPay for a quick and easy solution.
I Got Banned From Tinder—Why?
What can trigger the app to ban you is:
Creating a fake profile
Having multiple accounts
Being under 18 years old
Using offensive or inappropriate language
Acting homophobic
Using the app for promotional purposes
Harassing another user
Creating spam accounts
Posting nudity or sexual content
Using verbal or physical violence
Sharing confidential information
Making racist comments
Impersonating another person
Using the app for illegal activities
Tinder has unique rules and policies that you must follow if you want to use the app. In case you knowingly or unknowingly disrespect them, you can lose the privilege of using the app.
If you violate the Terms of Use or Community Guidelines, another user can report you, or Tinder can detect your wrongful behavior.
Keep in mind that Tinder made it easy for one user to report another. If you made an inappropriate remark to someone, that could be the reason behind your banned account.
Your actions outside of the app also count. If you met someone through Tinder and acted inappropriately in person, your account can be terminated if your date reports you.
The platform explicitly says that if it finds that you violated the terms, it has the right to close your account without giving you a refund.
How To Get Back on Tinder After Being Banned
Tinder is strict about its policies, so it won't leave you many options to get unbanned. If you want to get your account back, this is what you can do:
Submit an appeal
Open a new account
How To Submit an Appeal
The only get-out-of-ban card you have is filing an appeal. You can contact Tinder customer service by submitting a request on the website. Follow these steps:
Choose the Trouble with account login option under the What can we help you with question
Select Can't log in, my account was banned
Provide your email address, phone number, and explanation
For the Description section of the request, follow these tips:
Explain your side of the story
Be polite and respectful
Provide pictures as proof that your behavior was appropriate—if applicable
The app doesn't have a phone number or live chat for instant communication, so you need to wait for the reps to respond, which can take some time.
If your formal communication skills aren't the best or you want to speed up the process, ! Our nifty product can help you put legal pressure on Tinder to respond timely and solve your case righteously.
We can help you appeal only the original decision, though. If Tinder's final say is to keep your account banned, you have one option left—creating a new account.
How To Make a New Tinder Account After Being Banned
Tinder has the right to stick to its decision to keep you banned. You can still use the app in this case, but you must create a new account.
When starting from scratch, this is what you need to do:
Create a new Apple ID or Google account—You'll need an account that can't be connected with your past Tinder profile
Download the app through your new account
Buy a new SIM card—The app will ask you to verify your phone number, so you can't use the old one
Don't link your Facebook account—Either make a new Facebook account or use only your phone number for signing in
Use different content on the profile—Add a new picture and write a new bio if you don't want Tinder to recognize you
Creating a new account is a hassle. Before you resort to this solution, you can use DoNotPay to make a demand Tinder won't ignore.
Join Forces With DoNotPay To Get Your Banned Tinder Account Back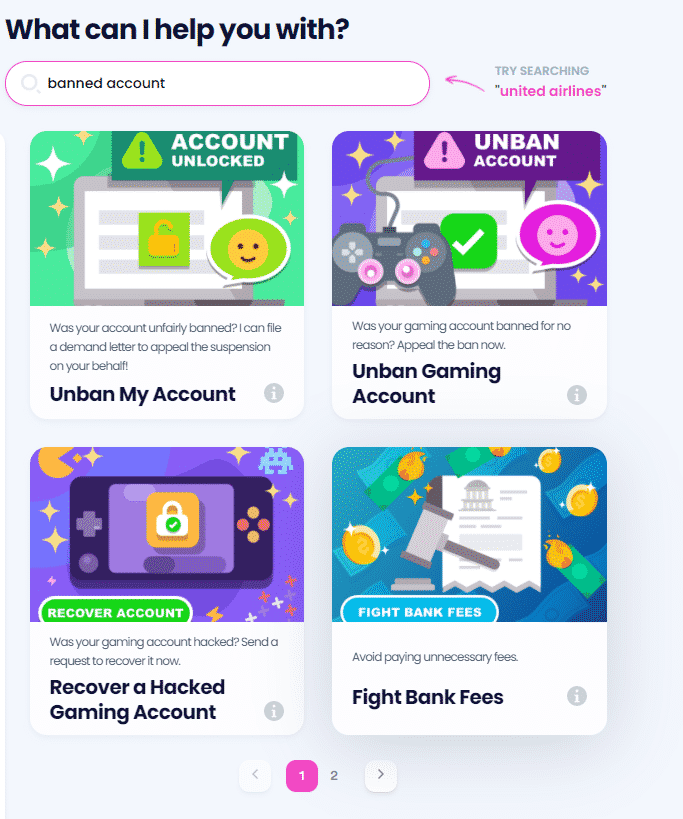 We can make sure that your request for an explanation doesn't go unnoticed. With our customized demand letter and two-week deadline, Tinder will take you more seriously.
All you need to do is:
Select the Unban My Account option
Provide information about:

Which platform banned you—Tinder in this case
What your username is
When you got banned
Why you got banned (if Tinder gave you a reason)
Whether you'd like to get a refund from Tinder
After that, we'll create an urging letter that will motivate Tinder to resolve your problem in no time.
DoNotPay Can Help File an Appeal for All Your Banned Accounts and Suspensions!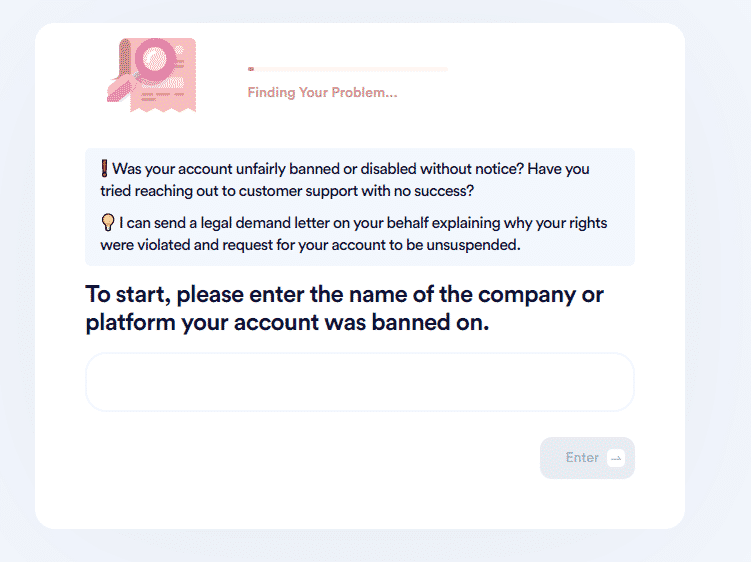 DoNotPay doesn't have limitations. We can submit your appeals to any platform or service.
You can also use our helpful guides to learn how to send an appeal to popular platforms, such as Twitter, Instagram, Facebook, and others. We will introduce you to the complex world of suspended and banned accounts and help you get them back.
Below, you'll find an overview of the issues we can assist you with:
DoNotPay Is an App for Everyone
Whether you need help with drafting paperwork, searching through government databases, or managing your bills, DoNotPay has a feature that'll make your life easier. The number of features keeps growing, and you can check out a table showcasing some of them:
Get More Done With Our Do-It-All Platform
DoNotPay can take care of any daily hurdle you come across. For a small yearly subscription fee, you get access to various features that you'll find handy on a daily basis. Besides everyday chores, signing up for DoNotPay will help get you:
The list could go on for days. You can even get in touch with an inmate or fight against discrimination at your workplace!