How to Go About Your
Blizzard Refund
Quickly
Blizzard (also known as Blizzard Battle.net) is a U.S. video game developer and publisher based in California. It is most famous for the creation of World of Warcraft, the largely popular online role-playing game. 
In 2019, it was reported that in total, all of Blizzard's games had 32 million monthly active users.
How to Request a Refund on Blizzard
With DoNotPay

If applying for a refund directly through the vendor sounds like a pain to you, we hear you. The great news is that DoNotPay has developed the perfect shortcut for any refund process.
Follow these easy instructions:
Open the DoNotPay app in your

web browser

Click on

Get Protected

under the

Chargeback Instantly

button

Answer the questions that our chatbot will ask (about your bank, the product from Blizzard you want to get a refund for, and other key details)

Verify your signature and submit the request
Once DoNotPay is equipped with all the required information, we will immediately fax the refund request to your bank. As a bonus, we will refer to all relevant VISA and Mastercard codes and regulations that will help you quickly obtain the refund. 
If you want to get in touch with the vendor directly, DoNotPay can contact them on your behalf, too.
Manage a Blizzard Refund Request On Your Own
Blizzard doesn't have a transparent refund policy, which means that their customer service team looks at refund requests on a case-by-case basis. You are more likely to obtain a refund if you haven't used the product and if too much time hasn't elapsed since you made the purchase.
You can get in touch with their customer service members either through their website or phone.
| | |
| --- | --- |
| Can you request a refund via | Yes / No |
| DoNotPay | Yes |
| Email | No |
| Phone | Yes |
| Letter | No |
| Website | Yes |
| In-person | No |
On a related note, find out how to cancel your World of Warcraft subscription on Blizzard.
Request a Blizzard Game Refund Over the Phone 
Reach out to a Blizzard customer service team over the phone by calling 800-592-5499. Please note that you will only be able to leave a voicemail. In your message, make sure that you describe what product or service you would like a refund for, and why.
Request a Blizzard Game Refund on the Website
Here is a step-by-step guide on how to seek a refund through Blizzard's website:
Go to

Blizzard's home page

Go to

My Account

in the top right corner

Sign in to your account

Select the

Support

link at the top of the page

Click on the icon for the product you would like a refund for

Select the

Payments

icon

Hit the

Contact Support

icon

Describe your request for a refund in the text box

Click on

Continue

 

Provide additional information if needed 

Submit your refund request
How to Get a
Refund for Warcraft III: Reforged
In May 2020, Blizzard made an exception to their usual stand on compensation and officially announced it would be allowing refunds for Warcraft III: Reforged. 
After releasing the remake of the classic real-time strategy title from 2002, Warcraft III: Reign of Chaos, Blizzard was inundated by harsh criticism from fans. The most common complaints included subpar graphics, bugs, and missing features. In response, the company implemented a no-questions-asked refund policy about the game.
Here is the statement in full:
"Blizzard stands by the quality of our products and our services. Normally we set limits for refund availability on a game based on time since purchase and whether it has been used. However, we want to give players the option of a refund if they feel that Warcraft III: Reforged does not provide the experience they wanted. So, we've decided to allow refunds upon request for the time being. You may request a refund here on our Support Site."
To request a refund for Warcraft III: Reforged, go to Blizzard's Support Site and follow the instructions provided. 
What Is Blizzard's Refund Policy?
Blizzard doesn't have a set-up refund policy, but judges refund requests independently. The only time refunds are mentioned in their End User License Agreement is related to their Blizzard Balance feature:
"Regardless of how it is acquired, Blizzard Balance is non-transferable to another person or Account, does not accrue interest, is not insured by any government entity, and, unless otherwise required by law or permitted by this Agreement, is not redeemable or refundable for any sum of money or monetary value from Blizzard at any time."
What's the Average Blizzard Refund Time?
Other users have noted that it typically takes a couple of weeks for Blizzard to decide whether you're eligible for a refund or not.
Are There Any Issues With Blizzard's Refunds?
The problem with Blizzard's refunds is that they are at the discretion of the company's customer service reps. This means that, based on the circumstances of your purchase, you may or may not get your money back. What's good is that many users who asked for a refund received a prompt response from customer support. This Reddit user has copied the reply they received from Blizzard in full:
"Although we don't explicitly offer refunds, we will always do our best to help with support requests. If a purchase was made and the request is immediately submitted thereafter, there's a good chance we can help. If the request for a refund is made even several days past when a product is purchased through us, we likely will not offer the refund."
To conclude⁠—there is no guarantee you will get your money back from Blizzard, but it doesn't hurt to ask.
Sign Up for Free Gaming Trials With Our Virtual Credit Card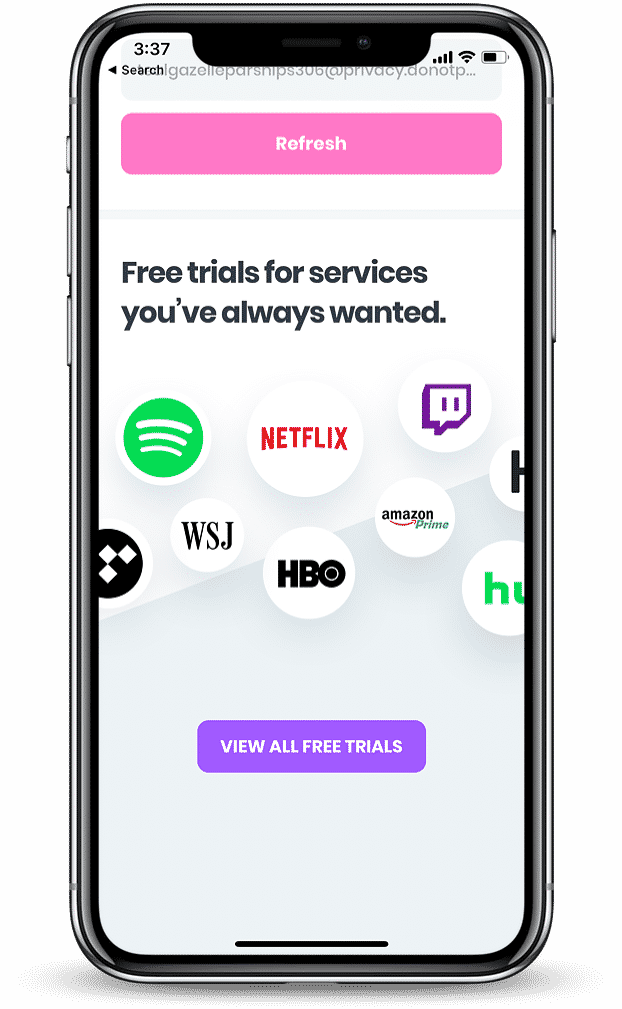 Have you ever signed up for a free gaming trial online, then forgot to cancel it before it ran out? If you have, you probably felt the sting of an unwanted credit card charge when your auto-renewed subscription fee kicked in. 
Thanks to DoNotPay's Free Trial Card, this is now a thing of the past. With it, you can try out an array of online subscription-based services at no cost. Our virtual credit card is not linked to any bank account, but it generates random and unique credit card information that you can use when you're signing up for free trials online. You can use DoNotPay's virtual credit card generator to quickly create a new credit card you can use once and forget about those pesky unwanted charges.
This is what our Free Trial Card does:
Creates random credit card information (that looks like a legitimate card to the merchant)

Gets automatically approved on free trial pages

Doesn't get approved on subscription pages
DoNotPay Can Help you Get a Refund for Various Services
Don't you just hate it when you buy a product or service and realize it's not to your liking? Your money doesn't need to be wasted like that. With the help of DoNotPay, you can request a refund from any company, even the ones that officially offer no refunds, in just a couple of minutes. All you need to do is provide our chatbot with the necessary information, and we will fax a refund request to your bank. We can also contact the service provider for you and ask them to refund your payment. We can help you request a refund from:
DoNotPay Is a Capable Legal Assistant That Fits in Your Pocket

Our app is an AI-powerhouse that makes legal and admin assistance much more accessible to everyone. Once you open DoNotPay in your web browser, a whole new world will open for you. All those pesky tasks that you keep sweeping under the rug, hoping that someone else will take care of them? Consider them done! 
Give DoNotPay a try if you need help with:
Fighting traffic tickets

Appealing speeding tickets