Do You Want To Learn How To Get Unbanned From Fortnite? Here Is Everything You Need To Know
Fortnite is the most popular Epic Game that hosts players all around the world. When a ban is keeping you away from it, you must feel frustrated and hopeless, but put those worries on hold. You don't need to say goodbye to your profile, points, ratings, and fellow gamers just yet. DoNotPay will show you how to get unbanned from Fortnite!
Learn what can cause a ban, what you can do about it, what the simplest solution to unbanning your account is.
If you got your account suspended or banned in any other game, check out our helpful guides:
Possible Reasons for Getting Banned From Fortnite
Epic Games establishes a fair environment for all its players through the community rules that every gamer must respect. If you got a suspension or ban, it is most likely that you disrespected the game conduct guidelines.
Here are the most common reasons why Fortnite bans players:
Cheating
Bullying
Scamming
Placing wagers
Using multiple accounts
Posting inappropriate content
Cheating
If Epic Games detects that you've been cheating, you will get banned. Some activities that fall under the cheating category are:
Using third-party software to cheat
Teaming up with other players in solo games
Exploiting bugs and glitches
Promoting cheats, bugs, or exploits
Bullying
Hate speech—including racism and discrimination based on religion, gender, or sexual orientation—or any form of verbal attacks, threats, and insults will be sanctioned. Whether you are chatting or playing, you must show respect to other players.
Scamming
If Fortnite finds that you are taking advantage of other players, you will be removed from the game. Scams refer to deceptive practices, like asking for account information from fellow gamers, trading accounts, buying and selling personal information, and similar.
Placing Wagers
The increasing number of underage players who gamble made Fortnite introduce a rule that any gamer who engages in this activity will get banned. If you've been placing wagers on the games, that's the reason for your ban.
Using Multiple Accounts
Having more than one account can give players an unfair advantage, which is why it is forbidden. You also can't share your account with your family or friends. The platform has a simple one player—one account rule.
Posting Inappropriate Content
Fortnite has specific guidelines that players need to follow when publishing content. They state that you can't post content that is:
Showing or glorifying intolerant or discriminatory behavior
Portraying explicit or graphic imagery
Promoting illegal activities
Inciting violence
Can You Get Banned From Fortnite for No Reason?
Do you believe that you've been unjustly banned? If you did nothing that goes against the rules, you may have been banned for no reason.
When you log in, you will see why Fortnite banned you. If the notice says you've been cheating but you believe that you've been wrongly flagged as a cheater, you'll need to contact Epic Games customer service. The same goes for any ban reason that you don't agree with.
Can You Get an IP Banned From Fortnite?
If you got your IP banned, the truth is that you've cheated or violated an important rule of the terms of service. You might've broken the rule unknowingly, but that won't make a difference to Epic Games.
An IP ban restricts your access to the game from your computer, and creating a new account won't help. The only way to bypass the IP ban is to install a VPN. The same solution applies if you receive a hardware ID ban.
The VPN will allow you to continue playing the game but from a different account. If you decide to go for this option, note that using a VPN is considered cheating and you can get banned again.
How Long Does the Fortnite Ban Last?
Fortnite can ban you temporarily or permanently. A temporary ban can last up to 30 days, while a permanent ban blocks you from the game forever.
What influences the length of the ban is the reason behind it and your repetition of an offense. If you were suspended in the past, making another mistake will get you off the server for good.
How To Unban Yourself From Fortnite
If you feel like you've been wrongly accused of being a cheater, scammer, or other, you can appeal your suspension or ban.
To submit an appeal, you should follow these steps:
Go to the Epic Games website
Select Contact Us
Log in to your account to get redirected to the ticket submission form
Enter your display name and Fortnite account email address
Choose the gaming device or console you got banned from
Explain the problem and the reason you deserve to get unbanned
Submit the request
If you don't want to wait or you are scared that your appeal will get lost among others, . We will make sure that your appeal is prioritized and taken seriously.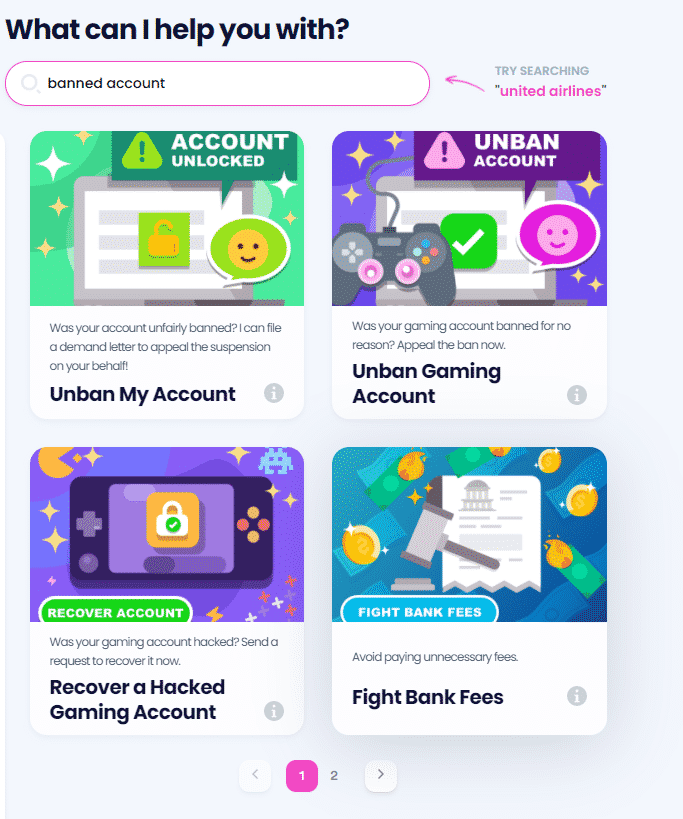 Unban Your Account With DoNotPay
Our AI-powered app can generate a convincing demand letter within minutes. We will send the request to Epic Games and give it a deadline to provide you with a response.
All you need to do is:
Type Unban Gaming Account in the search bar and select the product
Answer the chatbot's ban-related questions about:

The platform that banned you—Select Epic Games, not Fortnite
The date when you got banned
The reason why you got banned
A refund request—if you want to submit one

Click on the Sign and Submit button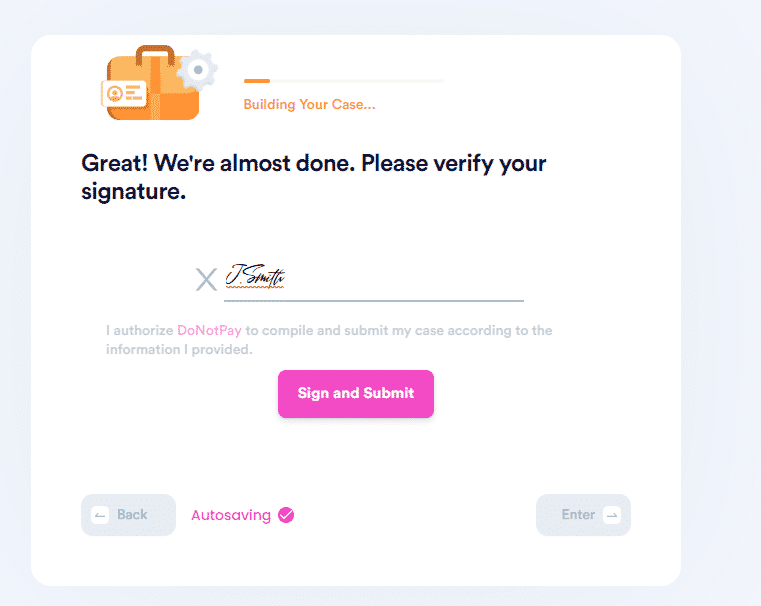 Recover Any Account With DoNotPay
DoNotPay is the master of creating customized appeal letters for banned and suspended accounts. When you open your DoNotPay account, you can use the app to put legal pressure on any platform or service to address your ban or suspension request as soon as possible.
Learn more about what it takes to get your account locked or blocked and suspended or banned in the following guides:
Solve Your Legal and Bureaucratic Issues With DoNotPay
The primary purpose of our app is to provide you with practical tools that can speed up all the drawn-out tasks you must complete. All you need to do is choose a suitable feature from our offer and get your problems solved in a heartbeat!
Once you create an account with DoNotPay, you can:
File:
Create:

Powers of attorney

Divorce settlement agreements

Many other legal documents

Get:
Feeling Unsafe or Harassed? DoNotPay Can Help You!
Have annoying calls and messages become your everyday problem? Don't give up on your peace—rely on DoNotPay and deal with robocalls and restless text and email spammers easily.
We also take care of your privacy, allowing you to create burner numbers and virtual credit cards to avoid revealing sensitive information when signing up for various online services.
If you are being stalked by somebody or discriminated against at work, we will do our best to help you fight for justice and report the case accordingly! We will also safeguard your creative work from copyright violation and ask for violent crime compensation on your behalf.