Can I Appeal My Suspension if My Account Got Suspended?
Most platforms allow you to file an appeal if your account gets suspended. There's a good chance you deserved the suspension, but there is also a possibility you did nothing wrong. Either way, you can file an appeal to restore your account as soon as possible. Read this guide to find all the answers related to account suspension, including:
What is an account suspension?
Why is your account suspended?
How to appeal a suspended account
What to do if your account gets banned
What Is an Account Suspension?
A suspension is a form of warning for users to stop going against certain rules and change their ways, and it is usually given for minor violations. Unlike termination, a suspension is temporary and can last for different lengths of time.
If you continue to break the rules prescribed by different Terms of Service, Community Guidelines, or other policies, you may get banned permanently. For a major violation, you will most likely be banned instantly without a prior warning in the form of a suspension.
Why Was My Account Suspended?
There are a lot of reasons for your account to get banned on any platform. To avoid it, you should read terms of service, community guidelines, or similar documents that list violations that lead to the suspension of an account.
These are the most common causes for an account suspension:
Unpaid balance
Trademark or copyright infringement
Spam
Abusive behavior
How Can I Appeal a Suspended Account?
Most companies require you to fill out an online form to appeal your suspension. Here is some information that you must provide in your appeal request for it to be valid:
Your email address
Your username
The reason for the appeal
Photos or documents for proof (if applicable)
Not all websites include an appeal form but require you to write an appeal letter and send it to the company's email address. This may not be that simple, especially if you don't have experience in writing appeals or don't have the time to deal with such tasks. This is where we step in—DoNotPay's specialty is drafting all kinds of formal and legal documents, including suspension appeals.
My Account Has Been Banned—What Types of Bans Are There?
If you continue to violate the rules even though your account got suspended a couple of times already, you will get banned. For major violations, you may get banned immediately, without any notice. While some platforms allow you to appeal a ban, others may not. Keep in mind that lifting bans is much more demanding than lifting suspensions.
Even though suspensions are generally considered temporary and bans permanent, this is not always the case—every platform has its own rules.
Check out some of the most common ban types in the table below:
| Type of Ban | Explanation |
| --- | --- |
| Server ban | Getting a server ban means your account will be banned from one of the servers existing on a platform. If that happens, you won't be able to log in only to that particular server |
| Platform ban | Earning a platform ban means your IP address will be blocked, so you won't be able to access your account at all |
| Shadowban | This is a common type of ban on social networks—a type of ban that is not apparent to the user. If you get shadowbanned, your content won't be visible to others |
Aside from helping you appeal a suspension, DoNotPay can help you appeal different types of bans too. Sign up for our service and let us help you get access to your account in no time.
Do You Need Help With Appealing a Suspension? Rely on DoNotPay!
Have you been waiting for a response to your appeal for weeks or even months? Do not despair—let DoNotPay help you!
Since we put legal pressure on companies, using our service for sending an appeal letter will be much more efficient than doing it by yourself. We include a two-week deadline in every letter to help you cancel the suspension or get your account unbanned as soon as possible.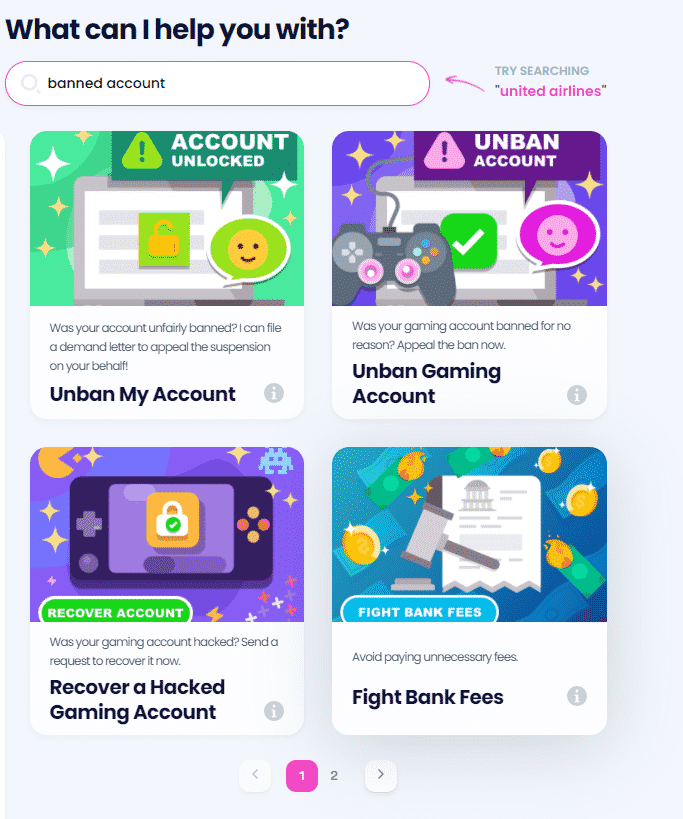 Follow these steps to start your appeal with DoNotPay:
Type Unban My Account in the search bar
Fill out our form by entering the following info:

The company's name
The date of your suspension
Your current address
The reason for the suspension (if applicable)
Type of subscription
Your username

Press Sign and Submit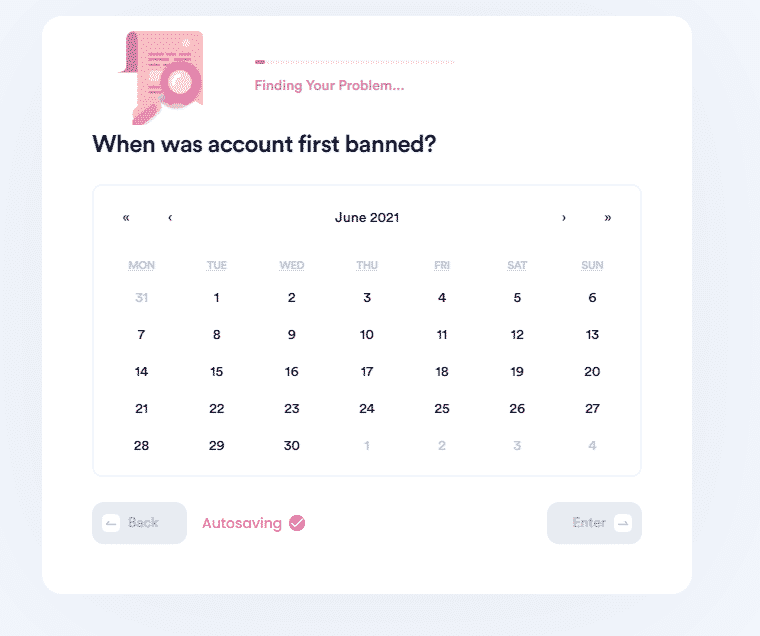 Once we've gathered all the important information regarding your appeal, we will:
Generate a personalized appeal letter
Send it directly to the company in question
DoNotPay Is the Best Solution for Restoring Your Suspended or Banned Account on Any Platform
We have put together a number of guides on how to unban or unsuspend your accounts on a variety of platforms. You can check them out in the table below:
DoNotPay's Vast Collection of Features Keeps Expanding
Determined to simplify bureaucratic procedures and help you with various daunting items on your to-do list, we created DoNotPay—the world's first robot lawyer! With us, you can:
Streamline Different Tasks by Using DoNotPay's Practical Features
Are you looking for an efficient way to gain back your unclaimed money or get a refund from a company? Do it with DoNotPay without lifting a finger! Our app provides excellent money-saving features that will increase your budget and make all unnecessary expenses disappear.
We can assist you in terminating unwanted subscriptions, recovering your unused gift card funds, reducing your bills, and requesting late delivery refunds. You don't even need to hire lawyers to write a financial aid appeal letter, an HR complaint, or a child travel consent form in your stead—our app can do all this!