Account Suspended—The Complete Guide on How To Get Unsuspended
Have you got notified that one of your accounts is suspended? If you are wondering what your next step should be, you've come to the right place.
This comprehensive guide provides you with answers to questions like why your account was suspended, how to get an account unbanned, and how to make an appeal to get your account up and running again.
Why Is My Account Suspended?
Most gaming and social media platforms have straightforward terms of service (ToS). These rules are created to protect you and your privacy, and if you violate them, you may lose access to your account.
That doesn't mean you will get suspended as soon as you breach platform guidelines. The account suspension is usually the result of repetitive inappropriate behavior.
The type and duration of the suspension depend on the platform and its ToS.
For instance, social media platforms can lock you out of your account temporarily before suspending it indefinitely. Twitter can limit or suspend your account so you can't tweet, retweet, or upload content. Instead of suspending your account completely, Twitter will allow you to keep a read-only account, but you will not be able to interact with other users.
If you violated terms of service in a game—such as GTA 5—you can get either temporarily suspended or permanently banned. Rockstar Games may allow you to play this game in Story Mode and enter only specific missions in the game if you committed a minor offense. Steam, on the other hand, may issue a permanent VAC ban immediately if they suspect you're cheating.
Most platforms will restrict your account due to:
Safety concerns
Privacy infringements
Authenticity violations
Fraud indications
Account Banned Due to Safety Violations
Online safety concerns and violations include a wide specter of inappropriate actions, such as:
Abuse and harassment—Slurring and publicly humiliating other platform users
Violence—Glorifying violent acts and threatening other platform users
Hateful conduct—Promoting hate and harassing platform users based on their age, race, religion, ethnicity, gender, disability, sexual orientation, etc.
Terrorism—Promoting terroristic organizations or supporting their activities
Self-harm—Promoting violence towards yourself or glorifying suicide
Child exploitation—Sharing and uploading content that shows child abuse and exploitation
A safety violation is a serious offense and can result in a temporary suspension or a permanent suspension or ban of the account, depending on the nature and frequency of the violation.
Suspended Account—Privacy Violations
Privacy violations encompass any form of sharing someone else's personal information without their consent. This can be anything from posting someone's phone number publicly to threatening to expose someone's intimate photos and videos.
Account Suspended Due to Authenticity Violations
Your account could also be suspended due to authenticity and intellectual property violation concerns. That can include spam, plagiarism, impersonation, and platform manipulation.
If you were to use someone else's content or post fake content to gain more followers on social media, that would be considered an authenticity violation.
Fraud Incited Account Bans
Your profile might be suspended due to fraudulent behavior. This can be you trying to sell or acquire illegal software for your gaming platform or providing your followers with misleading information.
Is Your Account Temporarily Suspended or Permanently Banned?
In most cases, you can get temporarily suspended or permanently banned from your social media or gaming platform account. Here's the difference:
Temporary suspensions may be a result of unusual online behavior or some sort of safety check. Your account can be recovered easily by verifying your info or waiting a predetermined period, e.g., 24 hours. To learn more about temporary bans, you can take a look at our guides to Microsoft and PlayStation 4 temporary suspensions
Permanent suspensions are reserved for major violations, such as online safety and privacy violations. The ban can be permanent and irreversible, or you may get the platform to revoke your indefinite suspension after you file an appeal. Check out what permanent suspensions mean for League of Legends and Reddit accounts
How To Get Unsuspended or Unbanned
Each platform offers its own way to lift the ban or suspension of your account. This process usually includes:
Visiting the Help page of the platform—such as what would you do if your Yahoo account got locked
Locating an appeal form or customer service contact—like if you needed to file a Twitter suspension appeal
Submitting an appeal through a form or email—like the appeal form you would use for Reddit suspensions
In the case of an appeal, you should explain your behavior and why you believe the suspension of your account was a mistake, unjustified, and wrong. If the company already provided you with a reason for your account ban or suspension and refused to change their decision, there will be no point in appealing again as the initial answer is final.
If you are appealing for the first time, the only thing left to do is to wait—or is it? Our app can create a demand letter to appeal to the platform and pressure it to process your request faster! Sign up for DoNotPay and see how we can get one step closer to recovering your account.
Use DoNotPay—File an Appeal and Get Your Account Back
Whether you got banned from Snapchat, Tumblr, EA, or CS:GO, you will have to file an appeal to get your account back. That means you might have to wait for ages to get a response.
If that is something you don't feel like doing, DoNotPay can draft a demand letter that warns the platform that you're ready to take legal action if they don't take you seriously.
Here is what you have to do to use our skills to your advantage:
Select the Unban My Account product
Enter the name of the company that suspended your account
Choose the date of suspension
Click Sign and Submit
DoNotPay will then draft a tailor-made appeal letter and send it to the company on your behalf. This letter will pressure the company to consider your appeal and process it faster.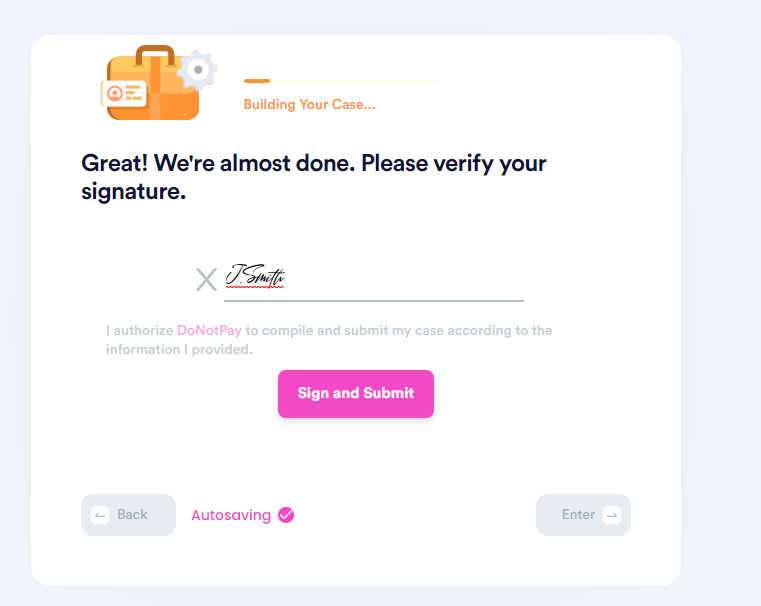 DoNotPay Can Write an Appeal Letter for Account Suspension to Numerous Companies
Whether you got banned from gaming platforms or social media, DoNotPay will draft your appeal in the blink of an eye. Here are some of the companies our app can send an appeal letter to for you:
DoNotPay Makes Your Troubles Go Away
If you want an app that gets the job done, subscribe to DoNotPay! We have various features that can help you with almost anything—from canceling subscriptions and filing insurance claims to getting in touch with inmates!
It doesn't matter if you need help with bureaucracy issues or with everyday struggles because DoNotPay is your go-to app! We can help you:
Protect Your Customer Rights With DoNotPay
Have you been wronged by a company? Why not sue it in small claims court with our AI-based app? We can also help you claim any warranty or file an item return request in a few clicks! Trying to reach customer service representatives, but the phone keeps ringing? Your virtual assistant can help you jump the queue for any company in the blink of an eye!