DoNotPay Explains How To Get Unbanned From Omegle the Easy Way
Distressed that you got banned on Omegle for no reason? Do you believe someone logged in to your account and framed you or that you were reported for an unjust reason? DoNotPay is here to help you learn how to get unbanned from Omegle in a split second!
If you want to appeal the platform's decision quickly, and have us write a professional request! Our knowledge base can also help you learn everything about suspended accounts and ways to appeal companies' decisions regarding bans and suspensions!
Why Am I Banned From Omegle?
Omegle monitors users' activity using a combination of automated systems and human moderators. There's a chance that you got banned because the system flagged your activity as inappropriate. Check out all the reasons you can get banned from Omegle:
Someone reported you—If a user you interacted with reported you for inappropriate behavior, Omegle may have banned you because of it
You kept getting booted off the site due to poor interactions—Getting booted off the site is seen as a trend and is a reason for getting banned from Omegle
You violated the community guidelines—If you are unaware of what they are, here are the highlights. Omegle does not permit using the platform for:

Illegal activity
Violence or threats to harm others
Harassment
Hateful conduct
Nudity, pornography, or any other type of sexual content
Conduct with minors
Violation of privacy
False identification
Self-abuse
Animal cruelty
Unlawful marketing and advertising
The use of bots
Once you find out what may have gotten you banned, you can create an outline of an appeal letter and explain why Omegle should unban you. The platform may not respond to you, but that's where DoNotPay can help!
How Long Am I Banned From Omegle?
To know how long you can be banned from Omegle, you need to understand what type of ban you are facing. Omegle has different types of bans:
Temporary ban—Your account can be banned temporarily, and the intensity of the offense determines how long it will last (usually from one week to four months). To check whether Omegle has lifted your ban, you should keep trying to join a chat on the platform
Permanent ban—You can be banned indefinitely from using Omegle in the case of a severe offense
How To Unban Yourself From Omegle
If you believe that you did nothing wrong and want to get unbanned from Omegle, you can send an email to feedback@omegle.com to ask about the status of your ban or explain that you got banned for no reason. You should include the following details:
Full name
Account details
IP address
Date you found out your account was banned
Screenshot of the notification
Explanation if you think you know what may have happened or who may have reported you
Appeal letter
You should ensure that the language you use is polite but firm. Being rude won't help, and customer service may disregard your request because of it.
If you're not confident in your formal writing skills, you can rely on DoNotPay for assistance! Our AI-driven robot lawyer will ensure you get your account back if the ban had no grounds.
How To Get Unbanned on Omegle Using DoNotPay
Writing a letter to Omegle to lift the ban can be tricky. The good news is that you have DoNotPay as your pocket-sized assistant to help you get unbanned from Omegle. Instead of waiting for a long time to get a response, you can have our AI-powered app draft a formal appeal letter in mere minutes! Here's how to go about it:
Search for the Unban My Account feature and type Omegle
Select the date you were banned
Provide the possible reason for the ban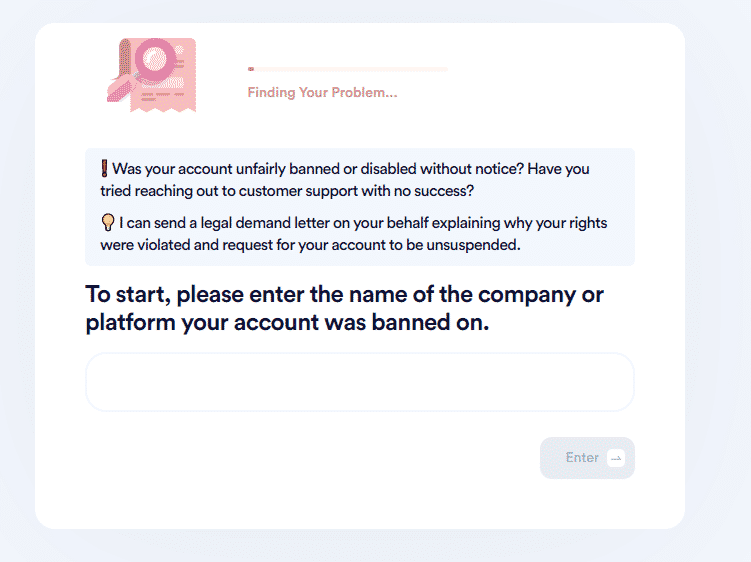 DoNotPay will put legal pressure on Omegle, making it reconsider its decision and process the request quickly because we'll add a deadline by which it needs to respond.
You should note that the Unban My Account feature can help only if you have not received any answer from Omegle as to why your account was banned. If Omegle got in touch with you saying that its decision to keep your account banned is final, we cannot appeal it.

DoNotPay Can Also Help You Get Unbanned From These Platforms
Omegle isn't the only platform we can help with—check out how we can assist you in getting any suspended or banned account back:
Omegle Taking Ages To Respond? Sue It!
If you got banned from Omegle for no reason and the reps haven't even responded to your appeal, DoNotPay can help. You can use our app to get justice in small claims court no matter who the company or individual is.
With our app's assistance, you don't have to get your own lawyer or fill out tedious court paperwork—not to mention paying exorbitant lawyers' fees. Filing your official complaint, gathering all the mandatory paperwork, and preparing for a court appearance are now easy and straightforward tasks, thanks to DoNotPay.
DoNotPay Helps You Tackle All Kinds of Problems From the Comfort of Your Home
Are you too busy to go to Target, Walmart, or photo studios to get your passport photos taken? DoNotPay offers you the possibility of taking them yourself and having them edited without going anywhere!
Thanks to our app, you don't need to visit the post office if you want to initiate a return. You can also skip going to a notary office because we'll help you get your documents notarized.
Here are some other tasks you can complete with ease using DoNotPay:
We Help You Get Fuss-Free Subscriptions to Any Service
Interested in a specific service or platform? Make sure to get the best out of your free trial without getting charged and ending up with an unwanted paid membership. Even if you make a mistake, DoNotPay can end your subscription in a few simple steps!
Our system allows you to generate virtual credit card numbers to prevent platforms from getting your real bank details and using them for unauthorized transactions. We also offer burner phone numbers that will help you go through any subscription or verification procedure without disclosing personal details.