What To Do When You Get Banned From Twitch for No Reason
Twitch allows gamers and creators around the world to connect and share what they love to do. The issue is that the company's policies often change, leaving banned streamers confused about what they did wrong.
If you believe you got banned from Twitch for no reason, the frustration may trigger you to cancel it right away—but before you do, let us help you solve this situation.
DoNotPay will explain why you can get banned from Twitch and how to get unbanned.
Did I Get Banned From Twitch for No Reason?
Twitch's account suspensions and bans have caused some controversy. The service occasionally alters its policies and enforces stricter rules each time, so streamers can get locked out for seemingly no reason.
Here are a few main triggers for getting banned:
Promoting violence
Making threats
Using offensive language
Showing controversial or explicit content
Harassing other users
Spreading viruses or malware
Sending repetitive or unwanted messages
Cheating the Twitch reward system
Selling users accounts
Hosting illegal giveaways
Sharing confidential information
Impersonating another person
Using bots for spam messages
Promoting self-destructive behavior
Disrespecting the DMCA rules
Cheating in online games
The Terms of Service and Community Guidelines are outlined on the website, but how Twitch enforces them can be confusing. For example, one user got suspended for showing an explicit poster by a famous rock band. Twitch considered the act as breaking the rules and blocked the user.
If your account was banned, you won't be able to:
Watch streams
Broadcast
Create a new account
Appearing in other users' streams
What's the Difference Between a Suspension and a Ban?
Based on how serious the violation is, Twitch can:
Temporary suspend you
Ban you
Suspension can last up to 30 days. First-time offenders who make less serious violations—such as using offensive language—typically have their account suspended for a specific period. If you got a temporary suspension and believe that this decision was unjust, you can appeal it.
After the suspension expires, you might need to reactivate your subscriptions. The number of your followers may be lower as a result of the suspension, but they will renew after a few hours.
Indefinite suspension means that you are permanently banned from using the streaming service. If you commit a more serious violation—like impersonating someone or cheating—you can get instantly banned. Note that Twitch can ban you from using the platform if you repeat the same violation that got your account suspended in the past. The service has a record of past violations, so repetition leads to permanent suspension.
How To Get My Twitch Account Back
If you are convinced that you were banned from Twitch without reason, you should submit an appeal. You can file a request for unbanning your account through an online contact form. Follow these steps to send your appeal:
Log in to your banned account
Choose the Account/Log in Issues option under the Category section
Select Suspension in the subcategory
Explain why you believe that you were wrongfully banned
Make sure that you click on the right category and subcategory. If you don't, the response can be delayed, or the reps may not even send one.
Once you submit the request, you should get an auto-generated response that signifies your appeal was acknowledged. The company will then review your statement and let you know what they've decided.
The Twitch support team is usually responsive, but some streamers are left without any response. If that happens, you don't need to go down without a fight—DoNotPay can be in your corner!
When you subscribe to our nifty app, we'll generate a professional demand letter that will put legal pressure on Twitch to respond to your appeal.
Use DoNotPay To Make Twitch Prioritize Your Appeal!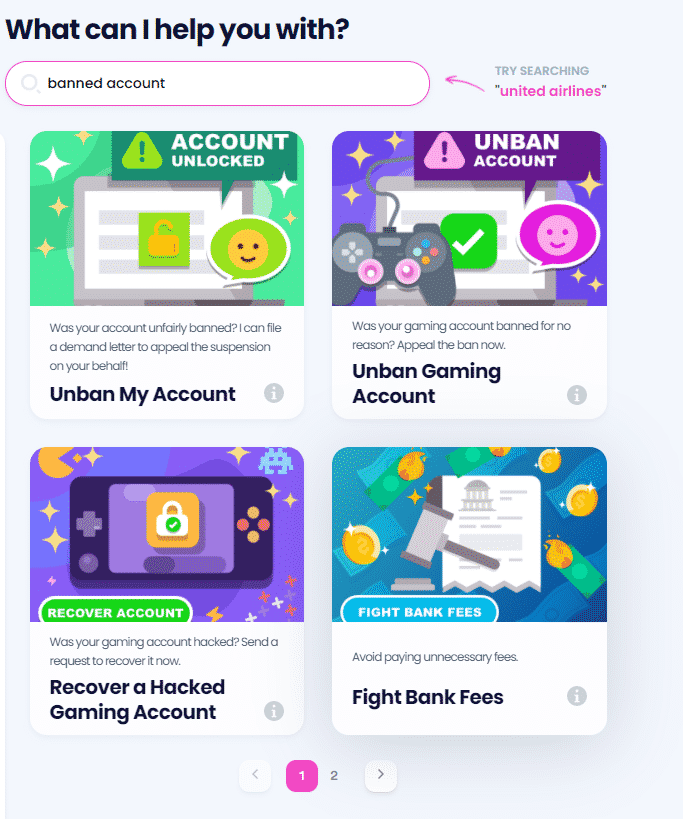 You don't need to settle for being ignored! We will generate a customized demand letter for your ban appeal and send it to Twitch. We will include a deadline for them to solve your case, so you won't have to wait indefinitely.
To start the process, you need to:
Select the Unban My Account product
Answer our chatbot's questions, including:

What the name of the platform that banned you is—select Twitch from the drop-down menu
When your account was first banned
Why you got banned
Whether you would like a refund for your Twitch subscription
Sign the document digitally to make it valid, and you're done! We will guarantee you will receive an email with Twitch's response soon.
DoNotPay Can Help You Get Back What's Yours
Besides helping you appeal your banned account on Twitch, you can use our app to generate a demand letter. The Unban My Account and Unban Gaming Account products can be your tools for lifting a suspension or ban from any service or platform.
We also have a helpful learning center where you can get more information on how different services function. You can find answers to questions such as how to get a Twitch Prime free trial or how to stop getting email notifications from this platform.
The following guides can help you get acquainted with other services' policies to prevent other potential account suspensions and bans:
Get an Extra Buck or Two With DoNotPay
Besides being able to assist you with almost any legal issue, DoNotPay can also help you get some extra money! We can cancel any unused memberships and prevent you from being charged after free trial periods are over with our virtual credit card.
Can't claim a warranty or get cash back for a gift card? Subscribe for DoNotPay and consider it done! We can also help you return items to almost any company or even help you get a refund in a few clicks!
Helping you jump the customer service queues is also not a biggie for us, as well as taking the company that wronged you to small claims court!
No Problem Is Unsolvable for DoNotPay
By subscribing to our platform, you get access to a plethora of handy features that can help you with: