How To Recover an Account When You Get Banned From Facebook
Facebook has a reputation for banning and suspending users' accounts with or without any reason. If you got banned from Facebook, no worries—you're not the only one. The platform that banned the former president of the United States, Donald Trump, can ban anyone.
DoNotPay can help you resolve the case of a banned Facebook account! We will let you know why the platform bans users and what your options for recovering the account are.
Why Was I Banned From Facebook?
If you haven't read Facebook Terms of Use, you are probably left in the dark about why Facebook would suspend you. To identify what might have put you in this position, you should revise the most common violations.
Here's what Facebook doesn't allow:
Multiple accounts
Fake profiles
Threats
Bullying
Sexually suggestive content
Hate speech
Content that contains or promotes self-harm and violence
Spam
Too much or too little activity
Intellectual property infringement
Illegal activities
Multiple Accounts
You can't have more than one account on Facebook. The platform allows only one account per email address. If you must create a new one for any reason, follow Facebook's guide on how to move information from one profile to another. For business use, you can open a business account and use the personal one to manage it.
Fake Profile
Creating an account under a false name will get you banned. If you provide any false information, add photos that aren't yours, or similar, Facebook will permanently remove that account.
Threats
Making credible verbal threats to other users isn't acceptable. If Facebook registers a threat in comments, messages, or statuses, it will block the user. Depending on the type of threat, you can be banned either permanently or temporarily.
Bullying
Facebook wants to keep a safe community for its users, and it doesn't tolerate bullying. Insulting someone, making fun of them, or verbally attacking them on the platform will be punished.
Sexually Suggestive Content
Content that shows nudity, pornography, or any kind of sexually suggestive content will result in a suspension or ban. Users tend to report accounts for showing inappropriate content, even if they are not violating the terms. In that case, Facebook will lift the suspension or ban after it revises the content.
Hate Speech
Any kind of hate speech, including racism, attacks on LGBTQ+ individuals or organizations, or religious discrimination, isn't allowed on Facebook. Expressing prejudice against a certain group—whether that's through writing, video, or imagery—can get your account blocked.
Content That Contains or Promotes Self-Harm and Violence
Encouraging harmful behavior falls under the violation of Community Guidelines. If you post content that shows or promotes self-harm, the post will be removed, and you will get suspended or banned. The same applies to content that features or supports violence.
Spam
If Facebook detects spam, it will lock the user's account or deactivate it. What falls under spam behavior is:
Sending people unwanted content
Posting links to people's timelines
Sending too many friend requests to people you don't know
Sending bulk messages
Posting unwanted images on people's timelines
Intellectual Property Infringement
Facebook helps creators protect their intellectual property. If someone reports copyright or trademark violation, the platform will take measures against it. Stealing someone's intellectual property can be punished with a permanent ban.
Illegal Activities
Your account will be removed immediately if you celebrate or show any type of illegal activity, such as:
Solicitation
Exploitation of adults or children
Drugs
Theft
Facebook expects its users to respect the law and not to promote illegal behavior.
The Difference Between Being Banned and Suspended
Depending on how serious the violation is, Facebook has different forms of punishment. Your account can be:
Temporary suspended
Banned
Suspended Account
Temporary suspension or ban is usually assigned to first-time wrong-doers and users who make minor mistakes. In this case, you will be restricted from using the platform for a set period—up to 30 days. When the suspension expires, you can log in to your account, and your data will be retrieved. If you don't want to wait and you find that the suspension was unjust, you can submit an appeal.
Banned Account
If you repeat the act that got you suspended or make a more serious violation, Facebook can serve you a permanent suspension or ban. What happens when you receive a permanent ban? You can't use the platform ever again unless Facebook grants your appeal. If you convince the reps that you are worthy of their trust, you can get unbanned.
How To Recover Your Banned Facebook Account
To get your account back, you must explain to Facebook why it made a mistake—do that by following these steps:
Go to Help Center
Enter your email address or phone number
Enter your name as listed on the account
Add a photo of your ID
Facebook will review your information and get back to you. You have up to 30 days since your account was disabled to file this appeal.
Arm yourself with patience because it can take some time until you receive an answer. If you don't want to wait, no problem—!
Reactivate Your Account With DoNotPay!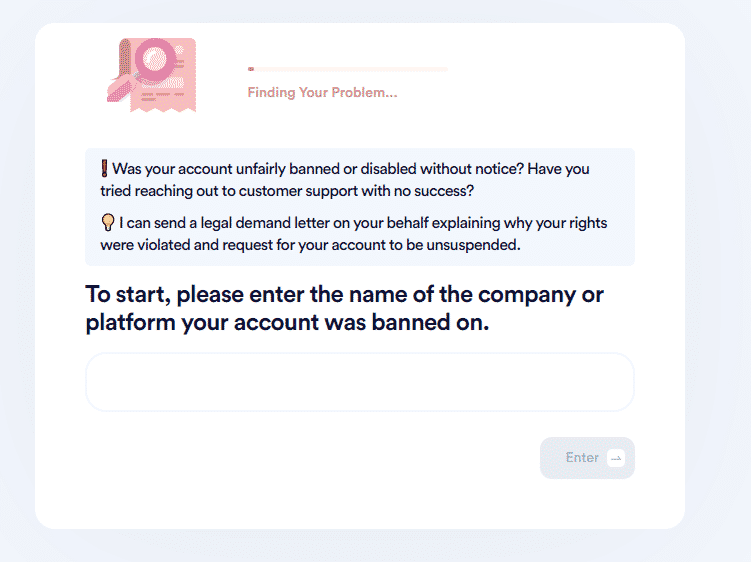 DoNotPay is an AI-powered app that can generate a valid and professional demand letter. We will give Facebook a deadline to send a response, which will prioritize your appeal.
Follow these four simple steps to start the process:
Find the Unban My Account feature
Answer some basic questions about the ban, such as:

Which platform banned you—in this case, Facebook
When you got banned
Why you got banned
Whether you feel discriminated against—if you fall under federal or state protected classes

Click on the Sign and Submit button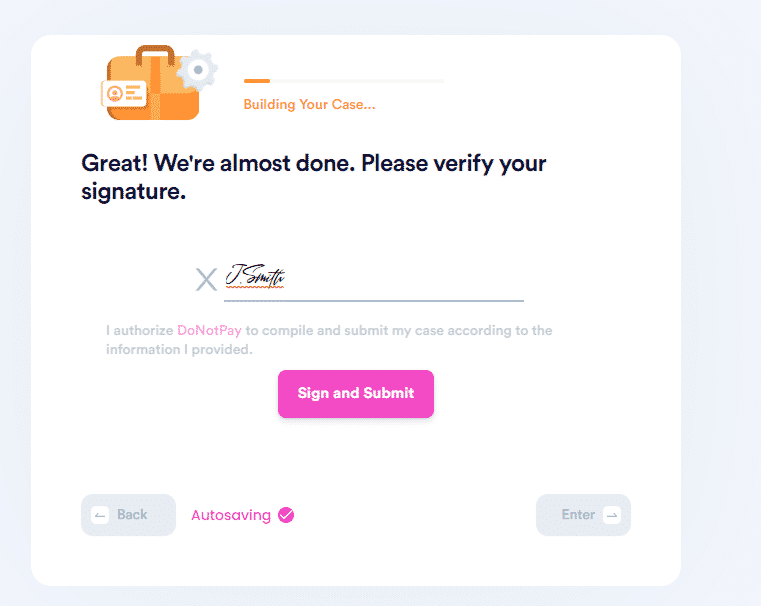 This is it! We'll take over from here and send your customized demand letter to Facebook.
DoNotPay Can Speed Up Your Appeal Procedures
You can turn to DoNotPay to help you with any issue regarding your accounts. If you have trouble with suspended and banned or locked and blocked accounts, just log in to DoNotPay and send a demand letter to any company.
If you want to learn more about why companies ban and suspend users, look into our helpful guides:
Have Your Documents Created and Notarized in Less Than Five Minutes!
Why spend hundreds or even thousands of dollars on lawyers when the ideal solution is only a few clicks away?
DoNotPay saves the day by enabling you to generate numerous legal documents. Creating proper child travel consent forms, divorce settlement agreements, and powers of attorney has never been easier!
Our perks don't stop here—you can also have your documents notarized electronically from any location. Once you obtain a notary stamp and signature, your paperwork can be faxed online without outdated machines.
Explore Everything DoNotPay Has To Offer
Day-to-day tasks you must deal with don't have to be a burden or rocket science. Signing up for DoNotPay is your ticket to performing them the easy way! We offer a wide selection of products that don't cost an arm and a leg but do excellent work when it comes to solving your administrative issues!
Our services will help you: