Are You Banned From Instagram? DoNotPay Can Help!
Instagram has a strict user policy that doesn't tolerate any sort of suspicious activity. If you got wrongfully banned from Instagram, don't worry—you are not the only one. Is all that effort you invested in your account lost? It doesn't need to be because DoNotPay is here to help!
We will guide you through the process of getting your account back. Find out what the reason for the ban can be and how subscribing to DoNotPay can help you solve the issue.
Why Was My Instagram Account Banned?
To use the platform without interruptions, you need to respect the Terms of Use and Community Guidelines—which is a rule of thumb for most other online community apps such as Twitter, Reddit, and Grindr.
You can be banned from Instagram for:
Using an automation tool to like/comment on content aggressively or to follow/unfollow users
Buying likes and fake followers
Selling or buying accounts
Creating duplicate accounts
Posting inappropriate content
Infringing on someone's creations
Using Instagram if you are under 13 years old
Selling or promoting illegal products or services
Using broken or banned hashtags
Writing more than 60 comments in an hour—or 30 if your account is new
Sending the same messages or posting the same comments
Using violent, aggressive, or offensive language
Instagram can also ban you if another user reports your account—even if you did nothing wrong.
How To Know if Instagram Suspended or Banned My Account
Instagram may be strict about its rules, but it also wants to keep its users. If the platform detects behavior that goes against its policy, you won't be banned right away. Your account will be suspended first. The suspension can last from one to 48 hours. It all depends on what you did to get banned. You can appeal the suspension to get it lifted more quickly.
There are also three types of bans on Instagram:
Blocked action—If you like content repeatedly or follow and unfollow users, Instagram can block that action for a certain time period. You can take more than 140 actions per day. Such repetitive activity can come from a spam account, which is why the platform issues a warning by blocking the action
Shadowban—When you use banned tags or post too much, your account can be shadowbanned. You'll be able to use your account, but your posts won't be visible in the Explore section or on hashtag pages
Ban—If you violate the terms or repeat the same action that got you suspended, you can be banned for good. In this case, you won't be able to use the same username, email address, or even the same IP address to access the platform
How To Tell if Your Instagram Is Banned
If Instagram banned your account, you won't be able to log in, like, comment, or share photos. All the activity on the app will be blocked.
You'll also get a notification—a message will pop up on the screen informing you that you've been blocked. You can ignore it or click on the button that encourages you to tell Instagram if it made a mistake.
How To Get Unbanned From Instagram
If your account gets blocked, you can:
Wait for the ban period to pass
To discuss your problem with a representative, you can click on the Tell Us or Appeal buttons on the ban notification. If you only have the Learn More option, choose that. Click on Let Us Know at the end of the notice.
You can also go to the Help Center or call 1-650-543-4800.
Don't forget to review your hashtags and remove autobots if you use them so you don't get your account blocked again.
A permanent ban is harder to oppose. There is no guarantee that you can get your account back. You will need to contact customer service to assess the situation. Another solution for blocked and banned accounts is . We can help you resolve your issue faster and more efficiently!
How Can DoNotPay Help Me Get Unbanned?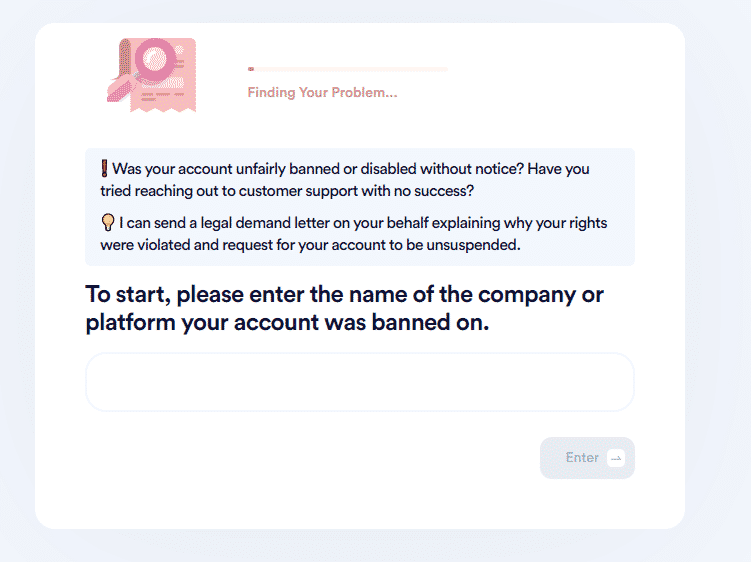 Dealing with customer support can be a long and tiring process. Instagram is a platform with a billion users, and your case might not be a priority. What can put you on top of its list is legal pressure—a DoNotPay demand letter will do that.
Our app can help you speed up the procedure by sending a customized demand. You will only need to:
Click on the Unban My Account option
Answer a few questions about your issue
After you provide us with the date of the ban, the potential reason for the ban, and your digital signature, we will create a letter and send it to Instagram. The deadline we set will ensure that you get a response in no time.
If you got a final answer from Instagram that your account won't be unbanned, we can't oppose that. What we can do is help you appeal the initial decision.
DoNotPay Can Rescue Your Accounts!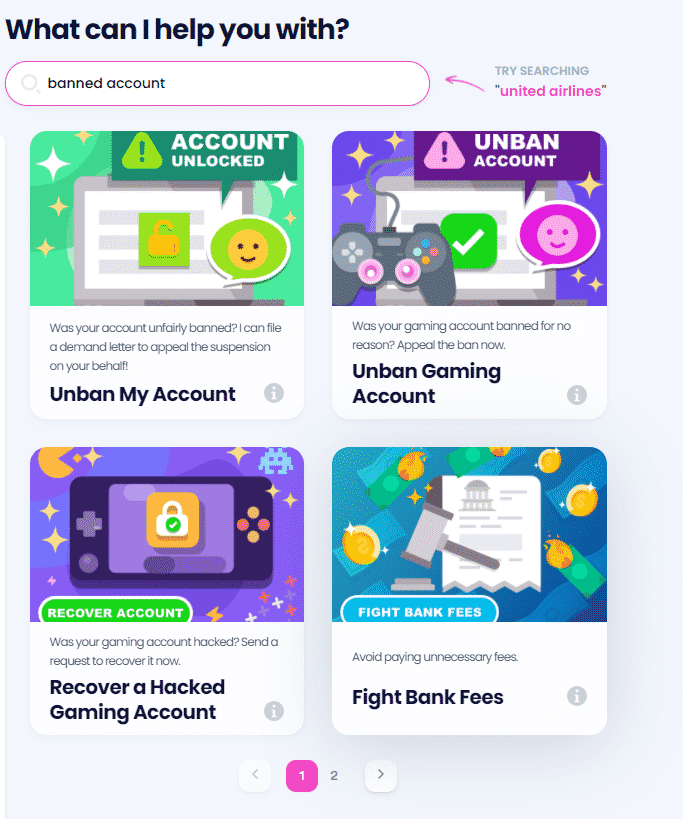 Social media platforms and gaming services can have tricky policies. You can have your Twitter account locked without any explanation or be banned from a service you've been using for years. If you find yourself in such an unpleasant situation, DoNotPay will help!
Our nifty app can appeal any suspended or banned account decision. In a few simple steps, your complaint can become a priority.
If you have any questions about suspended or banned accounts, our learning center has the answers:
DoNotPay Is an App for Everyone
Whether you need help with drafting paperwork, searching through government databases, or managing your bills, DoNotPay has a feature that'll make your life easier. The number of features keeps growing, and you can check out a table showcasing some of them:
Get More Done With Our Do-It-All Platform
DoNotPay can take care of any daily hurdle you come across. For a small yearly subscription fee, you get access to various features that you'll find handy on a daily basis. Besides everyday chores, signing up for DoNotPay will help get you:
The list could go on for days. You can even get in touch with an inmate or fight for discrimination at your workplace!