Did You Get Banned From Facebook for No Reason?
Facebook is a social media giant, and it's almost impossible not to be on the platform today. Most people use Facebook for more than connecting with friends and family. Depending on why you use it, getting banned can have an unanticipated and devastating impact.
The platform is well-known for banning accounts and giving vague ban notifications that don't state the reasons leading to the ban. But what if you don't remember breaking any rules or never had your account suspended before? Can you appeal the suspension?
If you believe you were banned from Facebook for no reason, this guide will help you understand the possible reasons. You will also learn what you can do to recover your account the easy way.
How To Get Banned on Facebook
Facebook admits that it may ban an account by mistake. In such cases, the user may appeal, and the account is restored in no time. Before concluding that your ban was a mistake, you may need to review the community guidelines that dictate what is or isn't allowed on Facebook.
Here are the categories of content that can get you banned from using Facebook:
Objectionable content
Intellectual property
Content promoting violence and criminal behavior
Posts that go against Integrity and authenticity policies
Content that threatens the safety of Facebook users
Objectionable Content
The list of objectionable content that can get you banned includes:
Hate speech
Content that promotes violence and humiliation of other users
Posts that portray nudity and sexual activity
Conversations that promote commercial sexual activities
Cruel and insensitive content meant to ridicule the victims
Intellectual Property
Facebook doesn't allow users to post content that infringes on someone else's intellectual property rights. You must ensure that you have permission to use the content or that it doesn't belong to someone else.
Content Promoting Violence and Criminal Behavior
Facebook bans any content that incites violence or poses a threat to the public. A user can get banned for:
Sharing content that may result in physical harm
Associating with violent and dangerous groups or organizations, such as terror groups
Supporting or organizing harm to individuals, businesses, animals, and property
Trading regulated goods, such as guns and non-medical drugs
Exploiting people for money or property through deceitful content
Posts That Go Against Integrity and Authenticity Policies
Facebook requires users to be authentic. The following activities go against the integrity and authenticity policy:
Spamming or engaging in behavior that triggers spam alerts, for instance, sending too many friend requests in a short period
Trying to collect sensitive personal user information from the platform
Using a fake account
Promoting violations of the community guidelines
Sharing fake news
Manipulating media, such as video, image, and audio, with the intention to mislead users
Content That Threatens the Safety of Facebook Users
The most common examples involve content that contains or refers to:
Nudity of minors, sexual abuse, or exploitation
Harassment of other users
Human exploitation activities, such as human trafficking
Self-harm and suicide
Confidential details about oneself or others
How Do You Know if You Are Banned From Facebook?
Facebook usually sends a warning, but in some cases of severe violations, it may ban an account without warning.
A user may be banned from accessing certain Facebook features, like messaging, posting, or joining groups. This is known as a feature ban. At times, users may be completely locked out of the platform.
If your account is banned from Facebook, you will see a notification when you attempt to log in. If you can't see a ban or "Account Disabled" alert, you may be experiencing technical login issues.
How Long Do You Get Banned From Facebook?
The duration of Facebook bans depends on the severity of the offense and the frequency. Feature bans can last a few days, but bans due to repeated violations can last up to 30 days. Sometimes, the ban is permanent. If your Facebook account is suspended temporarily, it will be restored automatically when the suspension expires.
How To Get Unbanned From Facebook
Facebook allows users to appeal bans and suspensions. If you were banned from Facebook for no reason, follow these steps to submit your request:
Visit the Help Center and locate the review form
Fill out the name and email address boxes
Upload a photo of your ID
Tap Send
Facebook doesn't state how long you should wait for your request to be processed. Bear in mind that accounts that are banned due to severe violations of Facebook's community guidelines cannot be unbanned.
Get Unbanned From Facebook Using DoNotPay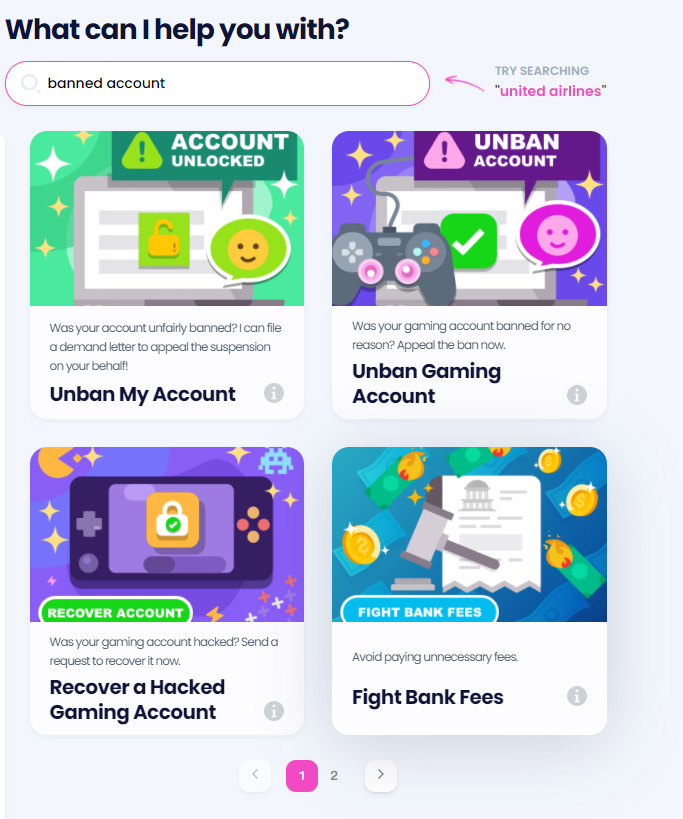 Facebook bans numerous problematic accounts every day. Their support team receives many appeals, and yours can go unnoticed. That is why you need DoNotPay to ensure your request is not ignored and that you don't wait indefinitely.
To recover your account the easy way, all you need to do is:
Find the Unban My Account product
Answer a few questions about your banned account
Click Sign and Submit
The app will use the information you provided to draft a custom letter and send it right away to the company. The letter gives Facebook two weeks to inform you of its final decision. If you believe that you were discriminated against on the basis of race, religion, national origin, sex, disability, color, or veteran status, DoNotPay will help you fight back.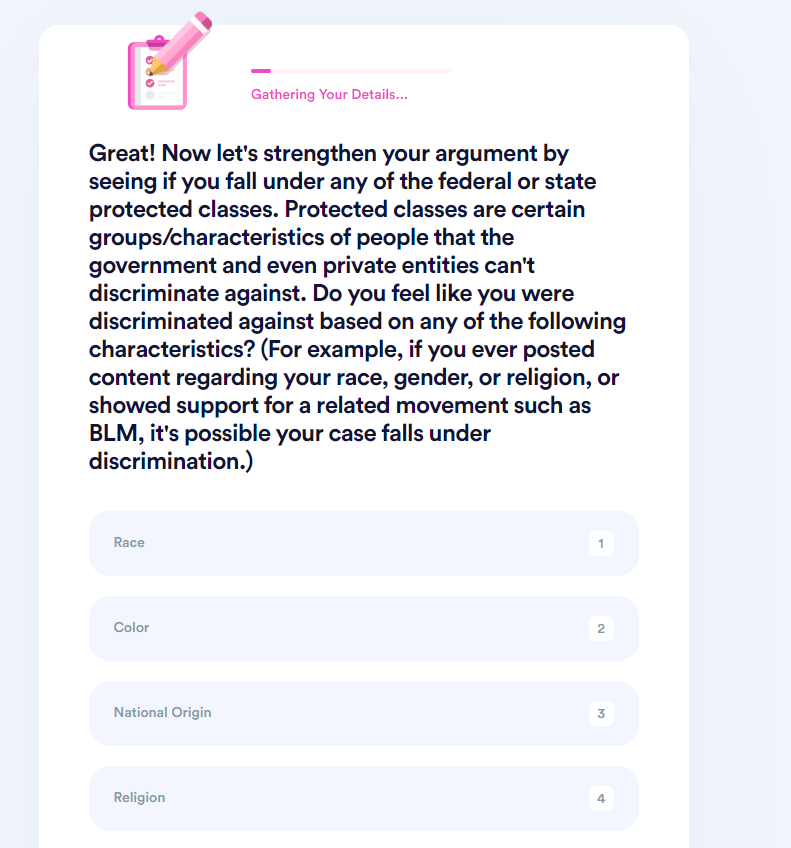 DoNotPay can provide more details if you are wondering what happens when you are banned from Facebook or if you need to solve issues on other social networking platforms, such as:
Recover Your Accounts From Other Platforms Using DoNotPay
DoNotPay is not limited to social media platforms. We can help you get unbanned from using other platforms, like gaming accounts and e-commerce sites. When you subscribe to DoNotPay, you can use our services at any time to appeal all kinds of account suspensions. For gaming accounts, use the Unban Gaming Account tool instead.
Keep in mind that DoNotPay assists with appealing the original ban or suspension, not the company's final decision.
Check out our other guides below to help you solve other account issues:
What Other Issues Can Our App Solve?
DoNotPay can support you through various burdensome procedures and turn them into a breeze! Here's a table showing a tiny part of our extensive offer:
| DoNotPay Can | Services |
| --- | --- |
| Create various documents | |
| Protect your safety and privacy | |
| Get your money back | |
DoNotPay Is Your Ticket to Simpler Life
Don't bother going through complicated tasks alone—we are here to take care of them! Seek our help if you want to get in touch with customer service instantly, fax anyone online, or get your documents notarized. Besides providing these amazing services, DoNotPay can make preparations for your travel adventures by assisting you in getting passport photos at home and obtaining tourist visas.