Is Your Facebook Account Suspended? Here Are a Few Solutions You Can Try
Today, we depend on social media for a lot more than fun. This is why having their Facebook account suspended all of a sudden can make some people livid.
Don't worry, because in most cases, you can appeal your suspension. The only problem is the swamped customer support—it might take a while for a customer service rep to respond.
To recover your suspended account quickly and without difficulties, sign up for DoNotPay! Our Unban My Account feature will have your complaint letter written and delivered in a split second, and you'll also cut the reply waiting time.
The Reasons Behind the Facebook Account Suspension
Before you start looking into the reasons behind and solutions for a suspended Facebook account, make sure your account is actually disabled. When you log in, look for a message notifying you that your account has been disabled, i.e., suspended. If you see it, this is probably a consequence of some form of Facebook Terms violation, such as:
Providing false personal info
Using the service although you are prohibited to
Sharing prohibited content
Facebook Account Suspended Because of False Personal Details
Facebook insists that everyone provide names and other identifying data that they use in real life. The company states that this should make the members more accountable and the community safer. Here are the personal details rules:
Use the name you use in real life
Provide accurate personal details
Create and use only one account for personal purposes
Never share your password or account with anyone else or transfer the account to another person without permission from Facebook
Facebook Account Suspension Due to Unapproved Use
Certain groups aren't allowed to use Facebook's services:
Children under 13
Users who already had one account disabled due to violations of the company's Terms or Policies
Anyone who is by law prohibited from using the services
Suspended Account—Facebook-Prohibited Content
Facebook's Terms clearly state the type of content you mustn't share through your account, and this includes anything that's:
Not in line with the company's Terms or Community Standards
Discriminatory, unlawful, fraudulent, misleading
Considered an infringement of a person's rights, including copyrights
Virus or malicious code or anything else that can disable or damage functions of the platform
Considered an automated means of collecting data from the platform in case you try to employ it without the company's permission
Facebook Suspension Appeal
You can appeal a Facebook suspension through the platform's help center only in the case of minor Terms' violations or if you were banned for no reason. If the security system detects any serious violations from your account, you'll get banned from Facebook, and there is no way to get unbanned.
Here is how to file your suspension appeal through the Facebook platform:
Go to your account
Look for the link titled Go To Help Center under the suspension notification and click it
Click the second section called Login and Password
Choose Fix a problem in the menu on the left side of the screen
Select the first option in the Login Help—Can't log into Facebook
Scroll down to Find out if your account is disabled
Look for the link titled Use this form to request a review
Fill out the form with your name, email address, and provide ID scans
After you've finished this process, all that's left is to wait for a response from Facebook support.
Facebook Account Suspended—Get It Unlocked in a Flash Through DoNotPay!
Many people dread and despise browsing through help pages on any platform. You easily get lost in the endless questions and answers and hardly find what you're looking for.
This can happen on Facebook as well since there are a lot of sections and subsections.
DoNotPay helps you avoid going through Facebook's confusing Help Centre. Sign up for our service and file suspension complaints in a flash.
Our Unban My Account tool gathers the essential account info from you, composes, and delivers a compelling appeal letter that should help get you back to your account.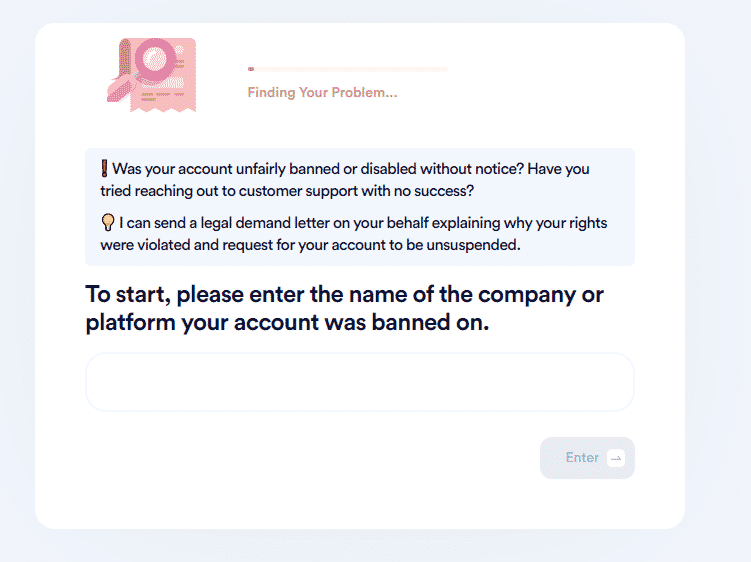 Here is what to do:
Provide the name of the company that has suspended you
Reply to a few questions regarding your account like:

Your account's ID
Email connected to it
When the troubles began

Tell us about any suspicions you have of being discriminated against based on gender, religion, race, etc.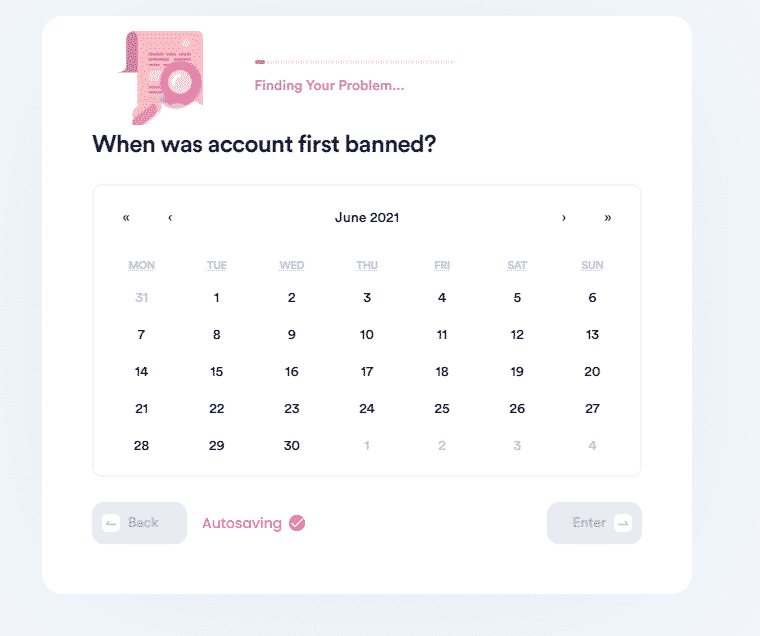 Our app will use all this data to build a strong case for you and present it in the complaint letter giving the Facebook support team two weeks to reply. This will drive them to set your letter as a priority and reply within an acceptable period.
DoNotPay is here if you have any suspension issues with any other social platform, including:
DoNotPay Focuses on a Wide Range of Platforms
Suspended social media accounts are a fraction of the issues we help you resolve. Unban My Account also covers shopping, streaming, and emailing accounts. Another feature on DoNotPay—Unban Gaming Account—adds gaming accounts to our unbanning service portfolio.
Take a look at some of the examples of included platforms below:
Discover the Entire Spectrum of Our Features
A click or two will be enough to discover the amazing universe of DoNotPay's tools and products. Our app is here to show you the best way to get:
Financial Issues? Let DoNotPay Take Care of Them!
DoNotPay can track down your unclaimed money, submit insurance claims, or request compensation for delayed flights on your behalf. This way, you can save some money and get what you're owed. Our app can also make it easier for you to lower your utility bills, cancel active subscriptions and stop further charges, or appeal parking tickets.