Uncover Why Pinterest Suspended Your Account and Find Out What To Do
Pinterest is a popular platform enjoyed by over 470 million users. A sudden suspension notice can ruin the excitement of using this app, though. Why did this happen? Can you get your account back?
DoNotPay can help you uncover why Pinterest suspended your account! Our guide reveals potential reasons for the suspension, steps to getting the account unsuspended, and the decision appeal process.
Suspended vs. Banned Account—What's the Difference?
Suspension is temporary, and you can get your account back in 7–10 days. If Pinterest suspends your account, it wants to warn you about your wrongdoings by locking you out.
Getting banned means that you are permanently removed from the platform. You can still get your account unbanned, but it will be more demanding than lifting a suspension. If Pinterest finds that you are ban-ready, you must have a good explanation to prove it otherwise.
Why Was My Pinterest Account Suspended?
Pinterest has a low tolerance for spam accounts and guideline disrespect. It does a regular check to detect and remove accounts with spam-like behavior. The purpose is to improve user experience and ensure safety. While the intentions are good, the platform can sometimes sweep legitimate users along with spammers.
What Pinterest considers going against its spam policies is:
Pinning repetitive posts
Adding the same pin to multiple boards, several times a day
Sending too many pins in one day
Including misleading links
Posting commercial, unsolicited, or deceptive comments
An account can be suspended if the user disregards the Community Guidelines by:
Posting explicit, false, or violent content
Acting in a harmful, hateful, or misleading way
Uploading content showing physical, financial, or sexual exploitation
Distributing disinformation
Insulting or antagonizing individuals or groups
Revealing confidential information
Using threatening language
Impersonating a person or organization
Infringing on someone's intellectual property
If the platform finds that you violated its policies and guidelines, it will suspend you. Another user can report you, which can also put you in Pinterest jail. In case your activity doesn't match any of the listed violations, you are probably a victim of Pinterest's sweep.
The first sign of a suspended account is being unable to log in or access your page on the web. Pinterest will then display a message informing you of its decision.
How Long Does Pinterest Suspension Last?
How long the suspension will last depends on how well and fast you'll clarify the misunderstanding. While the Pinterest suspension message says that your account will be active within 48 hours—if you did nothing wrong—the suspension can last longer. You need to settle the case with the platform, which can take up to ten days.
How To Get Pinterest Account Unsuspended
There's only one path to getting unsuspended—submitting an appeal.
In the suspension notice, you'll find a link to open a discussion. It says that the link will expire after seven days, so you must appeal before the deadline passes.
If you missed that link, no worries—follow these steps:
Go to the Help Center page
Click on Appeals
Select Appeal Account Suspension
Provide your information
Use the Description section to make your case. Explain that you are a legit user and that you haven't done anything to violate the terms. If you know why you got suspended, send screenshots that prove you're not a wrongdoer. Keep your frustration on the low, and write respectfully.
Once you send the message, you'll get an automated email to confirm that you made an appeal. If the email isn't automated, you will find a representative's name at the bottom. You can reply to this message to reassure them that you aren't a spam account and get a response faster.
Arm yourself with patience because it can take a few days before they answer. For every email you send, you could wait two to three days for a response.
Do you want to make sure that you don't get ignored? Use the DoNotPay app!
How Can DoNotPay Help?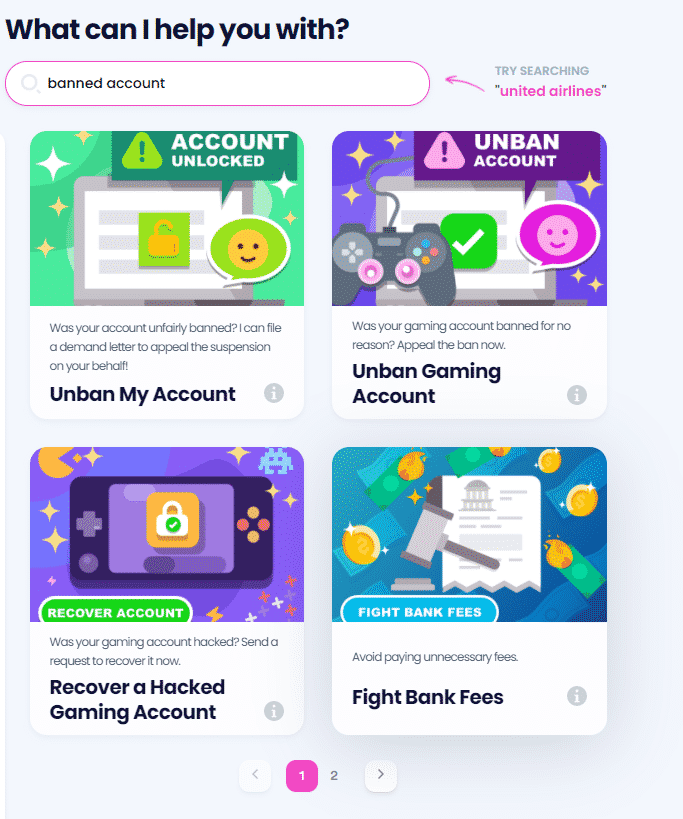 DoNotPay will put legal pressure on the company to solve your appeal. We will create and send a demand letter with a response deadline so that Pinterest takes you seriously.
To put your appeal in motion, do the following:
Enter Unban My Account in the search bar
Fill in the form by providing:

The name of the company
The date when you got suspended
Your current address
An explanation why you got suspended (if applicable)
Information about whether you have a paid subscription, and if you do, whether you want a refund
Your username
If you feel discriminated against, let us know while completing the questionnaire—we can use it to strengthen your case.
You will also need to verify your signature to validate the document.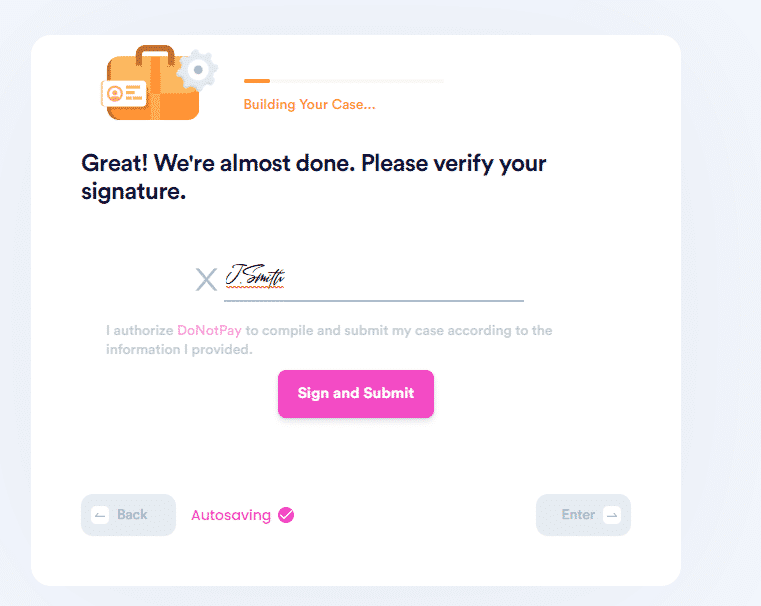 Note that we can appeal to the platform's original decision, not the final one. If you have already messaged Pinterest representatives and they said that your suspension won't be lifted, the case is closed. While they can be in the wrong, they have the right to remove or suspend the users if they find this action justified.
DoNotPay—The Solution for Appealing Banned and Suspended Accounts
Do you need help with any other platform? If Twitter locked your account, we can appeal that decision as well. The same goes for any other platform or service—whether you got banned, suspended, or locked out.
See what our nifty app can help you with by reading our useful guides:
DoNotPay Is an App for Everyone
Whether you need help with drafting paperwork, searching through government databases, or managing your bills, DoNotPay has a feature that'll make your life easier. The number of features keeps growing, and you can check out a table showcasing some of them:
| | | |
| --- | --- | --- |
| Solving Legal Issues | Saving Money | Protecting Privacy |
| | | |
Get More Done With Our Do-It-All Platform
DoNotPay can take care of any daily hurdle you come across. For a small yearly subscription fee, you get access to various features that you'll find handy on a daily basis. Besides everyday chores, signing up for DoNotPay will help get you:
The list could go on for days. You can even get in touch with an inmate or fight for discrimination at your workplace!