Filing a Walmart EverStart Battery Warranty Claim in 2022
Have you purchased a battery from Walmart that you're unsatisfied with? You can return it to the store and get your money back as long as your return meets the company's return criteria. Learn everything you need to know about the Walmart battery return policy in this article and discover how to use our product to request a return from any company.
How the Walmart Battery Return Policy Works
Household and car batteries purchased from Walmart are eligible for returns if they are:
Unused
Faulty
Not the appropriate size
Only charged 12.45 volts or less (for car batteries)
If the claim is accepted, Walmart will refund your purchase in cash or as store credit. Online payments will be returned accordingly and may take one to two days to be processed back to your account.
You must return or exchange an unwanted battery within 90 days of purchase with the receipt and the original packaging intact. After 90 days, only returns of Walmart-exclusive automotive batteries under the following warranties will be accepted:
EverStart Value—Free battery replacement within one year of purchase
EverStart Plus—Free battery replacement within two years of purchase
EverStart Maxx—Free battery replacement within three years of purchase with an extended two-year warranty for discounted replacement after
Can You Return a Walmart Battery Without a Receipt?
If you don't have a receipt, you can show a valid government-issued identification document. Your return will be accepted if the details match the ones in Walmart's database. Keep in mind that you will only get store credit if you don't have a receipt—unless your battery costs less than $25.
Can You Return Old Car Batteries to Walmart?
You can't exchange old batteries for money, but you can show old battery purchases from Walmart to be eligible for a core charge discount on a new battery purchase. Depending on the state, you can save between $5 to $10 on a core fee if you bring old batteries to be recycled.
How To Return a Walmart Battery
Walmart doesn't accept mail returns for batteries, so you can only return the item in question as follows:
Package the item securely in its original box
Go to the Walmart store where you purchased the item
Visit the automotive department (if you didn't buy it from a Walmart Auto Care Center)
Show the clerk your proof of purchase
The staff will test the battery to verify if your return is valid. You can choose how you will be refunded once your return is accepted. If you want an exchange, the staff can install the new battery for you free of charge.
DoNotPay Offers a Hassle-Free Solution for Faulty Item Returns
While you can only return Walmart batteries in person, many other companies allow mail returns for their products. You need to notify the store in advance first, though, and sending a return request letter beforehand is the best way to do it.
Unsure of how to draft a formal letter for your return request? DoNotPay can save you in a pinch if you do the following:
Choose the Return My Purchase product
Tell us the details of your purchase
Add your electronic signature and submit the form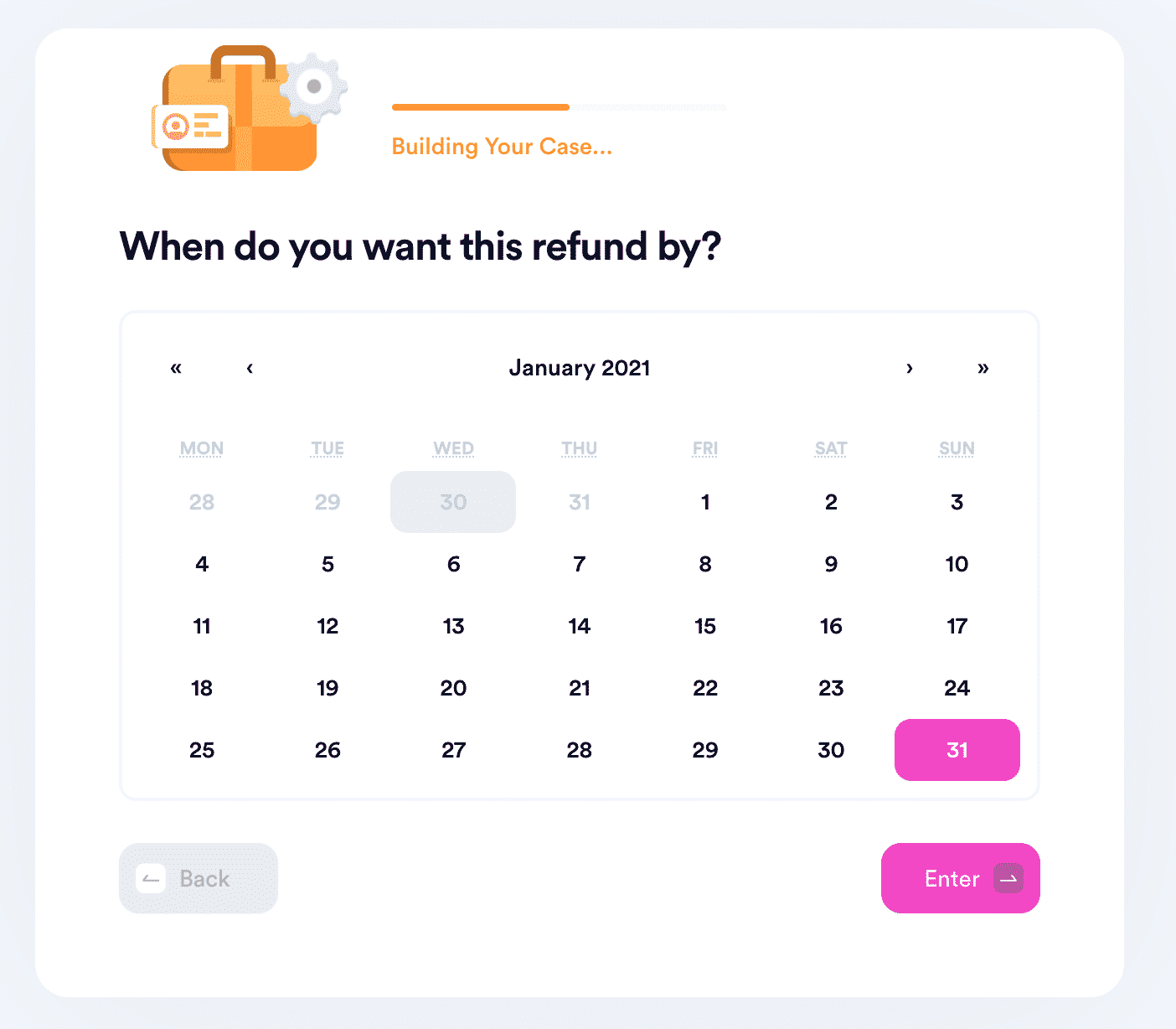 You will have a return request letter tailored to your needs in a jiffy. We will forward the letter to the merchant promptly and include a deadline for your request to be taken care of as soon as possible.
Consult the table below to see some of the companies and retailers our app can help you with:
Sick of Dealing With Companies? We'll Take Over
Companies that don't respect your consumer rights are the reason why DoNotPay exists—our range of AI-powered products is here to help you fight for justice.
If you want to demand a refund for a rescheduled flight, cancel your free trial using our virtual credit card, sue any company or individual in small claims court, appeal your parking tickets, protect your work from copycats, claim warranty and insurance, rely on your AI-driven personal assistant.
Don't want to pay sky-high lawyer fees for simple legal tasks? You shouldn't—use DoNotPay to draw up any legal document, including a child travel consent form, divorce settlement agreement, power of attorney, and many more.
Complete All Tasks From the Comfort of Your Home
As soon as you subscribe to our versatile app, you'll be able to do all of the following without leaving your home: