A Straightforward Guide to the Fitbit Return Policy
Fitbit is an iconic smartwatch and exercise aid that helps users track vital activities such as daily steps, heart rate, and more. As one of many such devices available today, Fitbit may not be the perfect workout tool for you—if you want to send it back, you'll need to know how the Fitbit returns work.
Is the prospect of figuring out the Fitbit return policy tiring you out? Give your brain a rest and find the information you're looking for in our easy-to-follow guide below. Better yet—.
What Are the Terms of the Fitbit Return Policy?
If you are unsatisfied with your Fitbit in any way, you are eligible for a full refund under the following three conditions:
You must return the item within 45 days of shipment
The device and all purchased accessories must be returned in good condition and original packaging
You must have a return authorization number
The Fitbit return policy only applies to purchases made directly with the company through their online store. If you bought the product from a third-party retailer and wish to return it, start the process by contacting that store and inquiring about their policies.
Where Do You Find Your Return Authorization Number?
You will receive a return authorization number after you initiate the process. The procedure for acquiring one depends on your location:
How To Return Your Fitbit
As an individual brand, Fitbit does not operate any retail locations, which means you cannot return your Fitbit in person. Fitbit offers a number of options for opening a return order, and in every case, you must ship it back to the company. Here's how to do so:
Choose a return initiation method (listed below)
Obtain a return authorization number
Put your Fitbit, accessories, and the authorization number in the original packaging
Ship the product to the specified address
How To Initiate Your Fitbit Return Process
Fitbit provides only a few methods for starting the procedure:
| Method | Yes/No |
| --- | --- |
| DoNotPay | Yes |
| Website | Yes |
| Phone | Yes |
| Live Chat | Yes |
| Email | No |
| In Person | No |
| Letter | No |
Initiate Your Return on the Fitbit Website
If you are a US-based customer, you can start the return process by:
Navigating to Fitbit's Return Tool
Inputting your order number and billing ZIP code
Following subsequent instructions
Initiate Your Fitbit Return by Phone
To initiate a return over the phone:
Call (877) 623-4997
Provide the order details requested by the customer service representative
Follow the subsequent instructions
Initiate Your Fitbit Return Over Live Chat
To begin the return process using Fitbit's live chat, follow these steps:
Visit Fitbit's Contact Support page
Click Live Chat
Wait for an agent to join the chat
Provide the order details requested by the customer service representative
Follow the subsequent instructions
Do You Need a Receipt?
No—purchases made directly from Fitbit are tracked using an order confirmation number and your ZIP code. You don't have to provide any additional proof of purchase.
Does Fitbit Offer Full Refunds?
Yes—if you meet the conditions of the Fitbit return policy, you will be eligible for a full refund on your purchase.
Does Fitbit Offer an Extended Holiday Return Policy?
Yes—purchases made in November or December may be returned by January 31 of the following year or within 45 days from the date of purchase (whichever period is longer).
Are There Exceptions to the Fitbit Return Policy?
Not all fees or conditions are eligible for a refund under the Fitbit return policy. Review the following terms to ensure you qualify:
Shipping, handling, and gift wrap fees are non-refundable
Taxes (including state, custom, and VAT) are non-refundable
Returns that do not meet the primary conditions of the policy may be denied or made subject to a 15% restocking fee
Is Your Fitbit Covered Under Warranty?
Yes—Fitbit offers a manufacturer's warranty that covers defects.
Streamline Your Fitbit Returns With DoNotPay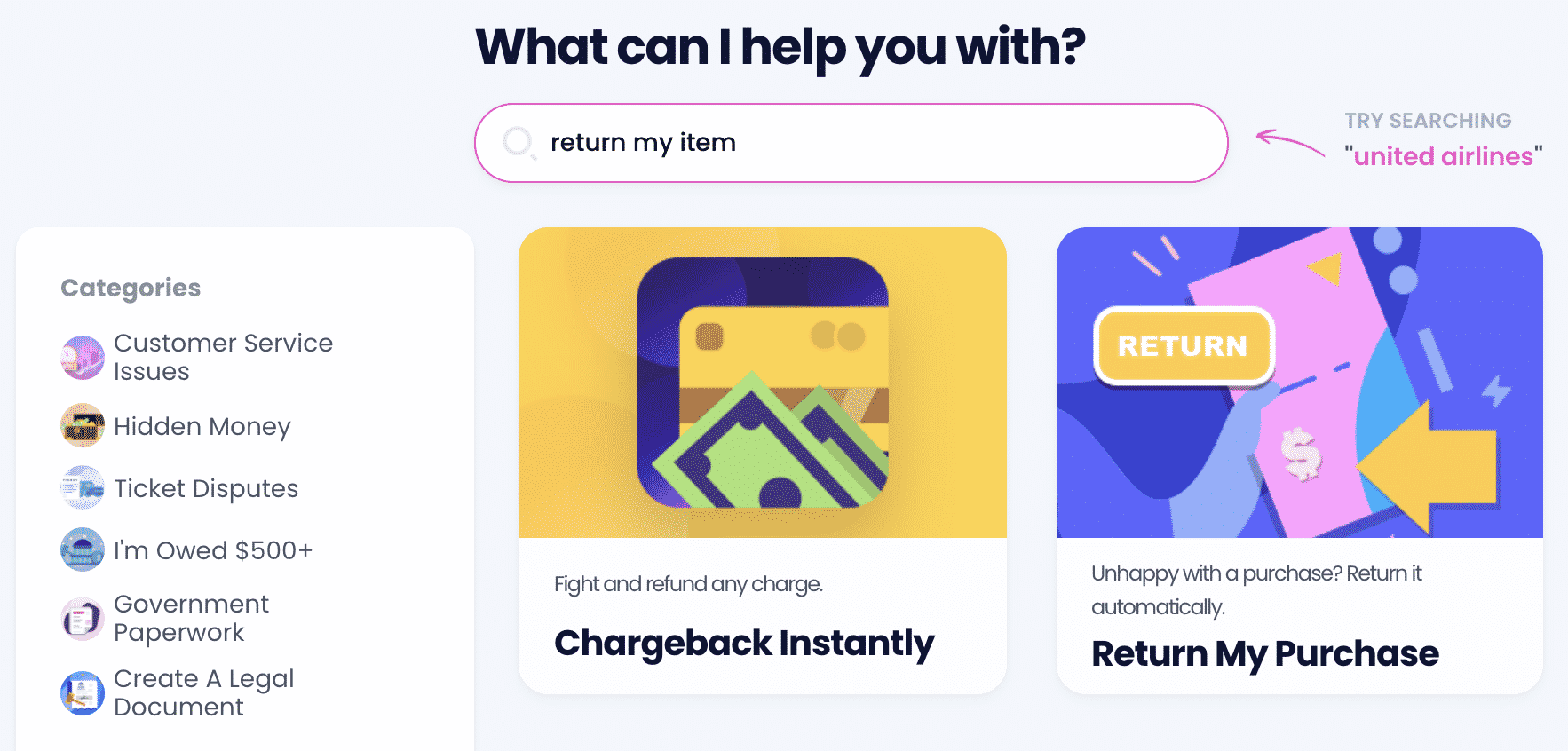 Have all those terms and conditions left you winded? You're not alone—nobody enjoys wading through complicated return procedures. That's why DoNotPay offers a superior way to manage your return.
Our Item Return Request tool is efficient and easy to use. We also set a response deadline to ensure a prompt response from the merchant.
Follow these steps to initiate your return request:
Select the Item Return Request tool
Answer the requisite questions and upload a photo if necessary
Submit your request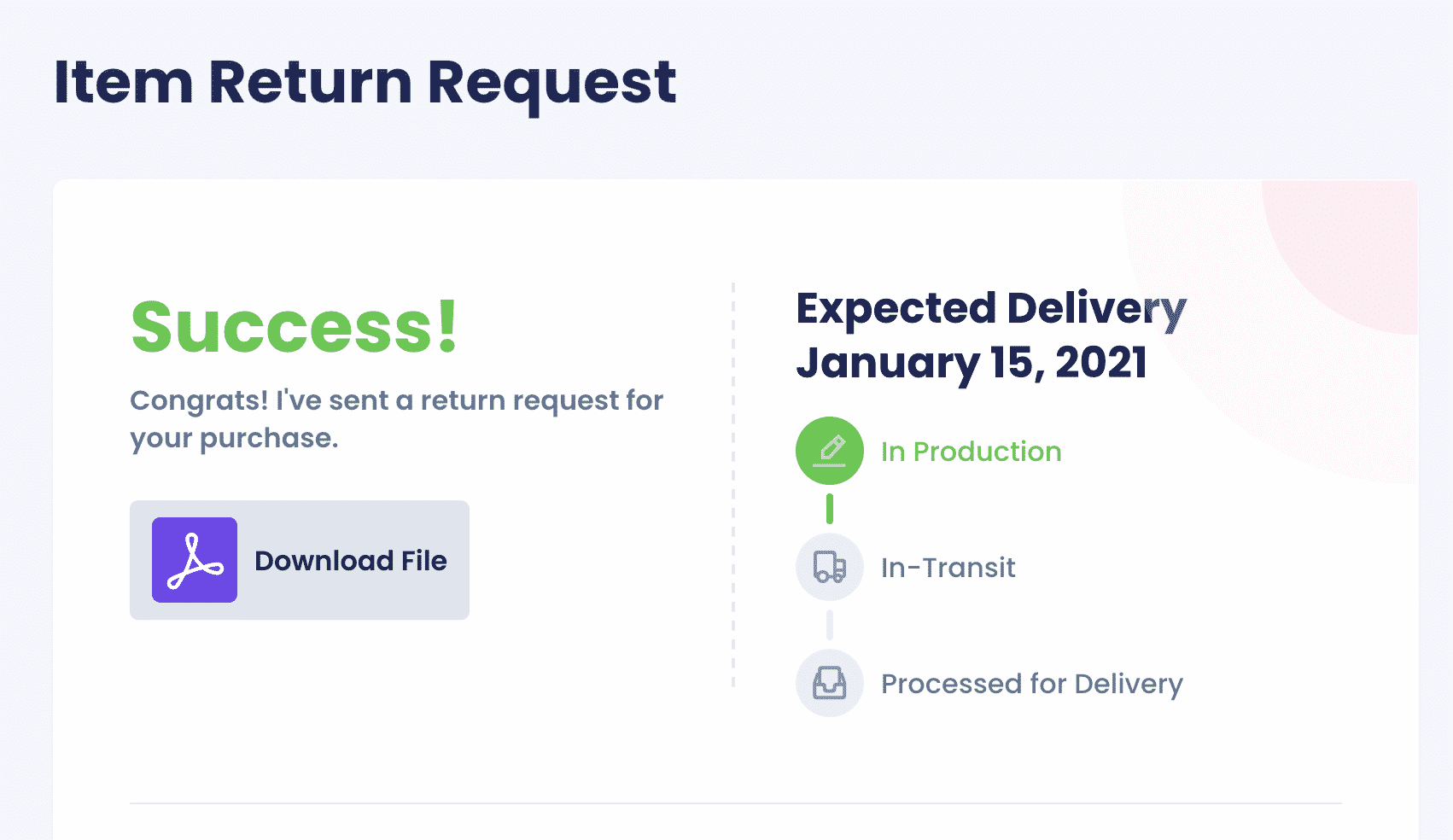 Are you considering returning items to other big-name online brands? Take a look at our comprehensive guides to save yourself a lot of time and money:
DoNotPay Is a Master at Getting What's Rightfully Yours
Are you dealing with a company that refuses to approve your return? Once we submit a refund request in your stead, we can also prepare all the paperwork you need to sue the merchant in small claims court and win your case.
Need a legal document for the lawsuit? Draw it up with our handy tool. Want to get any document notarized and fax it to someone? We have products that can do that for you as well.
Has an airline rescheduled your flight, or is your package damaged or missing? Demand compensation with DoNotPay!
Do you believe that you may have some unclaimed assets? Count on us to find and get them for you.
It Doesn't End There!
Use DoNotPay whenever you need to tackle any sort of mundane task. If you're sick of wasting your time in long phone queues or the ones at the DMV, we'll help you skip them. Do you want to apply for a college fee waiver or clinical trial? Are you looking to enter a sweepstake or get a passport photo or a tourist visa? We'll do it all in your stead!
If you want to send a letter of warning to a persistent harasser or loud neighbor or want to get compensation for victims of crime, workplace discrimination, or robocalls, let us know and we'll tackle the issue momentarily.