Understanding the GNC Return Policy—How To Return Items Fuss-Free
You've purchased a GNC product, but it didn't turn out the way you expected, and you want to return it—what's the next step?
If you are unsure about the dos and don'ts of the GNC return policy, our simple guide comes to the rescue! Let us break it down for you and share must-know tips on how to return GNC products.
We'll also let you know how can speed up your returns.
What You Need To Know About the GNC Return Policy
As a part of its "make the customer happy" goal, GNC allows you to return the product within 30 days from the purchase or order date. The item you'll be returning can be unopened, opened, or used, but it must be in good condition.
What you'll need for the return is:
The original box
The paperwork you received with the product
Accessories that came with the product
Original receipt (for in-store purchases) or digital packing slip (for online purchases)
If your item is well preserved, you can exchange it for another one or get a full refund. GNC doesn't reimburse the costs of:
Shipping
Handling
Gift wrapping
Other additional charges
Can You Return All GNC Items?
GNC is open to all return requests, but that doesn't guarantee you that your item will be refunded. There are specific cases in which GNC won't give you your money back.
The GNC return policy clearly states that you can't get a refund for the following items:
GNC membership
Items purchased through AliPay
GNC products purchased from an unauthorized seller
GNC gift cards
How To Return a Faulty or Damaged GNC Item?
If you received a faulty or damaged GNC product, you have every right to return it. The deadline for that type of return is 30 days from the delivery date.
Here's what you need to do to return a defective or damaged item:
Get in touch with GNC customer service at 1-877-GNC-4700
Provide the representative with your order number and product number (find them in the confirmation email)
Give the representative your email address and your phone number
The rest is up to GNC to handle. It will refund your purchase and cover the shipping costs if the item was damaged during shipping.
How To Request a Return From GNC
GNC provides you with several return methods, as follows:
| | |
| --- | --- |
| Can You Initiate a GNC Return Via | Yes/No |
| DoNotPay | Yes |
| Email | No |
| Phone | Yes (if the product is faulty or damaged) |
| Letter | No |
| Website | No |
| In person | Yes |
The GNC Return Policy for In-Store Returns
GNC retail stores will process your return regardless of whether you purchased your item online or in store. You don't need to return the goods in the same store where you purchased them—any GNC retailer can handle your return.
These are the steps you need to take to return your product in store:
Prepare your receipt or packing slip
Take your photo ID with you
Head to a GNC retail store
Ask a GNC employee to process your return
They will offer you a refund or exchange, depending on the product you're returning. If you opt for a refund, you will receive the money to the same payment method you used during your purchase. If you used a check, you can get a cash refund within ten days after the purchase.
There is one exception you should know about—if you bought the item through PayPal or Bill Me Later, you can't return it to a GNC store.
The GNC Return Policy for Mail-In Returns
To return a GNC product via mail, follow these instructions:
Pack the item in the original box with all the additions
Send the bottom part of the packing list with the product and keep the top part for yourself
Ship the return package to the address on the packing slip
GNC doesn't accept Cash on Delivery (COD), and you are responsible for the shipping charges. If the reason for the return is a manufacturer or shipping error made by GNC, the company will reimburse your shipping costs.
Once GNC revises your return, it will issue a refund within 30 days of receiving the product.
The GNC Return Policy for Products Without a Receipt
If you want to return a GNC product but don't have the receipt, you have two options:
An exchange
Store credit on a gift card
You will get your gift card credit or exchange at the lowest sales or member price. Make sure to bring your valid photo ID to make the return.
The GNC Return Policy for Purchases From Authorized Retailers
GNC accepts product returns purchased from Amazon or other authorized retailers. What you need to do to get a refund or exchange is:
Call GNC customer service at 1-877-GNC-4700
Prepare the information about when and where you purchased the product
Submit the return request
If the retailer accepts your return, mail the product along with the return approval confirmation number and proof of purchase. The shipping address is:
MARKETPLACE GNC
5215 Albert S White Blvd
Whitestown, IN 46075
United States
Do You Want To Avoid the Hassle? DoNotPay Can Help You Make a Smooth Return
Dealing with the return process can be overwhelming. If you want to avoid the tiring procedures, use the DoNotPay app.
All you'll need to do is take a few easy steps:
Choose the Item Return Request product
Share a few details with the chatbot
Submit your return request
Can it be any simpler? After this, DoNotPay will send your return request and provide GNC with a deadline by which it should give you an answer.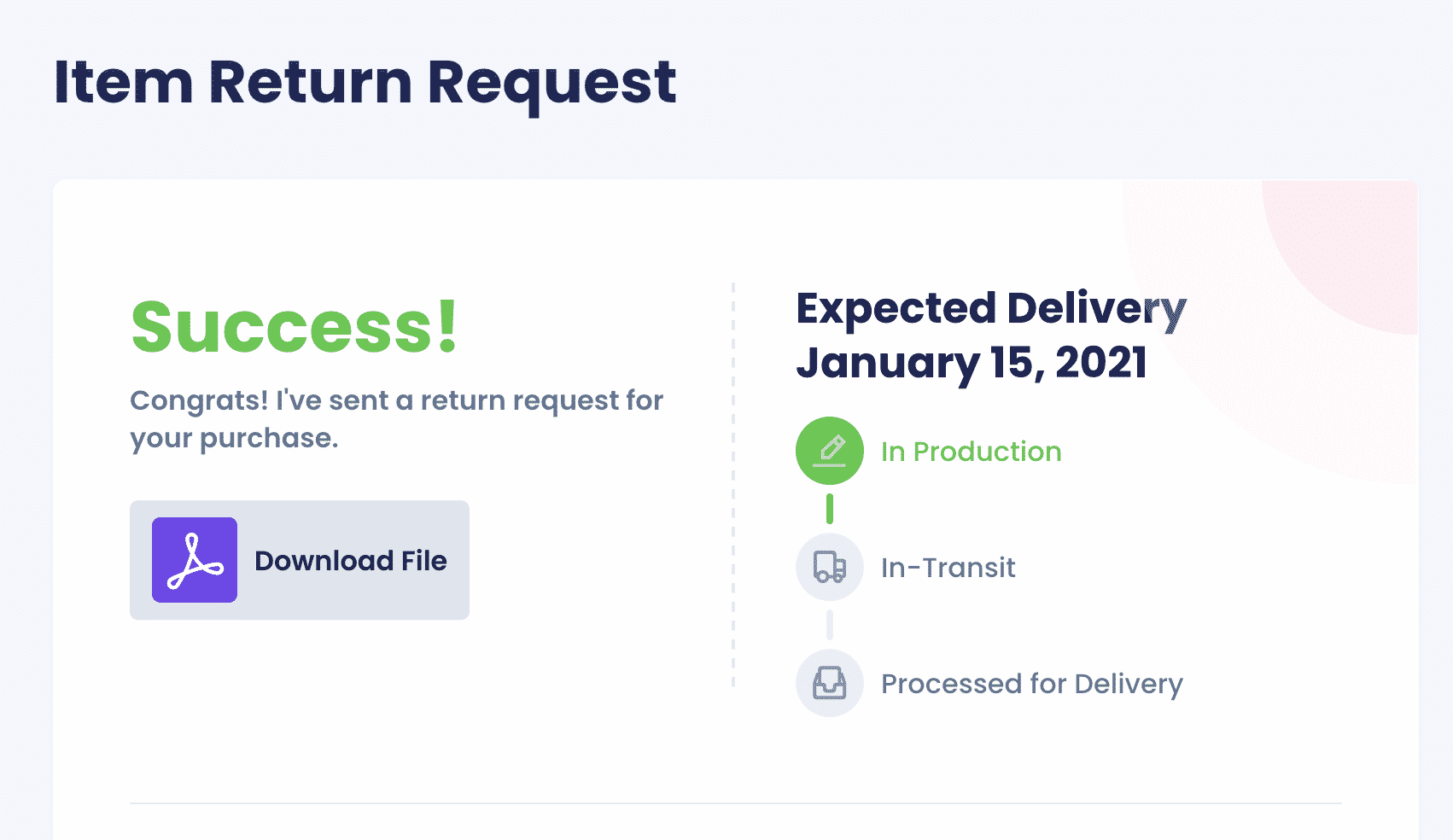 DoNotPay can help you with your other returns as well. Our service can navigate your returns to companies such as:

Is the Company Refusing To Cooperate? We Can Help You Get Justice
Is whatever company you're dealing with not being a good sport? Don't worry—the world's first robot lawyer is here to help. Our app can prepare all the necessary paperwork and provide guidance if you want to sue the company in small claims court.
We can also help you draw up any legal document you need for the case, have it notarized by an online notary, and fax it to anyone in a matter of minutes.
If you want to get revenge on tiresome robocalls or report a stalker or harasser, you can rely on DoNotPay.
Anything Else We Can Do for You?
Our AI-powered app is versatile—you can complete many tiresome, daunting tasks that you wouldn't want to tackle by yourself. You can use DoNotPay to:
If you want to get access to all of our nifty products, sign up now!