A Straightforward Guide to the Family Dollar Return Policy—How To Return Products Effortlessly
If you ended up with a Family Dollar product you don't like, don' worry! We will help you decipher the Family Dollar return policy and show you how to return any item stress-free. DoNotPay can speed up your returns significantly as soon as you sign up!
Family Dollar Return Policy—The Essentials
The Family Dollar return policy guarantees that you can return any product whether you bought it online or in store. You have two options after returning the merchandise:
Exchange the item for a different one
Get a full refund
The deadline for returning the products is 30 days from the date of purchase. If you have the receipt, the company will let you pick a different product or return your money to the original form of payment. For debit/credit card payments, the refund can take up to 30 business days.
The store doesn't provide refunds or exchanges for:
Gift cards
Prepaid financial cards
Alcohol
Tobacco products
The company offers an option to refund your money on prepaid wireless cards.
Here's a summary of options for your returns to Family Dollar:
| | |
| --- | --- |
| Can You Initiate a Return Request Via | Yes/No |
| DoNotPay | Yes |
| Email | Yes |
| Phone | Yes |
| Website | Yes |
| In-person | Yes |
Family Dollar Return Policy—In-Store Returns
To return a product you purchased in a store, head to the closest Family Dollar location. You don't need to return the product to the same store where you bought it—any Family Dollar store will do.
You'll need the original receipt and product, and you should be able to return the merchandise without a hitch.
Family Dollar Return Policy—Online Returns
If you bought a Family Dollar product online but don't like it, returning the item should not be a problem. The same applies if your product was damaged or if a wrong item arrived at your door.
To return your online purchase, you need to contact customer support at 833-232-0002. The customer service agents will guide you through the entire process.
What Is the Family Dollar Return Policy Without a Receipt?
You have a Family Dollar product that you want to return, but you don't have the receipt—now what? The good news is that you can still return the item.
These are Family Dollar's basic rules for returns without a receipt:
The return must happen within 30 days of purchase
The refund or exchange will be at the product's lowest advertised price
The product must cost more than $5
Both a refund and an exchange are available
You can return up to three products a month if you don't have the receipt. The register keeps track of your returns, so you can't beat the system.
Without the receipt, you won't be able to get a cash or credit card refund. Family Dollar will issue your refund in the form of a merchandise return card, which is a store credit in the amount of the original purchase.
Are All Family Dollar Products Returnable?
Some Family Dollar products have a different return policy. You should check whether your item is eligible before initiating the return process.
Here are the products that come with return restrictions:
Family Dollar Product
Return Policy
Pokémon card
All sales are final, and the products can't be returned, refunded, or exchanged
Food
If purchased without a receipt, only an exchange for other food items is allowed
Medical items
If purchased without a receipt with a Medicare or Medicaid OTC benefits card, you can exchange the item only for another medical one
Air mattresses and airbeds

Can't be returned to Family Dollar
Has to be returned to Kentex Corporation (contact at 888-220-2207 or customerservice@kentexcorp.net)
Must have the original box
Must have the original receipt
Has to be returned within 15 days of purchase

Electronics, heaters, and fans

With the original receipt, unopened items can be returned or exchanged
With the original receipt, opened items can only be exchanged for the same item
Without the receipt, products can't be returned or exchanged
How To Handle Family Dollar Returns Without Stress—DoNotPay Has the Answer
Not all shoppers have a pleasant experience with Family Dollar returns. Certain customers have shared their experiences with unyielding managers who refused to give them a refund. If you want to avoid awkward situations, sign up to DoNotPay and let us take care of your returns.
DoNotPay offers an efficient and user-friendly Item Return Request tool. We will generate and send a customized return request letter based on your data. Family Dollar will get a deadline to process your demand, so you won't have to wait forever for a response.
To initiate a return with DoNotPay, follow these simple steps once you subscribe to our app:
Click on the Item Return Request product
Answer the questions from our chatbot regarding your purchase and the return reason
Attach photos if needed
Click Submit
This is all you need to do. The rest is up to DoNotPay.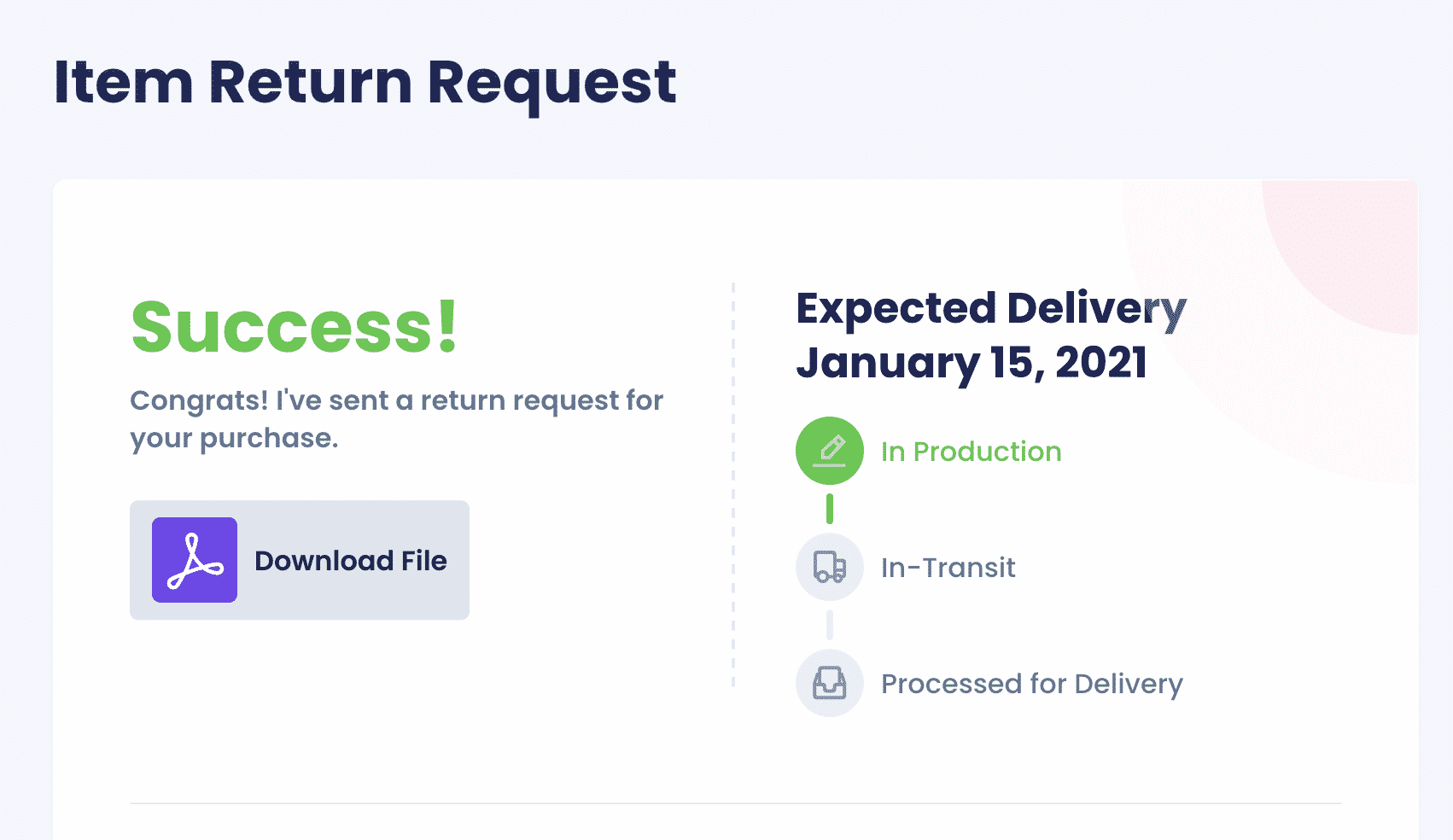 Do You Have Other Returns Pending? DoNotPay Comes to the Rescue!
DoNotPay can navigate your returns to any merchant. We have a streamlined service to conduct the process flawlessly.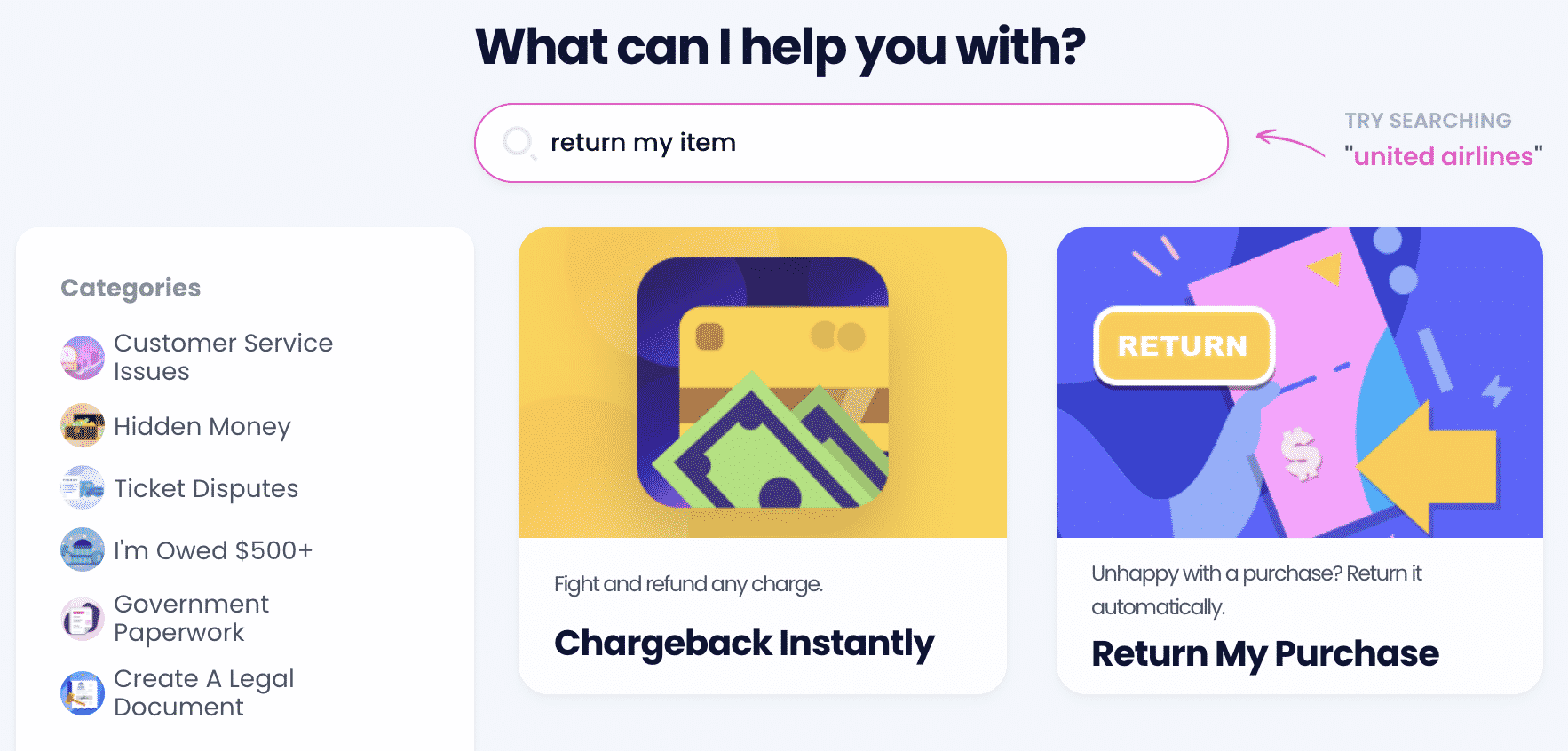 Learn all about the return rules of other major retailers, including:
Is the Company Refusing To Cooperate? We Can Help You Get Justice
Is whatever company you're dealing with not being a good sport? Don't worry—the world's first robot lawyer is here to help. Our app can prepare all the necessary paperwork and provide guidance if you want to sue the company in small claims court.
We can also help you draw up any legal document you need for the case, have it notarized by an online notary, and fax it to anyone in a matter of minutes.
If you want to get revenge on tiresome robocalls or report a stalker or harasser, you can rely on DoNotPay.
Anything Else We Can Do for You?
Our AI-powered app is versatile—you can complete many tiresome, daunting tasks that you wouldn't want to tackle by yourself. You can use DoNotPay to:
If you want to get access to all of our nifty products, sign up now!