A Detailed Guide to the Glossier Return Policy
Glossier is a digitally native skincare brand that's built a well-deserved cult following among younger consumers. Its commitment to high-quality products and efficient customer service has earned them a series of awards since its founding in 2012.
While the company may be well known for its friendly customer support, that doesn't necessarily mean that the Glossier return policy is easy to understand at first. This guide will give you the basic facts—or you can skip the hassle and .
How Does the Glossier Return Policy Work?
You can return any items purchased from Glossier within 30 days and receive a full refund to the original payment method. Unlike other companies' stricter return policies, Glossier will offer refunds or exchanges on any products customers are not entirely satisfied with.
Return Methods for Glossier Products
Glossier doesn't give you many options when it comes to starting the return process. You can initiate it in the following ways:
| Return Initiation Method | Yes/No |
| --- | --- |
| DoNotPay | Yes |
| Email | Yes |
| In Person | Yes |
| Phone | No |
| Letter | No |
| Website | No |
How To Return Your Glossier Products
If you are not satisfied with a Glossier item, or it is defective, you can return it by following these steps:
Ensure you have your order number on hand
Send an email to gTEAM@glossier.com
Specify which items you wish to return
Follow any subsequent instructions from the Glossier customer support team
What if You Don't Have a Packing Slip or Order Number?
Don't worry—Glossier does not use packing slips, and the customer support team can help you find your order number. Get in touch with Glossier support to request a copy.
Can You Return Multiple Products in One Order?
Yes—Glossier accepts returns of multiple products in a single return package. Ensure you have informed the customer support team of every item you will ship back to them, and secure them carefully in the parcel.
Can You Return Glossier Gifts?
Yes—Glossier gifts are returnable for store credit only. To return a product you received as a gift, make sure you have the following information about the purchaser before contacting Glossier support:
First and last name
Email address
The products you wish to return or exchange
Don't worry about hurting anyone's feelings—Glossier will not notify the gift-giver of any subsequent returns or exchanges.
How Long Does Refund Processing Take?
Refunds to your credit card will be processed in 5-10 days. Depending on the timing of the return, the refund may not appear on your statement until the following month.
Can You Return an Item More Than 30 Days After Purchase?
In some cases, Glossier will honor returns on merchandise outside of the standard 30-day window. To find out if you qualify, get in touch with the Glossier customer support team by:
Visiting your nearest Glossier retail location and speaking to a staff member
Sending an email to gTEAM@glossier.com
How To Check the Status of Your Return
If you haven't heard from Glossier in the timeline you expected and lack any recent updates from the courier, you should contact them for further information. The Glossier customer support team can update you on the status of your return by email.
How Does Glossier Manage Exchanges?
Glossier is well-known for its lenient approach to dealing with misordered products. Numerous Reddit users report similar experiences when contacting Glossier about a mistakenly purchased product. The customer support team usually ships a replacement product and also lets the customer keep the original.
Does the Glossier Return Policy Have Any Limitations?
Yes—the following exceptions apply to the Glossier return policy:
Shipping charges are non-refundable
Gift cards are final sale
Ensure Your Returns Are Stress-Free With DoNotPay
Regardless of how helpful the Glossier customer support team is, you may not want to go through the return process alone. The good news is that you don't have to. You can use DoNotPay instead.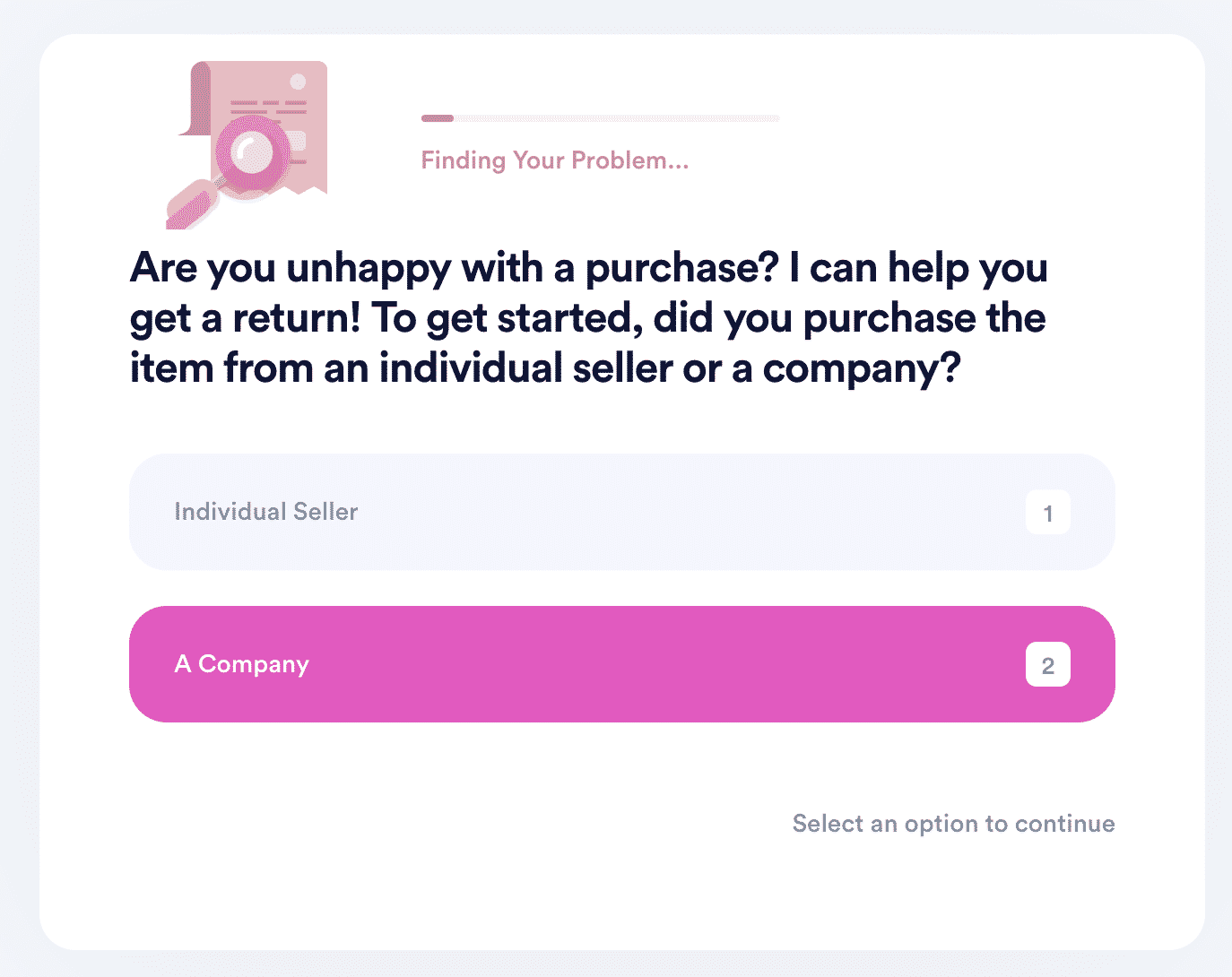 Our AI-powered robot lawyer offers the Item Return Request tool that sets a response deadline to ensure you get a quick reply from Glossier on the status of your return.
Here's how to get started:
Select the Item Return Request tool
Input the requested information and upload photos
Submit your request
We'll manage the process from there on, ensuring it is as efficient as possible. DoNotPay will draft a letter requesting your return and send it to the retailer on your behalf. You will also get a free return label so you can ship your package hassle-free.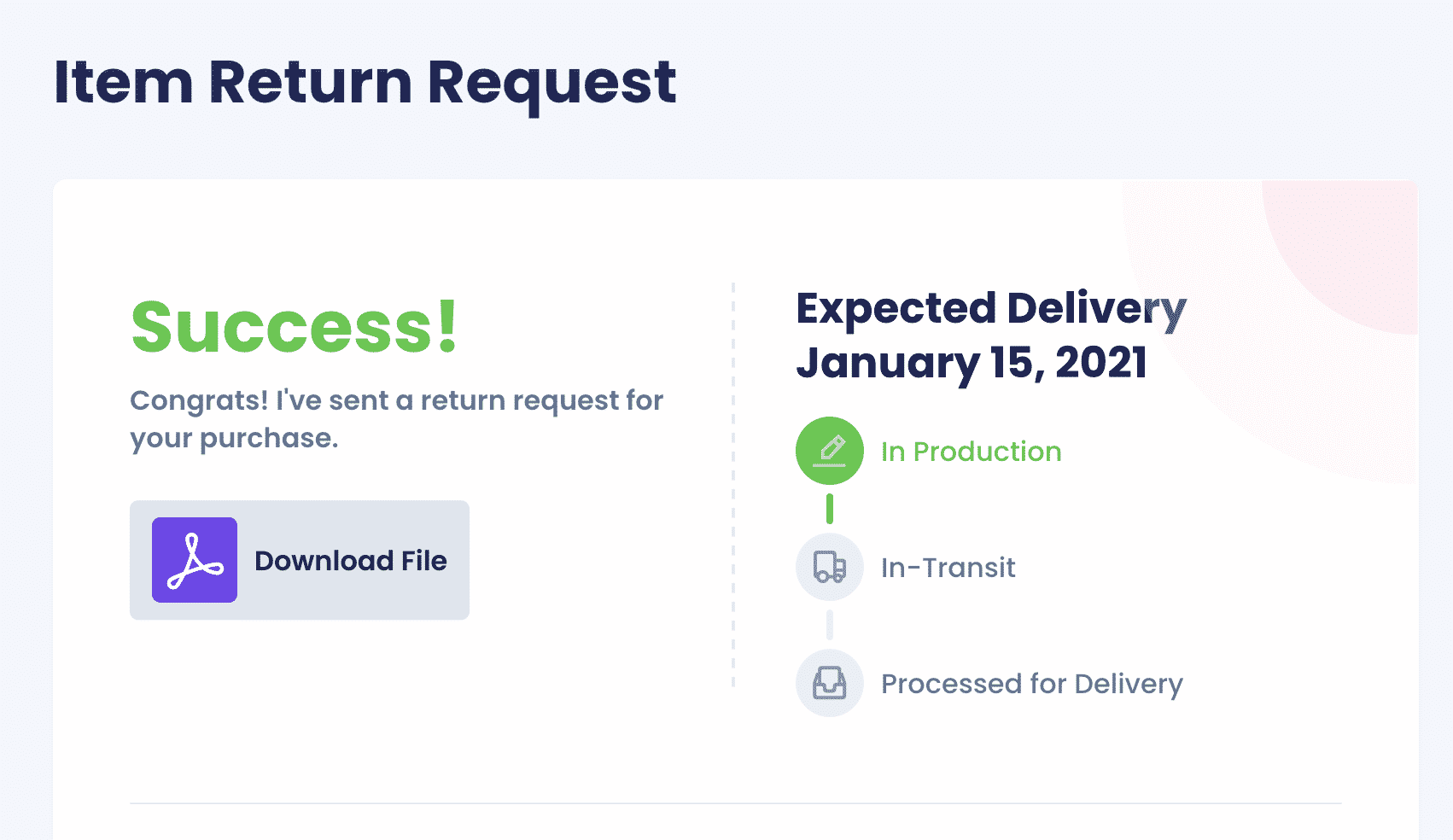 Planning to return a few purchases from other big retailers? We've got guides to their return policies as well—review them to understand and streamline the process:
Wasted Your Money on a Non-Returnable Purchase? There Are Other Methods To Earn It!
Don't feel down if the item you got isn't returnable—DoNotPay has many more tricks up its sleeve that will help you earn some money!
From helping you enter sweepstakes, decrease your property taxes, and lower your utility bills to assisting you in earning off email or text spammers and robocalls, waiving your college application fees, submitting a college financial aid appeal letter, and getting a refund from any company or airline, we can do it all!
DoNotPay Is Always at Your Disposal
Our app's mission is to take everyday admin and legal tasks off your plate so you don't have to waste any of your precious time. If you want to appeal your parking tickets, draw up a legal document, get any agreement notarized, get a tourist visa, keep a sex offender at bay, mail anything without waiting in line, or get in touch with a loved one in prison, DoNotPay will resolve any of these with ease.
Too busy to track your memberships? You don't need to worry about canceling your free trial on time before it turns into a paid subscription if you use our virtual credit card.
With DoNotPay, you can tackle any otherwise annoying chore stress-free.