All You Should Know About the H&M Return Policy
Are you unhappy with your item from H&M? Are you looking to return it but don't know where to start or whether it is worth trying? Protect your consumer rights and let DoNotPay guide you through the ins and outs of the H&M return policy. DoNotPay can help you make the return process much more convenient.
The Essentials of the H&M Return Policy
If you want to return your item to H&M, you can do so within 30 days of placing an order.
When returning merchandise, there are certain terms that you should be aware of:
All shipping and handling costs are not refundable
In-store returns are free. Returns by mail cost $5.99, which will be deducted from your refund. The shipping fee is waived for H&M Loyalty members
Items bought at H&M stores cannot be returned by mail
Exchanges can only be done for in-store returns. For online purchases, you can return the item and place a new order on the H&M website
If you want an in-store exchange, the replacement item should be of equal or greater value
If you don't have the receipt, H&M will only offer you an in-store exchange at the value of the current selling price of the item or the last activity/sale price, whichever is lower
H&M HOME items purchased online cannot be returned to the stores and should be returned by mail. This applies even if the item received was incorrect, damaged, or was accompanied by wrong or damaged items
You can return designer items bought at an H&M store for a full refund within seven days with the original receipt. If you lose the receipt, you can get an exchange at the lowest selling price
Special collections and designer collaborations may have a different return policy
H&M states that they have the right to refuse returns, with or without receipts, if the customer abuses the company's return policy excessively.
Non-Returnable Items
You should know that the following items cannot be returned to H&M:
Undergarments
Swimwear—if the hygienic seal is broken
Fabric face masks
Final sale items
Gift cards
How Are Returns Processed According to the H&M Return Policy?
Once the company receives the returned item and processes it, you will receive a confirmation email. It can take up to two weeks for H&M to issue a refund, which may show up on your bank statement after two billing cycles.
The company generally issues refunds to the original form of payment, as explained in the table below:
Payment Method
Refund
Credit card
If you use a card, the refund will be issued to the original form of payment
PayPal
If you pay using PayPal, the refund will be issued to your PayPal account
Pay Later (Klarna)
If you paid using Pay Later, you should:

Log in to your H&M account
Report your return

Once your return is processed, you will receive an updated statement from Klarna. You should be aware that:

Klarna will contact you directly for information about your refund and instructions for payment of any remaining balance
If Klarna needs your bank details to make the repayment, they will contact you by email
You should contact Klarna directly if you have any questions about your refund
How To Return Your Item to an H&M Store
To return an item to an H&M shop, you need to:
Locate your nearest H&M store
Bring the item along with either of the following:
Receipt for in-store purchases
E-receipt/order form for online purchases
Speak to a staff member and tell them you would like to return your item for an exchange or refund
How To Return Your Item via Mail
To return the item that you bought online via mail, here's what you need to do:
Complete the Return Form selecting the code that explains your reason for returning the item
Place the Return Form together with your item in the original or any suitable packaging
Attach the self-adhesive, pre-paid return label that was included in your package
Drop the package off at a USPS location or your nearest post office
You may choose not to use the pre-paid return label. In this case, you are advised to use a traceable carrier—such as USPS, UPS, or FedEx—and address it to:
H&M Warehouse, 281 Airtech Parkway
Dock Door 42
Plainfield, IN 46168
You should keep the return tracking number safe until the package has been delivered.
Return Your Item Hassle-Free With DoNotPay
The H&M return process is confusing and time-consuming. For a more efficient way to return your item, you can use DoNotPay. Here's what you need to you:
Access DoNotPay using any web browser
Find the Item Return Request feature
Provide the info about your purchase and upload some photos if necessary
Click Submit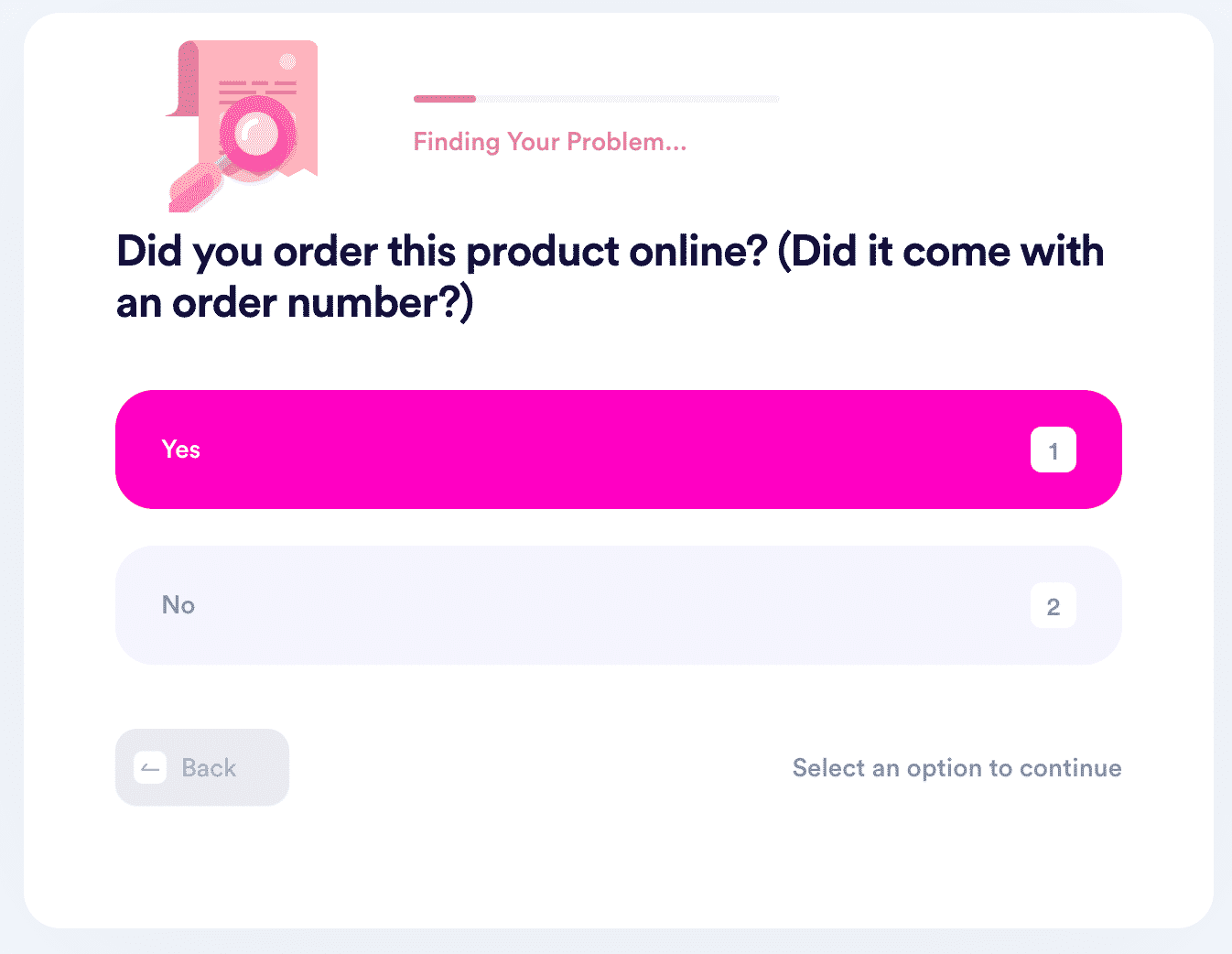 DoNotPay will generate a return request letter and mail it to H&M. We will also send you a free shipping label, so your wallet can take a break. If you want everything handled as soon as possible, you can set a processing deadline for the company.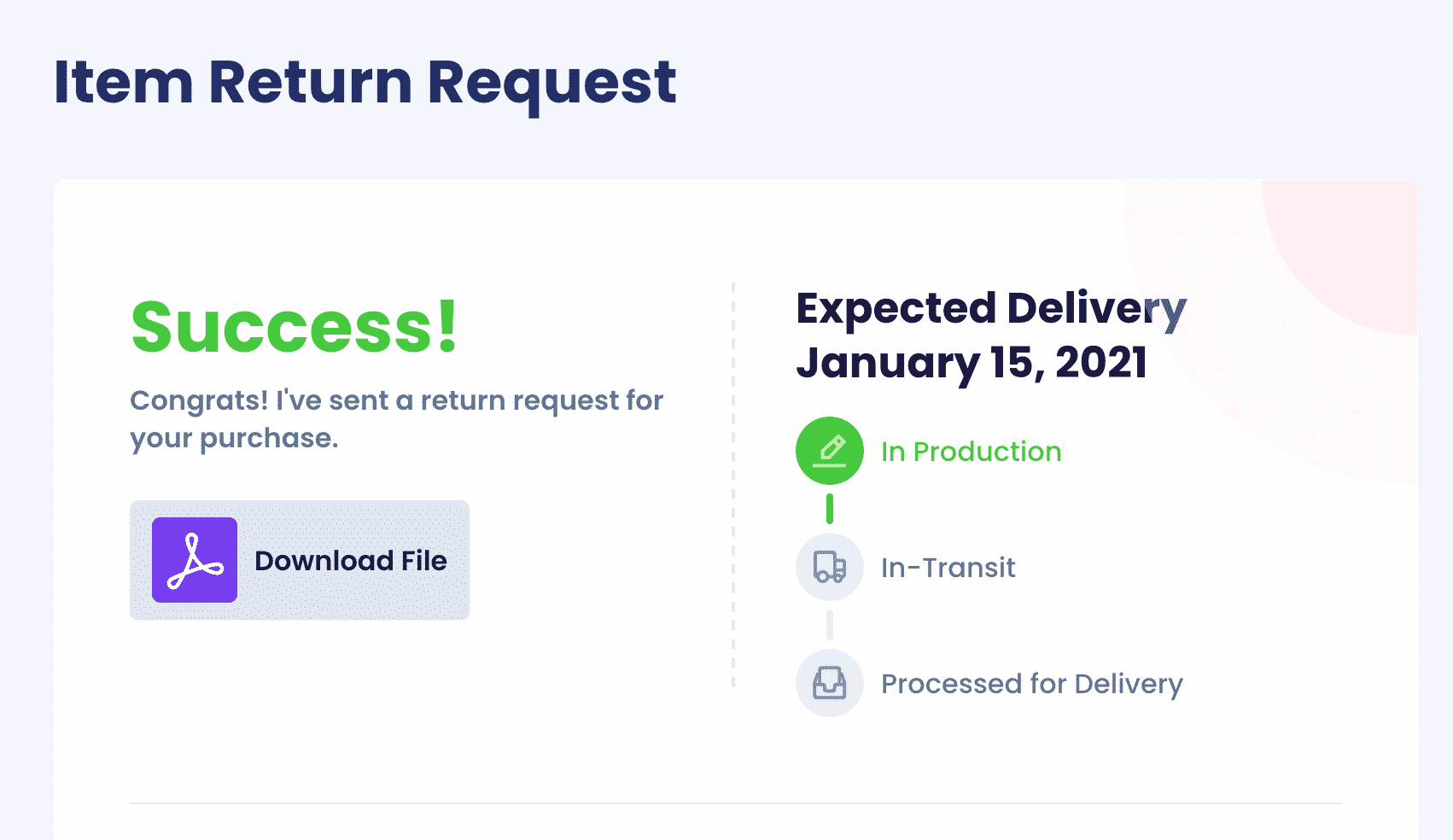 If you are a regular shopper from the following merchants, DoNotPay can help you return your items to them as well:
Is the Company Refusing To Cooperate? We Can Help You Get Justice
Is whatever company you're dealing with not being a good sport? Don't worry—the world's first robot lawyer is here to help. Our app can prepare all the necessary paperwork and provide guidance if you want to sue the company in small claims court.
We can also help you draw up any legal document you need for the case, have it notarized by an online notary, and fax it to anyone in a matter of minutes.
If you want to get revenge on tiresome robocalls or report a stalker or harasser, you can rely on DoNotPay.
Anything Else We Can Do for You?
Our AI-powered app is versatile—you can complete many tiresome, daunting tasks that you wouldn't want to tackle by yourself. You can use DoNotPay to:
If you want to get access to all of our nifty products, sign up now!