The A to Z of the Louis Vuitton Return Policy
Spending hundreds of dollars on a Louis Vuitton purchase only to discover that the item is faulty can be frustrating. If that happens to you, you can benefit from knowing how the Louis Vuitton return policy works. Better yet, you can save yourself the headache with DoNotPay's Return My Purchase feature. Read our guide to find out how!
The Louis Vuitton Return Policy Explained
You can get a full refund on Louis Vuitton items if you return them within 30 days of the transaction date. Online purchases can be returned both online and in store, except for the following shops:
Bloomingdale's
Saks
Nordstrom
Neiman Marcus
Items need to be in mint condition, with the original receipts, invoice, packaging, booklets, instruction manuals, and covers. Candles and perfumes need to be returned with their original seal or crystal film intact.
As flammable goods are subject to transportation laws, it's important to take proper precautions before shipping fragrances. We advise you to consult Louis Vuitton's customer representative first before returning this type of item as you could risk confiscation during shipping if it's not packaged properly.
Made-to-Order and personalized goods, whether engraved or hot-stamped, can't be returned. Depending on where you ordered, the policy extends to customized products within any of these collections:
My LV World Tour
My LV Heritage
Mon Monogram
Mon Damier Graphite
Masks and swimwear are non-returnable and non-exchangeable due to sanitary reasons. Jewelry and watches can only be exchanged for products under the same category if you bought your item online or via the Client Service. You must also provide the original product certificates when applicable, such as:
Refunds usually take up to 14 days and will be processed to the original payment method—PayPal and Apple Pay included.
How To Return Louis Vuitton Goods
You can return Louis Vuitton goods using any of the following methods:
Online
Over the phone
In person
How To Return Louis Vuitton Products Online
To initiate a return process online, do the following:
Go to your MyLV account
Click on the My Orders section to request a return
Log in to your email to confirm the request
Package your items securely in the original containers and shipping bags
Send your parcel using the company of your choice
How To Return Louis Vuitton Products Over the Phone
If you would like to speak to customer service directly, consider following these steps:
Contact Louis Vuitton's Client Service
Tell them that you wish to return your item
Check your email and confirm the return request
Opt for a complimentary shipping service if applicable, or drop off your parcel directly at the nearest delivery office. If you go with the former, fill in the return voucher included within the original package
Wrap your goods in the original Louis Vuitton packaging and shipping containers
Depending on the option you picked, hand the package directly to the courier or drop the parcel off independently at the nearest shipping office
After the product arrives, the store's Quality Service department will inspect whether it's eligible for a refund. If you choose not to use Louis Vuitton's complimentary shipping voucher, the store is not responsible for lost or damaged items en route and the shipping fees.
How Does the Louis Vuitton Store Return Policy Work?
You can also visit a Louis Vuitton free-standing store to return the item in person. Not all places accept in-store returns, so make sure to call a customer service representative to check.
You will be refunded once the item has been inspected by the Louis Vuitton warehouse. Direct store returns are typically processed within 10–14 working days from 8 a.m. to 6 p.m.
The Louis Vuitton Return Policy Simplified—Let DoNotPay Handle Your Return Request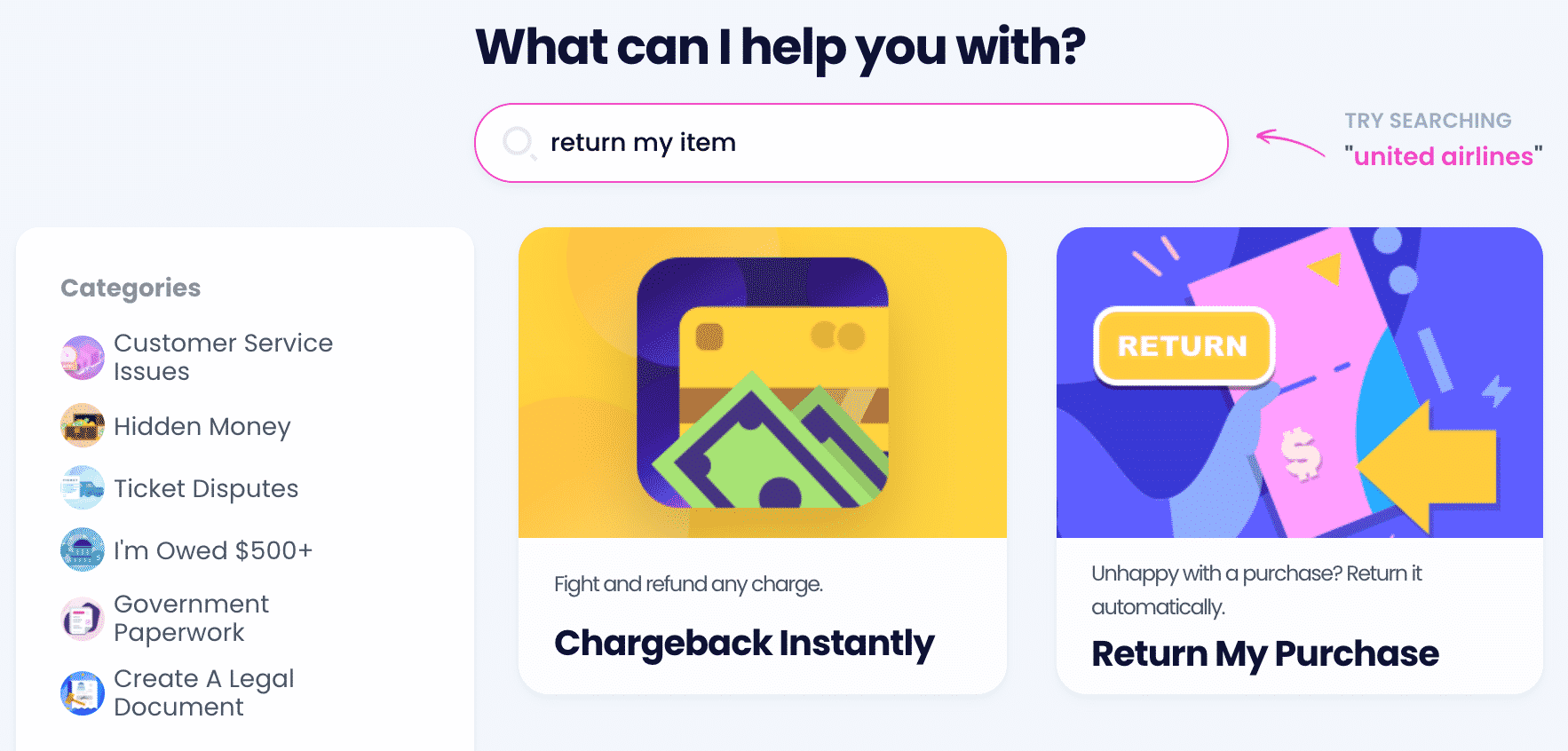 Filing an item return request is a time-consuming process that can cause a lot of stress. DoNotPay can streamline this procedure in three simple steps:
Log in to your DoNotPay account using a web browser of your choice
Select the Return My Purchase feature
Answer a few questions about your purchase and submit the request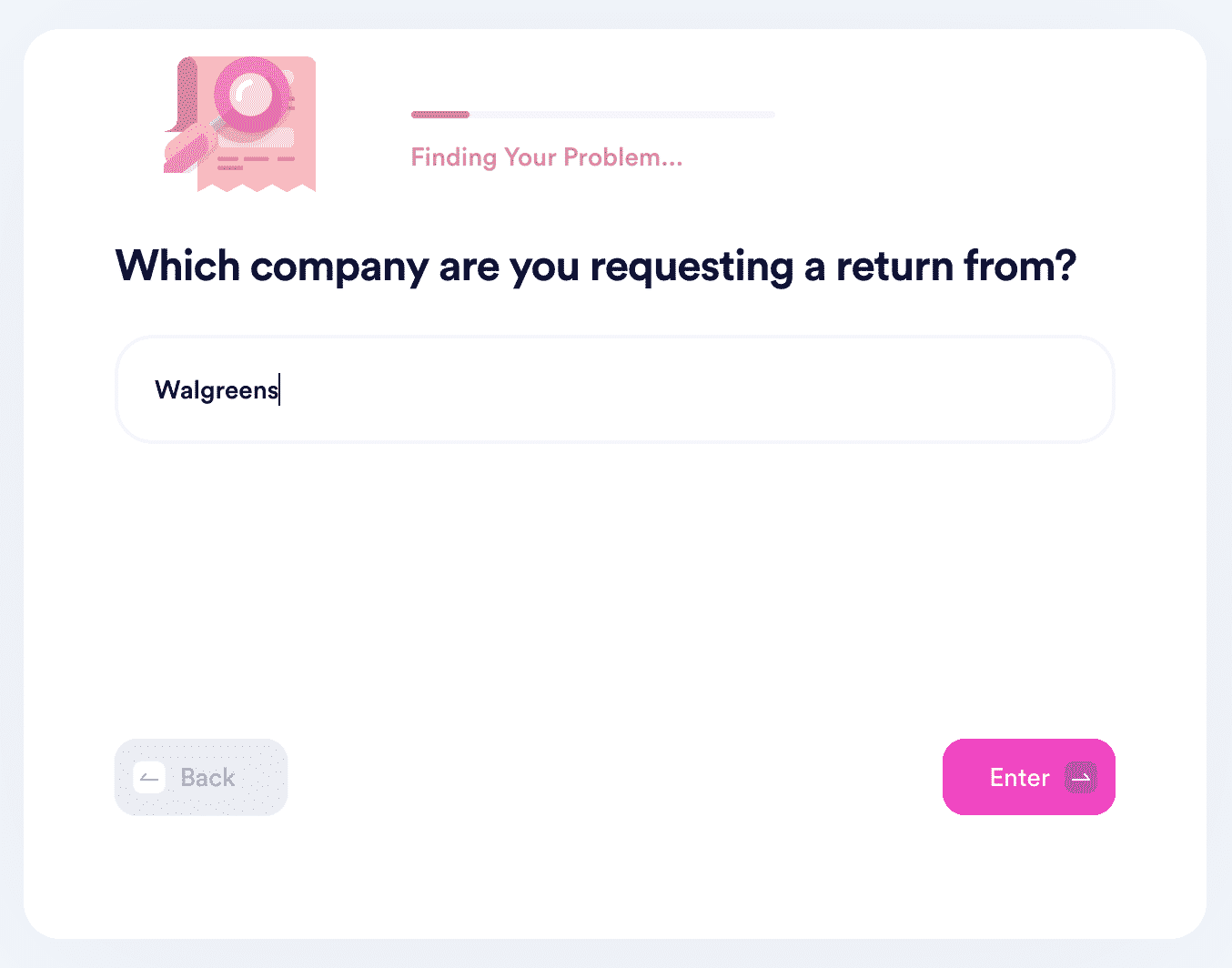 Our app will create a tailor-made document before sending it to the seller. With a written document, you can state your reason for returning a product and express what sort of solution you expect—to exchange goods or get a refund. Having a written request can also mitigate the risk of a potential legal dispute down the line.
DoNotPay can impose a deadline to speed up the whole process. We will also provide a return label that allows you to ship the product back free of charge.
But Wait, Can DoNotPay Help Me File a Return Request With Other Stores?
Absolutely. Consult the table to see what brands and stores you can send a return request to using DoNotPay:
Item Returns and Other Annoying Tasks Take but a Minute With DoNotPay
Looking into resolving other tedious bureaucratic tasks with the help of our app? Check out a fraction of our product range that can assist you with:
Don't Stop There—See How We Can Help You Even Further
You can count on our app's assistance if you need to cancel any subscription, demand a refund from a company or airline, get help with utility bills, reduce your property taxes, get a tourist visa, appeal banned accounts, contact embassies, or get cash back on gift cards.
Think you have some missing money? Claim it before the government does it in your stead! Need help preparing for a government test? Skim through our guides! Want to schedule a DMV appointment in a snap? We'll do it for you! Have any other obstacles? We'll get rid of them in the blink of an eye.