A Quick Tour of the Houzz Return Policy
Are you struggling to parse the exact terms of the Houzz return policy? We've put together this helpful guide to assist consumers like you. Alternatively, you can use DoNotPay to manage the return procedure for you.
Houzz offers a simple way to find qualified professionals that can help you turn your house into a home. In addition to connecting homeowners with designers, architects, and contractors, Houzz also hosts an extensive marketplace for furniture, fixtures, and amenities. There's always a chance that something you buy won't be quite the right fit for the aesthetic you're trying to develop, which is why you need to understand Houzz's return rules.
What You Need To Know About the Houzz Return Policy
The basic terms of the Houzz return policy state that:
You must initiate your return within 30 days of purchase
Purchased items must be in their unopened packaging to qualify for refunds or exchanges
Houzz does not accept returns of products damaged after reception
Return Methods for Houzz Products
Houzz's return policy is minimal in terms of methods of return. You can initiate the process in the following ways:
| Return Initiation Method | Yes/No |
| --- | --- |
| DoNotPay | Yes |
| Website | Yes |
| In-Person | No |
| Phone | No |
| Letter | No |
| Email | No |
When returning items that arrived damaged or defective, you may be required to upload photos to start the procedure. Houzz recommends that customers inspect any packages for damage when they arrive, take pictures of the products, and instruct the carrier to return them immediately.
How To Return Items to Houzz
As an online marketplace, Houzz does not offer in-person returns. All refund and exchange procedures are initiated and managed online. Follow these steps to start your return process:
Navigate to Houzz's Your Orders page
Log in to your account
Click Return or Replace Item
Follow the subsequent instructions
Customers are responsible for all shipping costs, even if they opt to use the return label provided by Houzz—except for the products that arrived defective or damaged.
Can You Return Damaged or Defective Items?
Yes—Houzz allows product exchanges or full refunds for products that arrive in disrepair. The time frame to initiate the return depends on how the merchandise was shipped and what condition it is in:
| Carrier | Damaged | Defective |
| --- | --- | --- |
| USPS | 30 days | 30 days |
| FedEx | 30 days | 30 days |
| UPS | 30 days | 30 days |
| Freight Carriers | Five days | 30 days |
| White-Glove | Five days | 30 days |
What Are Houzz's Refund Terms?
Houzz offers refunds on fees depending on the condition of the returned item:
All eligible returns receive a full refund, including applicable sales taxes
Damaged and defective items also qualify for a refund of any shipping costs
Refunds are issued to the same method of payment used for the original purchase
If Houzz cannot issue a refund to the same payment method, they will offer store credit instead
Is the Houzz Return Policy Limited?
Houzz does not offer refunds or exchanges for all returns, and the terms depend on the condition of the items or the return itself. The following exceptions stipulate which items you cannot return:
Merchandise that you have used or modified in any way
Items marked as final sale or non-returnable (either on the product page or during the checkout process)
Items shipped to Canada
Items sold directly by Houzz
Houzz does not issue refunds for products damaged in return shipping
Does Houzz Accept Multiple Returned Products in One Order?
Yes—Houzz allows customers to return more than one product in a single order. Here's how to manage a multi-item return:
Inform the Customer Support team of every item you intend to return
Secure the products properly in the parcel
Are Houzz Products Covered by Warranties?
No—Houzz does not offer a warranty on products sold in their marketplace. A separate warranty may cover third-party items. To determine the extent of any available coverage, get in touch with the manufacturers directly.
Speed Up Your Houzz Returns With DoNotPay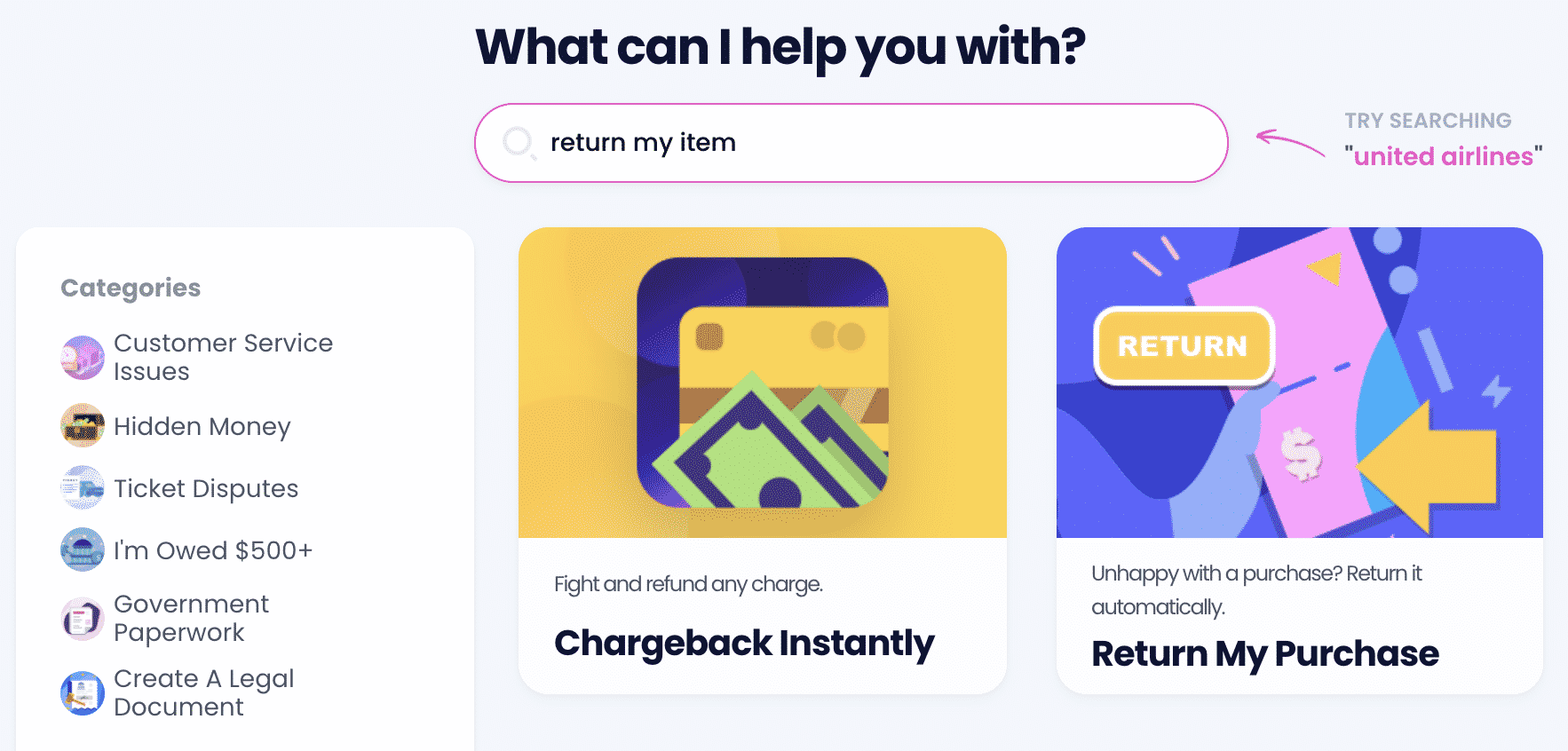 If the prospect of walking through each step listed above stresses you out—don't worry. There's a much less time-consuming option available to you. Have DoNotPay take care of the procedure!
When you use DoNotPay, you outsource the tedious work of managing your return. As a part of our Return My Purchase tool, we even set a response deadline to ensure the process is swift.
Here's how to initiate your return request:
Select the Return My Purchase tool
Answer the requisite questions and upload a photo if necessary
Submit your request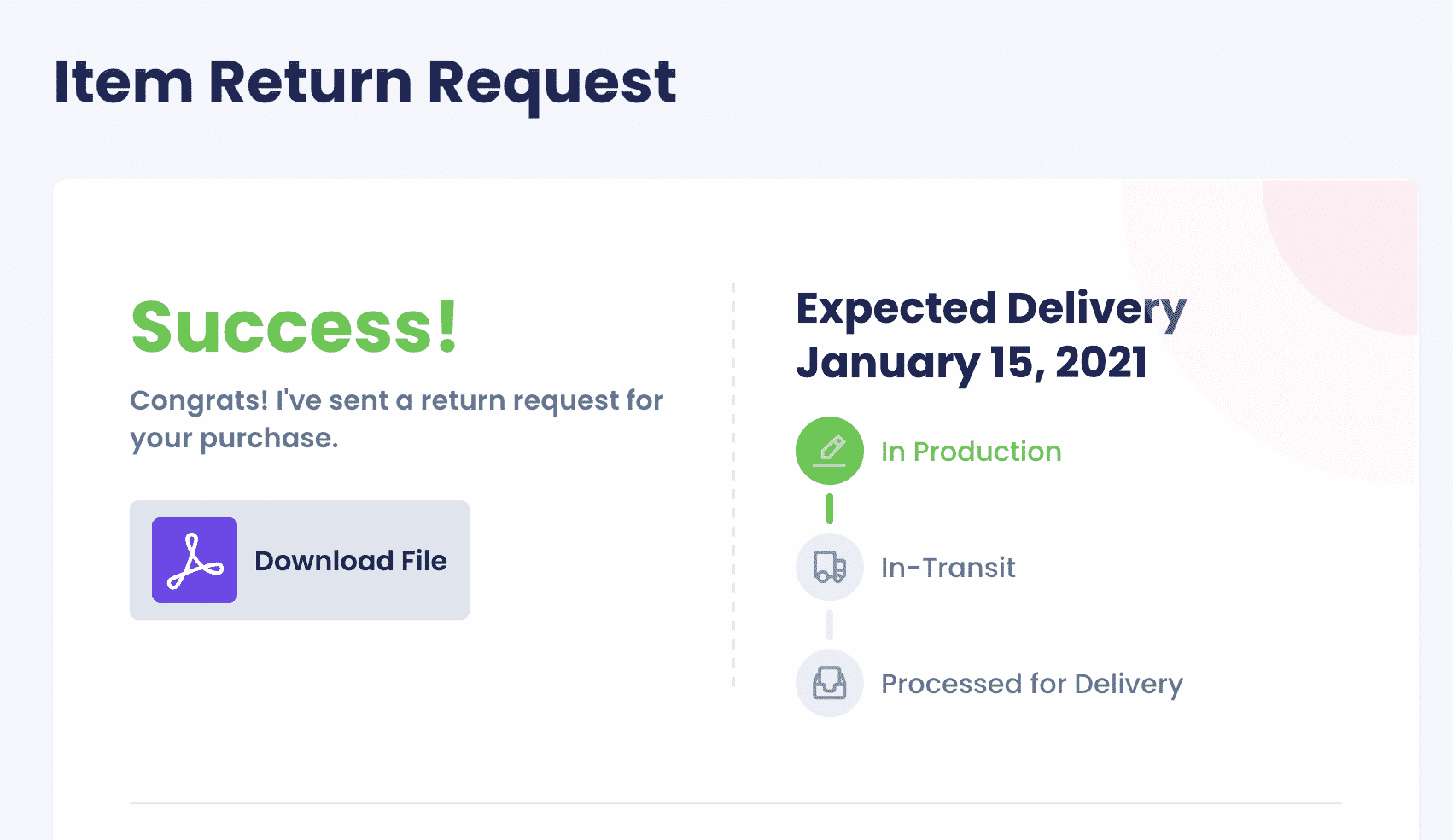 In need of assistance with returns to other popular retailers? Check out our comprehensive guides to make it easier on yourself:
Item Returns and Other Annoying Tasks Take but a Minute With DoNotPay
Looking into resolving other tedious bureaucratic tasks with the help of our app? Check out a fraction of our product range that can assist you with:
Don't Stop There—See How We Can Help You Even Further
You can count on our app's assistance if you need to cancel any subscription, demand a refund from a company or airline, get help with utility bills, reduce your property taxes, get a tourist visa, appeal banned accounts, contact embassies, or get cash back on gift cards.
Think you have some missing money? Claim it before the government does it in your stead! Need help preparing for a government test? Skim through our guides! Want to schedule a DMV appointment in a snap? We'll do it for you! Have any other obstacles? We'll get rid of them in the blink of an eye.