The Basics of the Patagonia Return Policy—Here's What You Didn't Know About Returns
When Patagonia fails to impress you, DoNotPay has your back. Whether you received a faulty item or you don't like the product's color, our Patagonia return policy guide will let you in on a few secret tips you can use to make effortless returns and get a refund in a jiffy!
now to get your money back in a snap!
Patagonia Return Policy Broken Down
Patagonia doesn't have a defined return time frame. You can return products at any time, but items returned more than one year after the purchase will be refunded with a Patagonia merchandise credit.
Before the COVID-19 outbreak, Patagonia processed all returns within a week of receiving the items at the warehouse. Although the company kept the customer-centric approach during the pandemic and lockdowns, you can expect delays because of the new safety protocols. It might take up to three weeks to process your return or 19 weeks if you shipped the item for repair.
How Can I Return Products to Patagonia?
You can return unwanted or defective products via mail or to any Patagonia store. Returns are possible to authorized dealers but only for the items you purchased from them originally.
Patagonia Online Return Policy—Initiate a Return and Send the Product by Mail
To initiate a return online, you have to visit Patagonia's Returns page. Once there, you can have the following options:
Return with the order number
Return without the order number
To begin the return process with the order number, all you have to do is:
Click on I have my order number on the Returns page
Enter your order number and email
Select the item(s) you wish to return
Print the $5 return shipping label, which includes tracking and insurance for your package
The $5 return shipping label will be deducted from your refund total. If you don't have the order number, follow these steps:
Print the return form
Fill in the details (customer information, mailing address, purchase information, return reason)
Pack the parcel, including the product, the return form, and proof of purchase
Once you're done, send the package to:
Patagonia Returns
8550 White Fir St Reno,
NV 89523
For safety reasons, use a carrier that provides tracking and insurance.
Returning Patagonia Merchandise to a Store
To return products to a store, you have to:
Find a Patagonia store near you
Bring the invoice or packing slip shipped with your order (if available, bring the original form of payment too)
Explain the reason for your visit
Patagonia accepts returns on behalf of their authorized dealers as well.
We summed up all the ways you can initiate a return to Patagonia below.
| | |
| --- | --- |
| Can You Initiate a Return Via: | Yes/No |
| DoNotPay | Yes |
| Email | No |
| Website | Yes |
| In person | Yes |
| Phone | Yes |
Patagonia PRO Returns
If you're a member of the Patagonia PRO program, you have to process your return on the website. To do so, you should:
Log in to your PRO account
Click on Order History
Navigate to Details in the order you wish you return
Select Start a Return
You can also initiate a return from the Returns page using the order number. Note that you can't return anything bought through Patagonia PRO to any Patagonia retail store or authorized dealers.
Can I Return Patagonia Items I Received as a Gift?
Yes—you can return any gifts from Patagonia for merchandise credit. You can use credits:
For online shopping at Patagonia
In Patagonia-owned stores
On WornWear.com
If you know the original order number of the gift you received, you can process the return online. In case you don't know the order number, reach out to customer service for a return label. After your return is processed, you will receive merchandise credit.
You can contact Patagonia by:
Calling them at 1.800.638.6464 (available on weekdays from 6 a.m. to 6 p.m. PT and weekends from 7 a.m. to 3 p.m. PT)
Chatting with them (available on weekdays from 6 a.m. to 6 p.m. PT and weekends from 7 a.m. to 3 p.m. PT)
Reaching out on social media (available only Monday through Friday from 6 a.m. to 6 p.m. PT)
Returns Made Simple With DoNotPay
To initiate and complete Patagonia returns effortlessly, let DoNotPay do it in your stead. Our Item Return Request feature simplifies the complicated return process whether you opt for an exchange or a refund.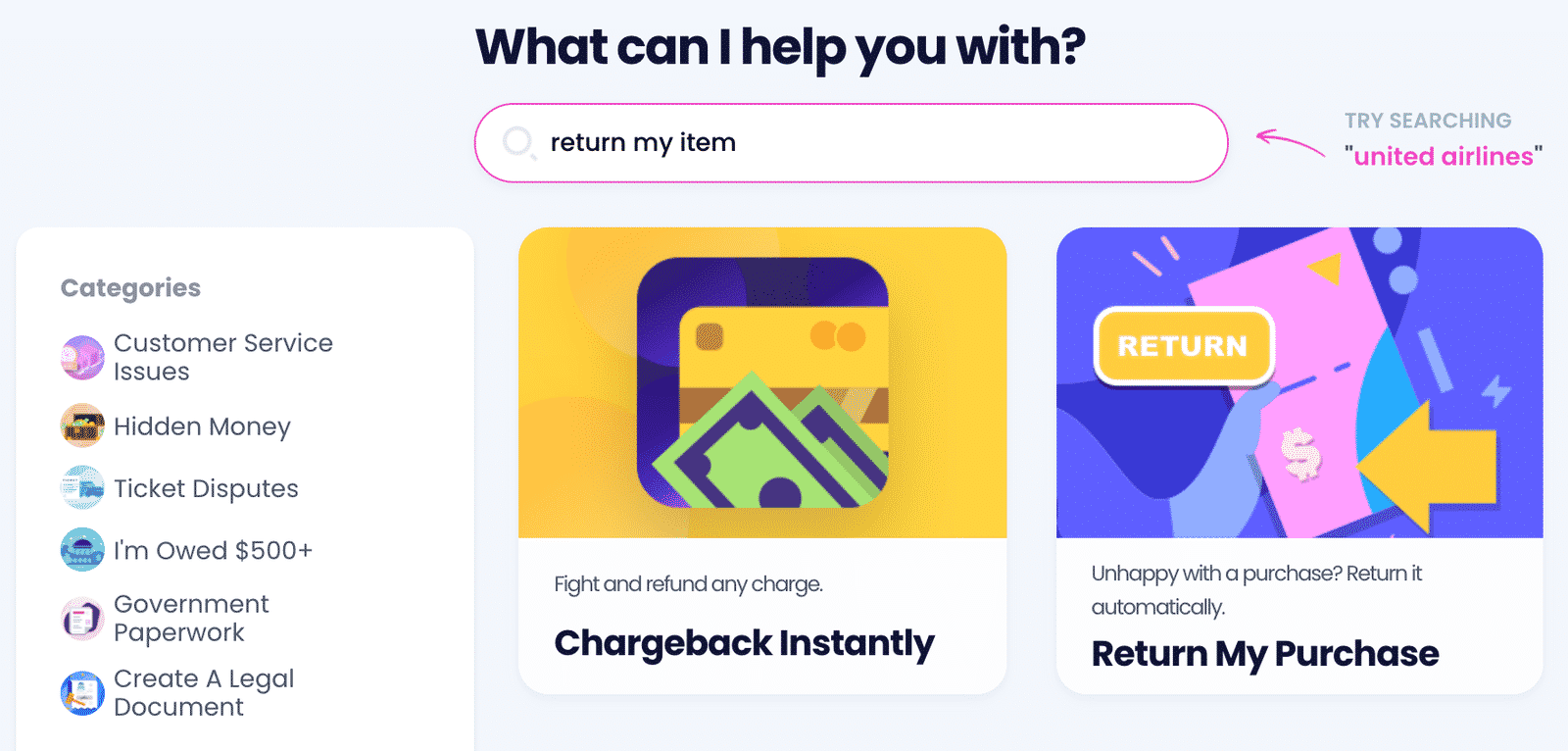 To start the return with DoNotPay's help, all you need to do is:
and log in to your account
Navigate to our Item Return Request product
Answer the chatbot's questions regarding your purchase and provide photos of the item(s) in question (if applicable)
Submit your request
Our AI-powered app will generate a custom return request letter informing Patagonia about your decision to return or exchange a product. To make sure you get compensated as quickly as possible, we will set a deadline. Thanks to the free return shipping label we'll provide, you'll get to send the parcel back without unnecessary costs!
We decipher and streamline the return procedures of many famous retailers, including: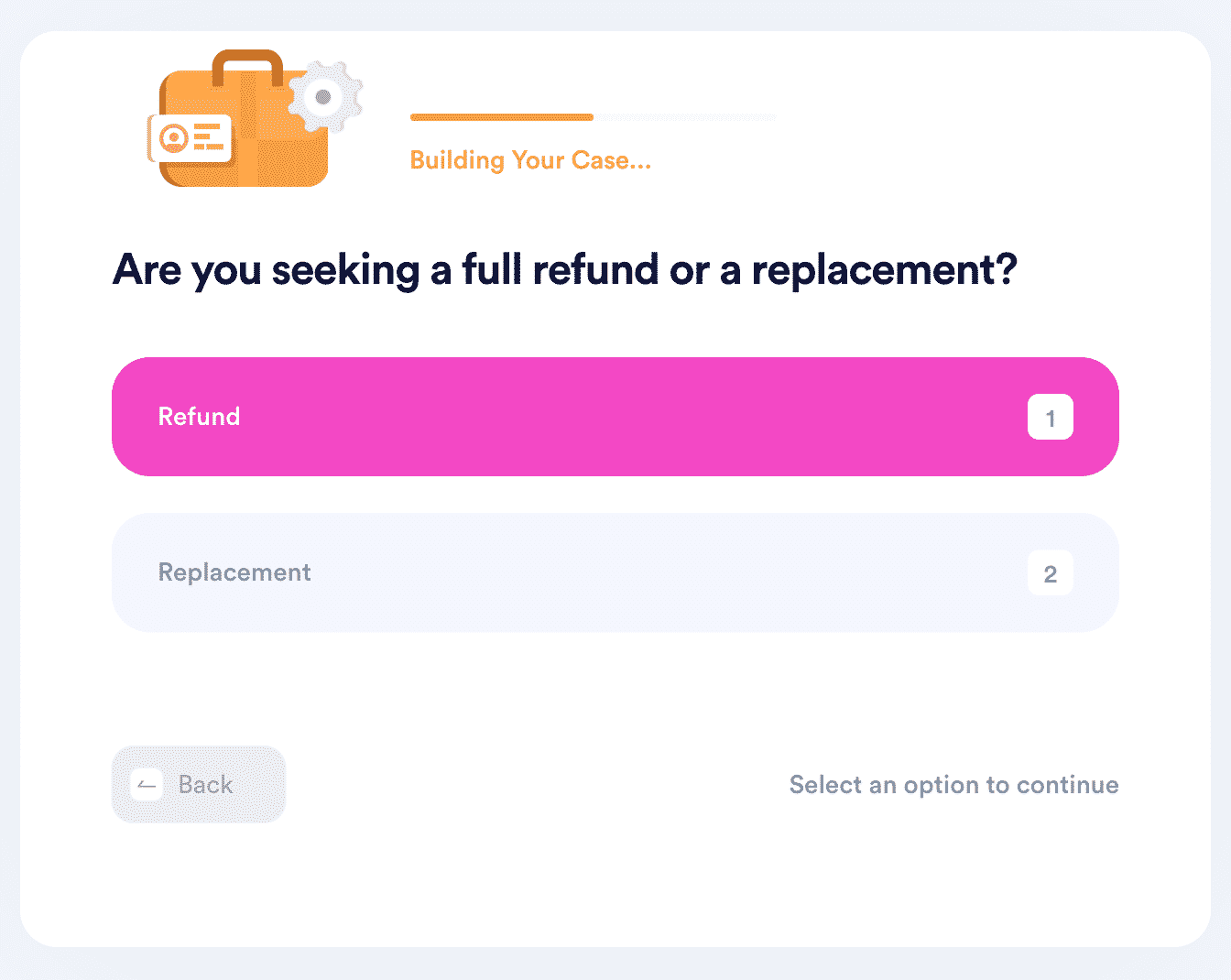 Don't Tolerate Corporate Attitudes—Request What's Rightfully Yours
DoNotPay is known for being the champion of customer advocacy because we help our users claim what's rightfully theirs, and we don't tolerate big corporations taking people's hard-earned money.
No matter if you want to request a refund, insurance, extended warranty, or compensation from airlines, our AI-powered lawyer will fight for your right.
If you feel like you're overpaying certain subscription services, we can help you cancel them. Also, if you want to test a subscription before you start paying money for it, don't connect your credit card to the free trial page! You can sign up for free trials using our virtual credit card. That way, companies won't be able to charge you auto-renewal fees because the card has no funds.
Wait! DoNotPay Can Help You in Many Other Ways
DoNotPay has many different areas of expertise—helping you return your faulty items is only one of them.
Check out how our app can assist you in: