Poshmark Return Policy—It May Be Posh, but It Doesn't Hit the Mark!
Poshmark is an online marketplace for home decor, fashion, and beauty products, with millions of active buyers and sellers. With that many interactions between users, such a big platform is bound to have some faulty or wrong orders.
If you wish to return an item to Poshmark, it's best to learn about the Poshmark return policy first and then make a return claim. DoNotPay can help you do that without the hassle and speed up the return process if you .
The Ins and Outs of the Poshmark Return Policy
The Poshmark return policy is strict, so you have to be careful and act fast if you want to return a product. The return policy states that all sales are final unless the following happens:
You never receive the item
The item doesn't match its description from the listing
The product is faulty, damaged, or fake
Poshmark will not accept returns if:
The product you've ordered is not the right fit
You don't want it anymore
You don't pay the item in full through the platform
The seller is late with the delivery
You only have three days after receiving the item to request a return. Poshmark has to verify your claim, and then it will send you a return label so that you can return the item and get a refund. After that, you only have five days to ship the item back to be eligible for a refund.
If you don't receive the item at all, the seller won't be paid, and Poshmark will return your money once you inform it.
How To Request Returns From Poshmark
You can use the following methods to request a return from Poshmark:
| | |
| --- | --- |
| Can You Request a Return via | Yes/No |
| Android/iOS app | Yes |
| Website | Yes |
| Email | No |
| Phone | No |
| DoNotPay | Yes |
How To File a Return Request Through the Poshmark App
Make sure that you've downloaded the latest version of the app on your Android or iOS device before proceeding to file a return by following the instructions below:
Launch the Poshmark app
Tap on the Account Tab (your username)
Hit My Purchases
Choose the order you want to return
Select Order Inquiry or Problems
Tap on Order Not as Described
Select the reason for returning the item from the dropdown menu
Add high-quality images of the product (with good lighting) as proof for your return claim
Describe the return in detail
Tap on Submit
How To Request a Return on the Poshmark Website
Sign in to your Poshmark account and proceed to file a return by following the instructions below:
Click on your avatar in the top-right corner of the screen
Select My Purchases
Choose your order
Tap Problems or Order Inquiry
Click Order Not as Described
Upload clear, high-resolution JPG images of the item
Describe the reason for returning
Hit Submit
Don't Break a Sweat—Let DoNotPay Handle Your Return Request
Given the nature of the Poshmark return policy, it's best to send the company a formal return request. DoNotPay offers the Item Return Request feature that is airtight, and it can help mitigate any legal disputes down the line.
If you use our product, we'll send Poshmark a customized letter describing your issues, adding a deadline for the return. We'll also give you a return label for free shipping.
Here's what you need to do if you'd like us to handle the return process:
Click on the Item Return Request product
Provide our chatbot with information regarding your return, and add photos
Hit Submit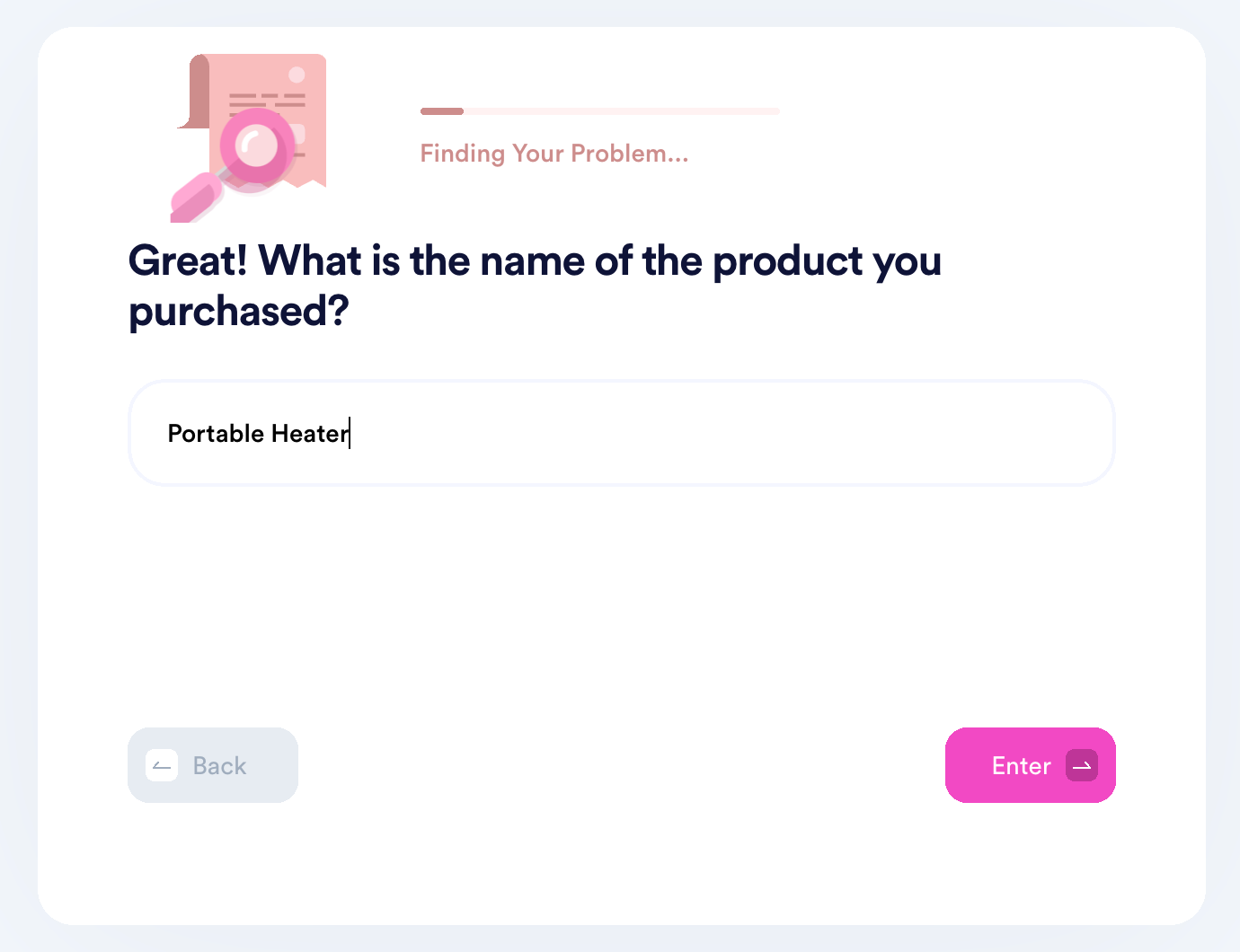 Our method only takes four steps, and it involves less waiting, no matter the company. That's right—we can ask all of the companies below and more for a return in your stead:
Poshmark Refund Policy and Return Processing
Poshmark takes between one and two business days to process return requests. The process can take longer depending on the quality of the presented photo proof and the time the seller takes to respond.
If your return request is approved by Poshmark, you'll receive a full refund in the original form of payment, including taxes and shipping fees.
Request a Refund From Poshmark With DoNotPay
Not only can we request a return, but we can also demand a refund from Poshmark in your stead. Follow the instructions below to get a refund fast with DoNotPay's help:
Click on the File a Chargeback feature on our website
Select Get Protected
Give us the details of the purchase, such as product cost, description, brand, etc.
Sign the form and click on Sign and Submit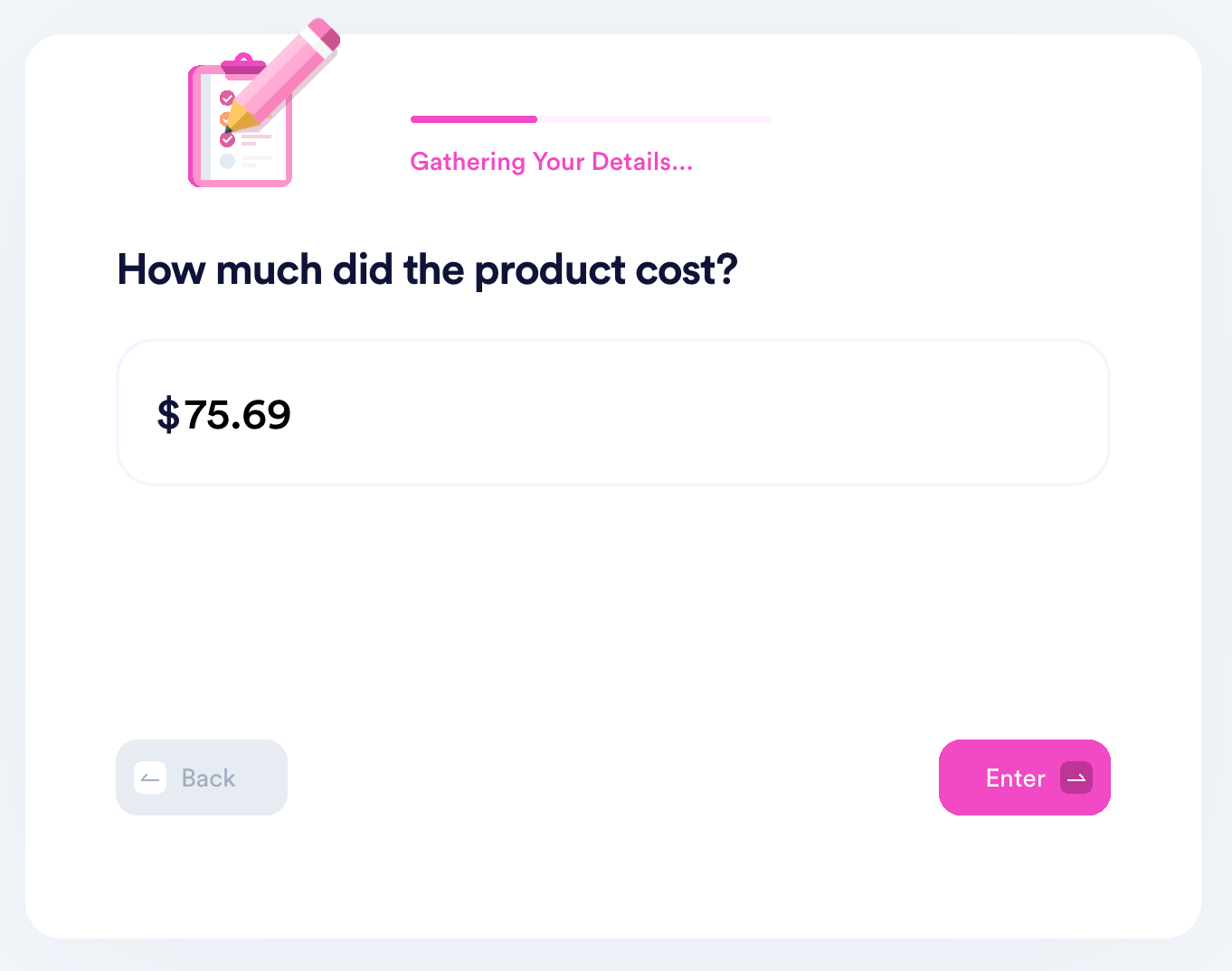 Get Your Money Back in an Instant
If you want to both return your item and get a refund for it, you can count on your personal AI-powered assistant. These two products aren't the only tricks DoNotPay has up its sleeve, though!
With our app, you can also claim insurance, get an extended warranty, find your missing assets, request refunds from airlines, reduce your property taxes, lower your utility bills, sign up for free trials without getting charged, get free raffle tickets, and a lot more.
If you want to avoid wasting your money, DoNotPay can cancel any subscription or membership in your stead and provide you with a virtual credit card that will prevent auto-renewal charges once your free trials expire!
With DoNotPay, You Can Also Say Goodbye to Waiting in Lines
Are you sick of waiting in lines? So are most of our app's users! You can say no to endless lines at the DMV if you sign up for a DoNotPay account. Our app can also help you jump the phone queue when you need to get in touch with a customer service representative.
If any company refuses to cooperate with you, our app will prepare all of the necessary legal paperwork and help you sue it in small claims court. Need to have any of your documents notarized? No worries—DoNotPay will employ an online notary and help you schedule your appointment. You can also e-sign and send the document to anyone using our Online Fax product.