Zappos Return Policy in a Nutshell—Here's How To Get a Refund Hassle-Free
Zappos is one of the most popular online retailers as the company delivers WOW shoes, clothing, handbags, and accessories. Unfortunately, the shoes might feel more like an OUCH than a WOW, and the handbags, accessories, or clothes may not look as good in real life.
So, what are you supposed to do when the item you ordered can be used as a good expectations vs. reality meme? Return it where it came from!
If Zappos return policy is giving you a tough time, we're going to walk you through all the ways to return underwhelming products from this famous retailer.
What You Need To Know About Zappos Return Policy
If you end up dissatisfied with your order, the good news is that Zappos has a liberal but somewhat too-good-to-be-true return policy. Here's what it states:
You have 365 days from the date of purchase to make a return if you're not 100% satisfied with your order
There are no minimums or exclusions on returns. You can order ten pairs of shoes and return them all
You are eligible for free returns and a full refund anywhere in the United States
So, what's the catch? What you're returning must be in unworn condition with all the original tags. You can test the products indoors to determine whether they're the right fit, but if the merchandise doesn't meet these standards, you won't qualify for a refund. As for the shipping box, you can use the original packaging or any plain, unmarked cardboard box.
Many customers are drawn to Zappos shoe return policy, more precisely the 30 Day Runlimited Guarantee. Upon purchasing particular running shoes from Zappos, you get to take them for a 30 days ride and return them for any reason.
How To Return Zappos Products Manually?
A pre-paid label from Zappos is necessary to return an item. There are several ways to get your hands on one, all listed in the table below.
| | |
| --- | --- |
| Can You Initiate a Return Request Via: | Yes/No |
| DoNotPay | Yes |
| Website | Yes |
| Phone | Yes |
| Letter | No |
| Email | Yes |
| In Person | No |
| Chat | Yes |
How To Start a Return Process on the Website?
The most convenient way to send the unwanted gear back to Zappos is through the website. You'll have to:
Open the company website
Log in and click on My Account in the upper right corner
Select the order number of the product you want to return
Find the item that you want to return and select Return This Item from the dropdown menu on the left
Click Return Selected Items
Choose a refund method
Select a reason for returning the item
Click Submit Return
Choose how you want to receive the pre-paid return label

Print the label yourself
Have the label emailed
Receive the label by mail

Tape the label to the return shipping box
Drop the box off at any UPS Store
You'll receive an email from Zappos once the items arrive at the warehouse. Make sure to use separate labels when returning multiple products from the same order that don't fit into one box.
Initiating the Return Over the Phone
If you can't figure out the process, you can ask for Zappos' help by:
Calling 1-877-513-7428
Asking the representative to mail you a return label
Zappos' agents are available to sort out any problems you may have 24/7/365.
How To Initiate the Return by Email
To ask for a pre-paid label for your return shipment, send an email to cs@zappos.com. Zappos responds to emails in the order they are received, so there's a fair chance you'll have to wait a while until you hear back from them.
Requesting a Pre-Paid Label on Live Chat
Since Zappos Customer Loyalty Team is available around the clock, you can always chat with a representative. To do so, you should:
Open Zappos live chat
Enter your first name and email address
Leave a comment about what your issue is (optional)
Click Start Chatting
A representative will get back to you shortly, and you can ask them to email you the pre-paid label.
How Long Do I Have To Wait Until Zappos Responds to My Item Return Request?
Once you send the package, Zappos has to review your return request, process it into inventory, and complete your refund. The whole process, from receiving the return box to approving the refund, shouldn't take more than five to ten business days.
There may be some delays with refunds if:
You're getting a refund to your credit card
Unpredictable shipping setbacks occur
You have failed to meet all terms and conditions
Zappos Rapid Refund
Zappos VIP members have the exclusive privilege of receiving their refund in 24 hours. If you're a VIP member, make sure to choose Rapid Refund when requesting your return. Note that in case the company doesn't receive the refunded products, they might charge your credit card for those items.
Not All Superheros Wear Capes – Rely on DoNotPay To Save You From Getting Stuck in Zappos Return Policy
While returning merchandise to Zappos seems pretty straightforward, it's actually exhausting and time-consuming. In comes DoNotPay—our AI-powered app—to take the load off your back. To get started, you should:
Log in to your DoNotPay account using any web browser
Click on the Item Return Request feature
Answer several questions regarding your purchase
Attach photos of the product you wish to return (if applicable)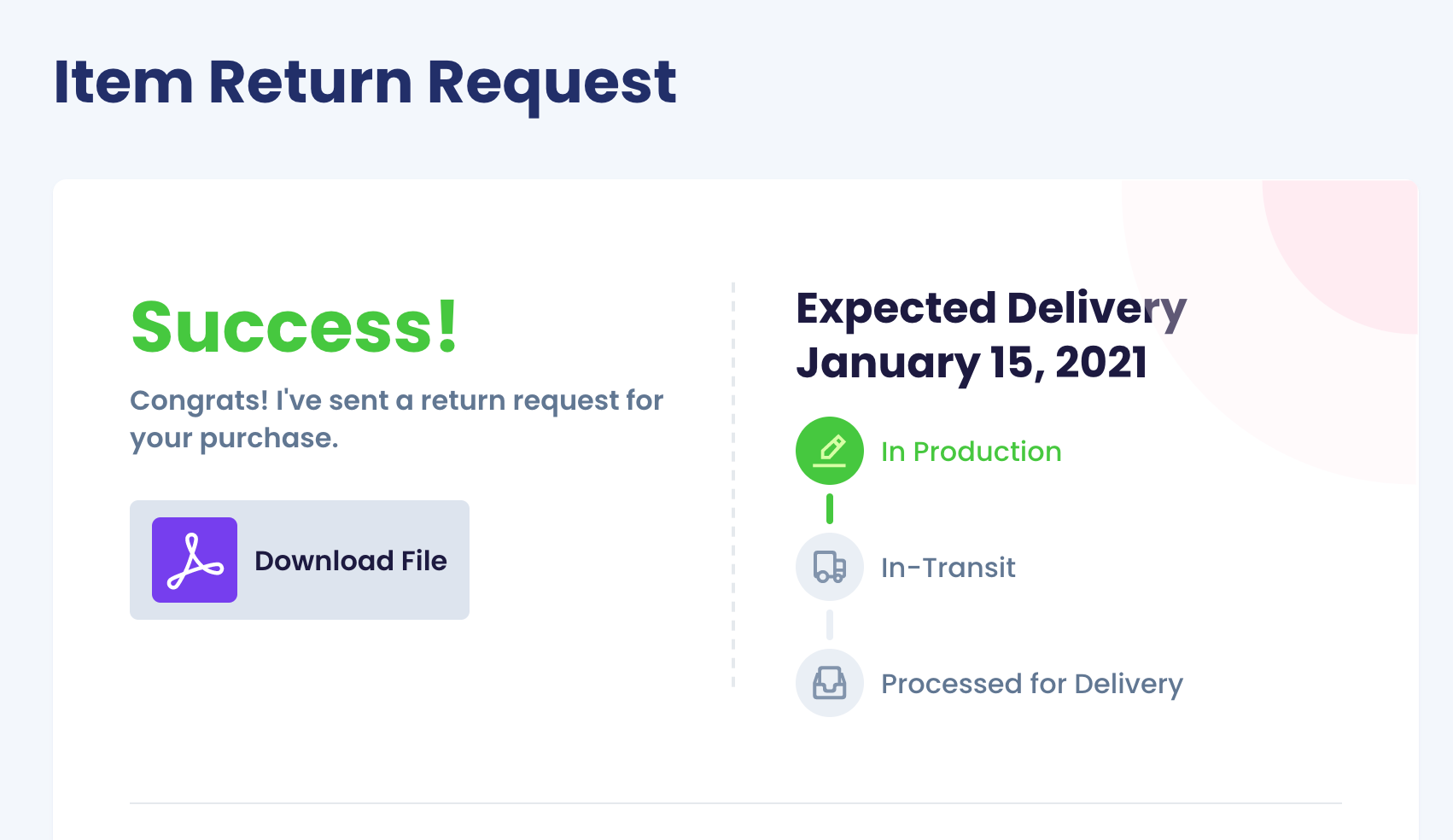 Within minutes, the app will generate a personalized return request letter and send it to the company in question. We'll notify the merchant about the faulty product and whether you want a replacement or a refund. You don't have to worry about a thing because DoNotPay will also add a deadline so that your request gets processed sooner.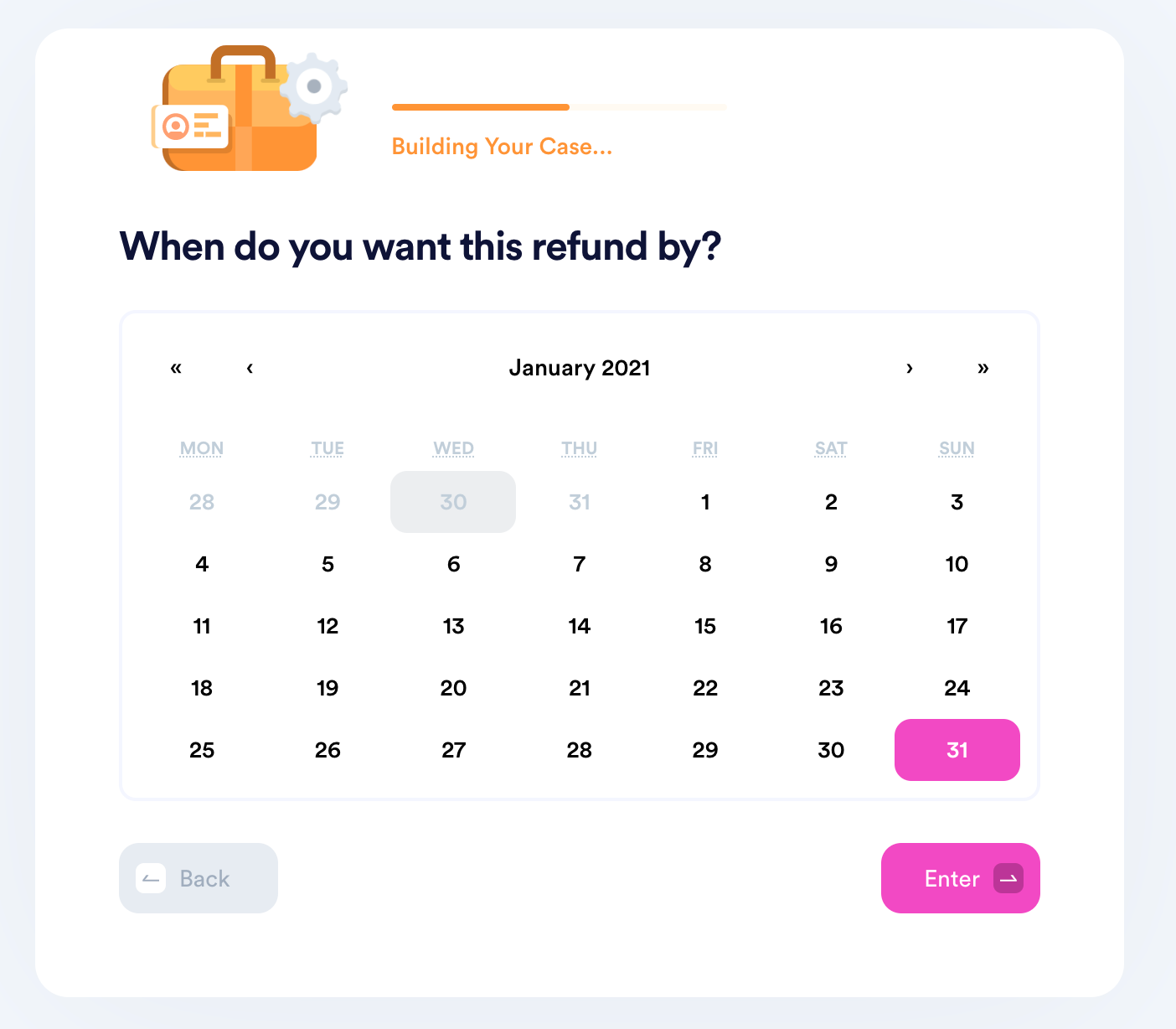 Thousands of customers choose DoNotPay as their go-to solution when they need to make returns to:
Can I Request a Refund Using DoNotPay?
Should you decide that you want a refund instead of an exchange, we have your back! All you need to do is:
Click on the Chargeback Instantly option
Select Get Protected
Answer our chatbot's questions and click Submit
DoNotPay will make sure you get your money back in no time!
Don't Tolerate Corporate Attitudes—Request What's Rightfully Yours
DoNotPay is known for being the champion of customer advocacy because we help our users claim what's rightfully theirs, and we don't tolerate big corporations taking people's hard-earned money.
No matter if you want to request a refund, insurance, extended warranty, or compensation from airlines, our AI-powered lawyer will fight for your right.
If you feel like you're overpaying certain subscription services, we can help you cancel them. Also, if you want to test a subscription before you start paying money for it, don't connect your credit card to the free trial page! You can sign up for free trials using our virtual credit card. That way, companies won't be able to charge you auto-renewal fees because the card has no funds.
Wait! DoNotPay Can Help You in Many Other Ways
DoNotPay has many different areas of expertise—helping you return your faulty items is only one of them.
Check out how our app can assist you in: