Can You Get Your Contracts Notarized by an Electronic Notary?
In the pursuit to be sustainable and save paper, many states have permitted electronic notarization. If you'd like to find out more about electronic notary services, you're in the right place. DoNotPay will explain how to notarize any document—including wills, affidavits, and car titles—hassle-free and guide you through the process of electronic and remote notarization.
Electronic Notarization Explained
Electronic notarization is the process of notarizing electronic contracts (e.g., PDF and Microsoft Word documents). Other than the fact that these notarial acts don't include paper, the rest of the process is the same as the traditional, paper-based notarization. The notary—called e-notary—should:
Verify your identity

Witness your electronic signature

Determine if you're aware of the contents of the contract

Ask you if you are signing the document of your own free will

Write a notary certificate and mark it with the electronic

notary signature

and stamp
E-notaries can perform the same notarial acts as the officials who notarize paper documents. Those acts include:
Many people use the terms "electronic notary" and "remote notary" interchangeably, which is a mistake.
What Is a Remote Notary?
Similar to e-notaries, online notaries use electronic signatures and stamps to certify the signing of the documents. The main difference is that e-notaries perform notarial acts in person, while remote notaries notarize documents online.
If you choose to get your documents notarized remotely, a notary public will verify your identity and witness your signature via a video call.
Is Online Notary Legal?
Before the COVID-19 outbreak, online notarization wasn't legal in all states. The situation is much different now as many states have allowed the notaries to perform notarial acts online, either temporarily or permanently. You should check your state's laws to see if online notarization is legal.
Is Online Notarization the Most Convenient Solution to Getting Documents Notarized?
To get your documents notarized electronically, you should follow the same steps as for the paper-based notarization. The process can be annoying, and it can take a few days, depending on the notary's availability. You have to:
Find an e-notary

and schedule a meeting

Send your documents via email

Go to the notary's office

Provide your ID

Pay

notary fees

Sign the document electronically in front of the e-notary

Wait until the notary writes the certificate and marks it his or her electronic signature and stamp
Setting up a meeting with a mobile notary is a slightly better option because the notary can come to your preferred location. While this allows you to save time since you won't have to go to the notary's office, this method is more expensive. In addition to paying notarial service fees, you also need to cover the notary's travel costs.
Registering for an online notary service is the most practical way of having your documents notarized 24/7. These platforms will connect you with available remote notaries any day of the week. Bear in mind that most of these apps can be costly if you need to get your contracts notarized frequently. You need to pay $25 for every notarized document on most platforms.
Find Out More About DoNotPay's Notary Feature!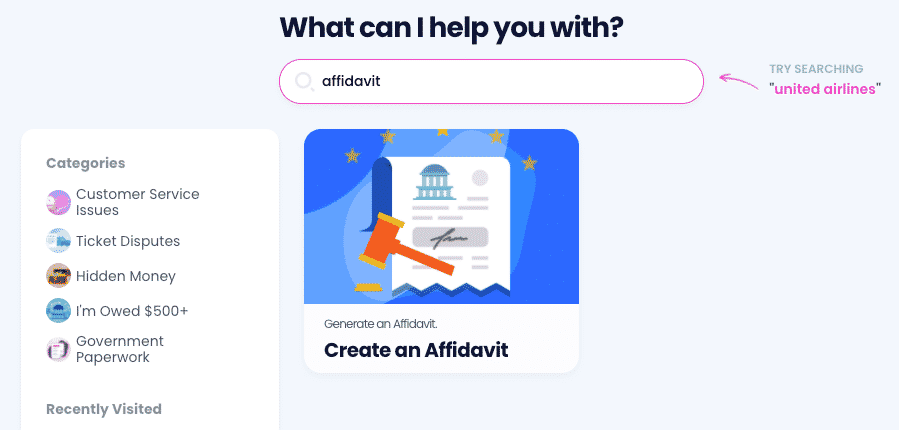 DoNotPay has developed a feature that enables you to have all of your documents notarized online for a small monthly fee. Regardless of the number of notarized contracts, the fee stays the same. An added perk is that you can also use our other services for the same price.
If you want to use DoNotPay's notary feature to your advantage and have your documents notarized in a few minutes, follow these steps:
Open

Click on the

Notarize Any Document

feature

Upload your contract and provide your email address

Open the email we send you

Click on the link to schedule an appointment with a remote notary
The notary will witness your signature and verify it online. You can use our feature in any state, including:
Learn How To Create Legal Documents Fast and Easy
Creating legal documents is a challenge for most people since not everyone can afford to pay a lawyer for every contract. DoNotPay has come up with another handy feature to help you deal with this issue. We can help you take care of your lease agreements, bills of sale, non-compete contracts, and other documents in a matter of minutes.
Draw up your contracts and get them notarized in no time by following these steps:
Access

Enter the name of the document

Respond to our chatbot's questions

Download the document
All of the contracts you write through our app will be professional and created to fit your specific needs.
What Else Can Our Award-Winning App Do for You?
If you think that's impressive, wait until you've heard about other features we boast!
Our powerful app can draft paperwork for you, locate unclaimed funds under your name, cancel subscriptions, sue robocallers, and protect you from stalkers and harassers—all in one nifty browser app!
Our services have been recognized by the esteemed ABA Brown award, serving as a testament to our abilities to assist you with your small claims issues, free trial auto-renewals, college fee waivers, public records, copyright protection, and much more!
More Benefits of DoNotPay
DoNotPay is a useful tool for handling many otherwise annoying life's trifles, including: