The No.1 App to Notarize Any Documents Online
Going to the nearest notary's office isn't the only way to get your documents notarized. Online notary services, such as Notarize, have become widely popular because of their efficiency and convenience.
If you'd like to find out how to notarize various documents—such as wills, affidavits, and real estate deeds—hassle-free, you should continue reading this article. DoNotPay is here to tell you all about the Notarize platform and offer a better alternative!
What Is Notarize?
Notarize is one of the online notary platforms that enable users to have their documents notarized remotely. The platform connects the users to notaries who offer notarization services 24 hours a day, seven days a week.
To have your contracts notarized through the Notarize platform, you should follow these steps:
Register and log in to Notarize

Click on the

Notarize a Document Now

button on the homepage

Upload the document you want to get notarized

Confirm your identity by scanning your ID

Wait until you're connected with one of the notaries on a video call

Sign the contract in front of the notary

Wait until he or she verifies the authenticity of your signature

Download the notarized document
While Notarize is a legitimate solution to get your contracts notarized from the comfort of your home, the platform charges a lot for each notarization. Every notarized document costs $25, which amounts to a hefty sum if you need to get multiple documents notarized.
Why Do You Even Need a Notary Public App?
The current notarization process is outdated and lengthy. If you choose to get your documents notarized the traditional way, you'll need to:
Call to schedule an appointment

Bring all the documents to the notary's office

Sign the documents in front of the notary

Wait for the notary public to:

Verify your identity

Write a certification

Sign

the document and mark it with the stamp
The entire process can be time-consuming, especially if you make a mistake or forget to pay the notary service fees. In that case, you will have to set up another appointment and repeat the whole process. Online notary services are a more convenient option because they allow you to get your documents notarized without having to go to the notary's office.
While you can also make an appointment with a mobile notary and have a notary public come to your house, this option is usually expensive. Besides charging a fee for the standard notary services, mobile notaries public have the right to charge for travel costs. In some states, the travel fees are determined by law, but most states allow the notaries to decide how much to charge. If you live too far from the notary in question, you might have to pay a lot for his or her travel expenses.
DoNotPay Is an Efficient and Affordable Notary App
DoNotPay has developed the most convenient online notary feature that will help you get any legal document notarized in under five minutes. Here's how you can use to your advantage:
Access your account

Select our

Notarize Any Document

feature

Upload the contract in question

Click on the link we email you
You'll be redirected to a webpage where you can set up an online appointment with a notary. He or she will witness the signing of the document and verify your signature virtually, which will save you a lot of time.
With us, you can get documents notarized in any American state, including:
Why Is DoNotPay a Cut Above Notarize?
Since Notarize charges for each document individually, the costs will add up quickly if you use the platform for more than one document. As opposed to Notarize, a monthly subscription to DoNotPay allows for an unlimited number of notarizations.
While Notarize has only two features—Online Notarization and Real Estate Closings—DoNotPay boasts a myriad of services that help you deal with various administrative issues. Signing up for DoNotPay will give you access to all of the features on offer—such as Claim Insurance and Find Hidden Money—for a song.
Another perk of DoNotPay is its user-friendly design that's easy to navigate. If you're looking for an intuitive, affordable, and efficient document notarization platform, DoNotPay should be your choice.
How to Use DoNotPay's Notarize Any Document Product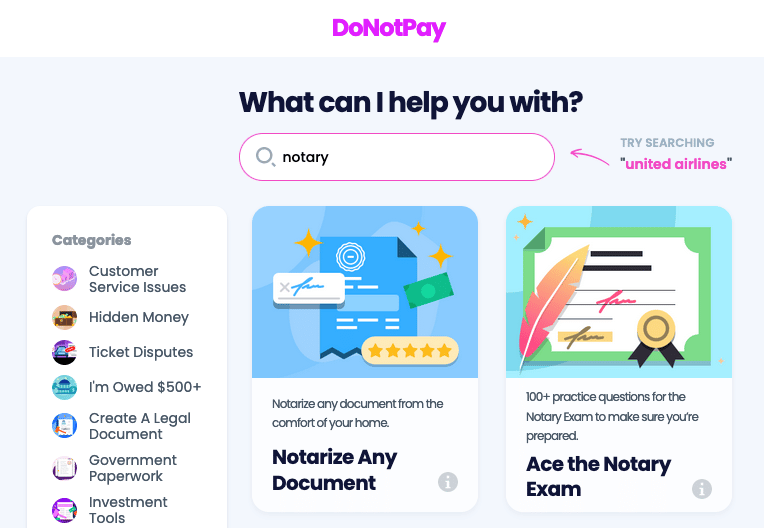 One of the numerous features DoNotPay has created is the Legal Documents service. This feature will help you draw up any contract and notarize it in one place. To create agreements in a few clicks, log in to and follow these steps:
Type in the name of the document you need

Answer all of our questions

Download and print your contract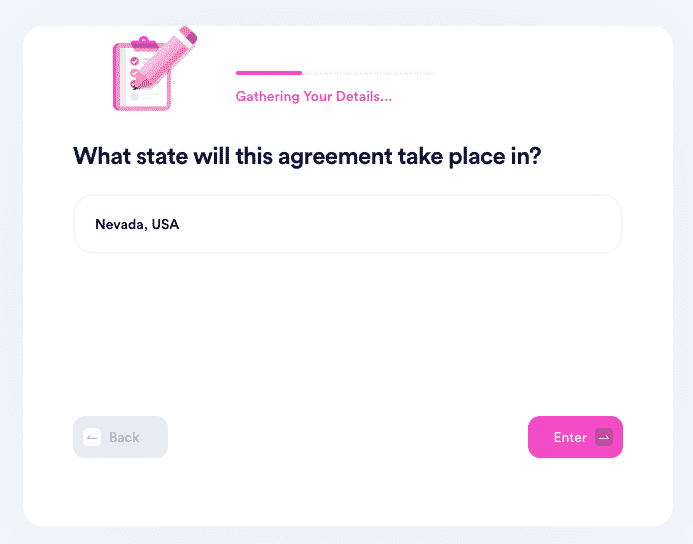 With DoNotPay, you can create many legal documents, including:
Business Documents

Non-Compete Agreement

General Business Contract

Independent Contractor Agreement

Non-Disclosure Agreement

LLC Operating Rules Document

Bill of Sale

Real Estate Contracts

Residential Lease Agreement

Quitclaim Deed

Estoppel Certificate

Intent To Purchase Real Estate

Other Agreements

Child Care Authorization Form

Promissory Note

Child Custody

Prenuptial Agreement

General Affidavit
DoNotPay Never Ceases To Amaze
Where there's one useful feature, there are nifty features galore!
Use our Virtual Credit Card to sign up for free trials and stop robocalls and spam text messages from reaching your phone. If you feel a free trial unrightfully turned into an expensive paid membership, we can help you request a refund or chargeback for the inconvenience.
We can further assist you in exercising your consumer rights by making a warranty claim in your place and verifying your online accounts with temporary phone numbers.
We can also break down the Freedom of Information Act for you and introduce you to online fax options and property tax reductions.
Clear Your Schedule With the Help of DoNotPay
DoNotPay is renowned for making our users' lives infinitely easier. Not only can we root out unwanted subscriptions for you—you don't need to do it manually one by one any longer—but we can unsubscribe you from unwanted email and snail mail lists.
Fire up our app and let it navigate the phone tree instead of you or use it to make a DMV appointment at your earliest convenience. Forget about googling clinical trials near you—DoNotPay can sort them out according to your needs and their individual eligibility criteria.
We can fill out the paperwork that you need to file at your local small claims court to initiate a dispute. You can work around the U.S. penal system and have DoNotPay locate an imprisoned loved one instead of you trying to reach individual prisons attempting to do it yourself.
You don't need to go to great lengths to get in touch with a counselor to sign your college fee waiver either—DoNotPay does it for you and then forwards the necessary documents on your behalf.