Why Should You Have a Notarized Diploma and How To Get It?
If you're planning to continue your studies or a career abroad, the chances are you'll need to have a notarized diploma. Many countries require you to have a notarized diploma and transcript, as well.
The question of how to notarize a document is easy enough to answer, but it's not a simple process unless you . If you try to do it on your own, whether online or in person, you're bound to waste a lot of time.
Our helpful platform can make the process of getting a notary signature a breeze. We'll help you do it online and get your diploma notarized in a few simple clicks.
Why Should You Notarize Your Diploma and a Transcript?
The notarization of school documents—such as a diploma and transcript—is a requirement when you want to study abroad. Many countries require the verification of authenticity when it comes to U.S. degrees. Notarizing a diploma or a transcript is an additional security measure.
What Are the Potential Problems With Getting Documents Notarized?
One of the most common problems of notarization services is that you have to visit the notary public's office in person. Who has time for dealing with administrative processes nowadays? It would be easier if you could complete the whole process on your laptop or tablet. Luckily, some states in the U.S. allow online notarization. The downside to this approach is that it's also a complicated process.
How To Get a Notarized Diploma or Transcript by Yourself
The two types of school documents people normally need to notarize, especially for foreign uses, are:
The main difference between diplomas and transcripts is that a diploma is a certificate that confirms you've finished a course of study successfully, while a transcript is an official document that includes your courses, grades, and grade point average (GPA).
How To Use Notary Services To Get Your Diploma Notarized by Yourself
To get your diploma notarized, you'll need to find a notary public and ready yourself for dedicating a lot of time to getting it done. The steps to notarizing your diploma are listed below:
Make a copy of your diploma

Go to the notary public's office

Prove your identity using any government-issued ID, such as a passport or a driver's license

Sign the necessary documents in front of the notary

Wait for the notary to sign and put their stamp on your copy

Pay

notary fees
How To Get a Notarized Transcript on Your Own
You can get the proper certification of your school transcript at your local school. The principal, registrar, or superintendent can provide you with the transcript. After you obtain the transcript, follow the guide below to get it notarized:
Make a copy of your transcript

Visit the notary public's office

Provide the notary with a government-issued identification document

Have the notary sign and stamp the copy of your transcript

Pay the notary fees
You can avoid the administrative conundrum by doing all this online. Due to the COVID-19 outbreak, many states allow for online notarization during the pandemic. We have the best solution for you, and it's DoNotPay.
How To Get a Notarized Diploma Using DoNotPay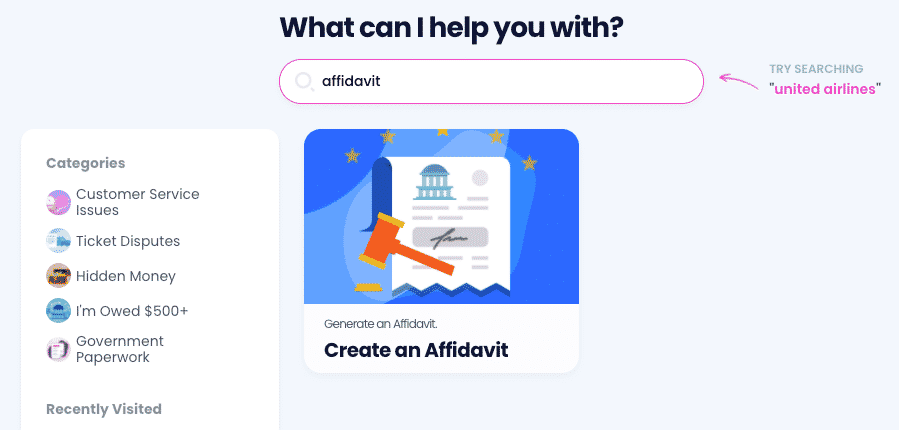 The process of notarizing your diploma with the help of our app is the simplest one online. All you need to do is and follow these steps:
Type in

Notarize a Document

in our search box

Upload your diploma

Provide our chatbot with your email address

Let DoNotPay do the rest—we'll send a link to your email address that will enable you to confirm your virtual notary appointment
Everything you do via our platform is virtual, so the notary will verify your identity and signature during your online appointment. If you decide to use DoNotPay for your notary acknowledgments, we'll help you avoid all the unnecessary queuing and administrative processes.
DoNotPay Does Everything Online for You
DoNotPay can help you notarize any document, including wills, affidavits, and car titles, in mere minutes. Some of the states in which you can get your documents notarized electronically are listed in the table below:
DoNotPay Uncovers the Mystery of Standardized Legal Documents for You
DoNotPay has another helpful feature to offer you—Standardized Legal Documents—that allows you to write a contract in our app.
If you need to create a document, we'll assist you in writing one. Check out some of the documents and agreements we can help you write yourself:
Operating Agreement

Business Associate Agreement

Non-Compete Clause

Bill of Sale Document

Non-Disclosure Agreement

Independent Contractor Agreement

Lease Agreement
There are numerous legal documents that DoNotPay can help you create. After you have the document ready, you can use our Notarize Any Document product. Our platform excels at making your life easier and helping you avoid the time-consuming parts of any bureaucratic process.
Take Advantage of DoNotPay's Time-Saving Features!
DoNotPay comes with a wide array of useful features that will help you overcome any administrative issue in no time. As the world's first robot lawyer, DoNotPay can tackle just about any bureaucratic task that people dread.
You can do anything from reporting stalking and harassment, signing up for free trials, and scheduling a DMV appointment to jumping the customer service phone queue, dealing with high bills, and protecting your creative work from copyright infringement with our app's assistance.
If you want to connect with an inmate, sign up for a clinical trial, report spam emails, or sue any company or person in small claims court, you can count on DoNotPay to provide you with the necessary guidance.
Use Our App To Get Rid of Unwanted Admin Hurdles
Do you want to say goodbye to spam text messages or protect yourself from stalking and harassment? Are you looking for a way to end robocalls and earn off them? DoNotPay can help!
As soon as you sign up for our app, you'll be able to do anything from avoiding phone number verification with our handy burner numbers to acing government tests stress-free!