The Whole Foods Return Policy Made Simple With DoNotPay
Whole Foods Market is committed to customer satisfaction across its entire range of products, from avocados to zucchini squash.
As with any retailer, Whole Foods has rules and policies on what you can return and how to do it.
DoNotPay is here to help you understand the Whole Foods return policy and return your product as quickly and easily as possible.
The Whole Foods Return Policy Explained
Depending on the type of product you bought, Whole Foods offers different return periods you can take advantage of:
Type of Product
Product Category
Return Period
Perishable goods
Fresh produce
No returns allowed
Meat, seafood, and prepared meals
Before the expiration date
Non-perishable products
Within 90 days of purchase
Electronics
Within 30 days of purchase
You will need to provide a receipt, and all tagged items should have their tags intact.
If the product you bought was perishable and is spoiled, damaged, or defective but within its expiry date, you are allowed to exchange it in-store for a similar product only.
If your product is non-perishable and conforms to the company's refund policy, Whole Foods will give you a refund either by reimbursing the payment method you originally used or by giving you a gift card.
How Can You Return Whole Foods Products?
Whole Foods offers the following return options:
| | |
| --- | --- |
| Can You Initiate a Return Request Via | Yes/No |
| Email | No |
| Phone | No |
| Mail | Yes |
| Website | Yes |
| In Person | Yes |
| DoNotPay | Yes |
Returns via Mail
You can return an item by mailing it to the store where you bought it and including the original receipt. To return your goods, you can use any of the major couriers, such as:
Returns via Website
If you ordered your product online via Amazon, you can use Amazon's online return center. This will guide you through the process of returning your Whole Foods purchase. You will need to:
Choose a convenient store location to drop off your purchase
Check your email for a QR code that Amazon will send you
Go to the selected store and find the returns desk
Show the QR code you received to a member of staff who will take your returned product
If you ordered directly via the Whole Foods website, you need to follow these steps:
Go to the Whole Foods website and log into your account
Navigate to the order section
Find your order and click on the item you want to return
Whole Foods will prepare a shipping label for you—simply package your product, attach the shipping label, and send it to Whole Foods
In-Person Returns
You can return any Whole Foods product to any of their outlets, as long as:
You take the receipt with you
The product is not excluded from return and is within its expiration date
If the above methods sound like they are too much bother, DoNotPay is here to help. We can help you get the returns process started quickly and easily with our Return My Purchase product!
Return Your Product Quickly and Easily With DoNotPay!

DoNotPay removes all the hassle from returning goods to Whole Foods.
To start the returns process with Whole Foods, all you need to do is:
Sign up with DoNotPay in your web browser
Click on our Return My Purchase product
Fill in the details of your purchase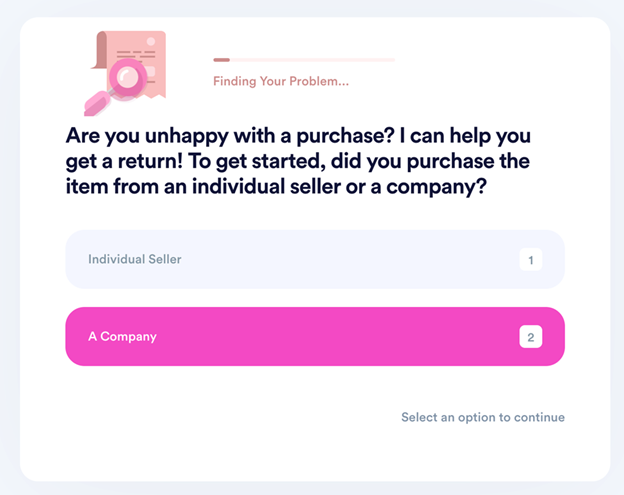 DoNotPay will draft a return request letter for you and send it to Whole Foods—they will contact you to let you know how to proceed!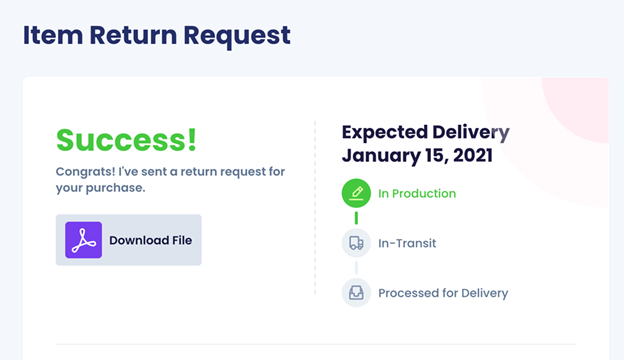 What Happens if Whole Foods Doesn't Want To Help?
DoNotPay is here to help you turn up the heat if Whole Foods doesn't cooperate in giving you a refund on your purchase.
Go to our Chargeback Instantly feature, and we will escalate the process of getting your refund from Whole Foods. Here's what to do:
Select our Chargeback Instantly product
Choose Get Protected
Give us the details of your case
Click on Sign and Submit
DoNotPay will initiate the process of getting your refund from Whole Foods—you don't have to lift a finger!
How Can DoNotPay Help in the Worst-Case Scenario?
If all else fails, DoNotPay can help you sue Whole Foods in small claims court.
DoNotPay is the world's first robot lawyer and has been recognized for its contribution to consumer access to legal help by the American Bar Association.
To get the ball rolling, DoNotPay will help you by:
Drafting a letter of demand
Getting your court forms filled out
Filing your case
Preparing the documents you will need
Giving you a script to use in front of the judge
More Help With Returns From DoNotPay
DoNotPay can help you return goods to most major retailers, including:
Want To Save Money and Avoid Bad Purchases? Look No Further!
Aside from helping you send a return request to any company, DoNotPay can also assist you in getting a refund in a flash! We can also help you request a refund for any late, missing, or damaged delivery.
Do you want to stop wasting your money on useless services? Our app can help you cancel them and provide you with a virtual credit card that terminates free trials before companies get to charge you!
If you want to discover some forgotten assets you may have, we can help you find them in just a couple of minutes. With DoNotPay, you can both save money and earn it!
Once you sign up, you can report text and email spammers, annoying robocalls, and real-life stalkers and harassers and earn off them. We can also help you sue any company or individual in small claims court if you feel like they did you dirty.
Getting Rid of Bureaucratic Procedures Has Never Been Easier
The process of composing a return request letter is tiring, which is why you should turn to DoNotPay for help. Our app will assist you if you want to avoid similar bureaucratic hassles, such as:
Sign up for DoNotPay to utilize all of our nifty products!