Find a Notary Public in Visalia, CA, and Make Your Documents Binding
Notaries perform a vital service in helping us make our documents less likely to contest.
Using a notary service to sign and stamp your documents gives you peace of mind and ensures that they are more difficult to contest at a later date.
DoNotPay is here to help you find the quickest and most cost-effective way to access a notary public in Visalia, CA!
What Does a Notary Do?
A notary signature and stamp verify that a document has been signed in their presence by the person or people it concerns.
Notarizing a document involves checking your:
Identity

Eligibility

Competence
Identity
A notary verifies that you are who you claim to by checking your ID. You should provide a passport, driver's license, or similar government-issued form of ID that contains your photo and a sample of your signature.
Eligibility
You must demonstrate that the document to be notarized concerns you and that you are materially affected by the document. This could mean that you are:
A named signatory (if you are co-signing a

contract

or agreement)

A party affected by the document (a witness to a will)
Competence
A notary will want to make sure you are:
Of legal age to sign the document

Mentally capable of understanding its contents and their ramifications for you
If all the above criteria are fulfilled to the notary's satisfaction, you sign the document, and the notary witnesses the signature. Your document is then notarized.
Where Can I Find a
Notary in Visalia, CA
?
Notaries come in three forms, namely:
In-Person Notary
In-person notaries meet you face-to-face at their offices to notarize your documents. While they represent the traditional way to get documents notarized, they are not particularly convenient.
Although many advertise a walk-in service, you will probably have to make an appointment, meaning you'll have to:
Find a convenient space in your schedule

Travel and find parking

Wait in line close to other clients

Take all the required documents with you
If you are unlucky enough to forget your ID, you will have to rebook and go through the whole process again. In California, you will also incur fees for not being able to sign at the initial appointment.
You can find a notary public in Visalia using one of these search engines:
The alternative to searching online is to find a notary in one of these locations:
Organization Type
Examples

Public buildings

Financial or legal institutions

Other outlets

AAA

stores

Car dealerships

Large companies
Mobile Notary
A mobile notary removes some of the inconvenience of an in-person notary by coming to your location.
Mobile notaries are heavily booked, though, so you may find that it takes some time to get an appointment. If your document needs urgent notarization, this may prove impractical.
A mobile notary's fees will also include travel to and from your location.
Online Notary
The State of California does not allow its notaries to perform online notarizations, but you can have your documents notarized by an out-of-state notary.
An online notary works via a video call. You upload a digital copy of your document and your ID in advance of your appointment, and during the video call, the notary verifies your identity and witnesses your signature. Your document then receives a digital stamp and signature.
The states that allow online notarization are:
How Much Does a Notary Cost in Visalia?
Notary fees are regulated throughout California as follows:
Fee Type
Rate

Signature/stamp fees

Acknowledgment

$15

Jurat $15

Mobile service fee

$25 flat fee plus an additional $1 per mile outside of a round trip distance of 25 miles

After hours fee (outside normal 9–5 business hours)

$20

Holiday fee

$20

Waiting fee (if you are more than 15 minutes late for an appointment)

$15 per 15 minutes waiting time

Loan documentation fees

$125

Printing charges

Living trust fees

$75

Witnessing service

$25

Returned check charge (if your check is not honored by your bank)

$35

Cancellation fee (if you fail to sign after the notary has attended the appointment)

$25
Can DoNotPay Help Me Find a Notary in Visalia?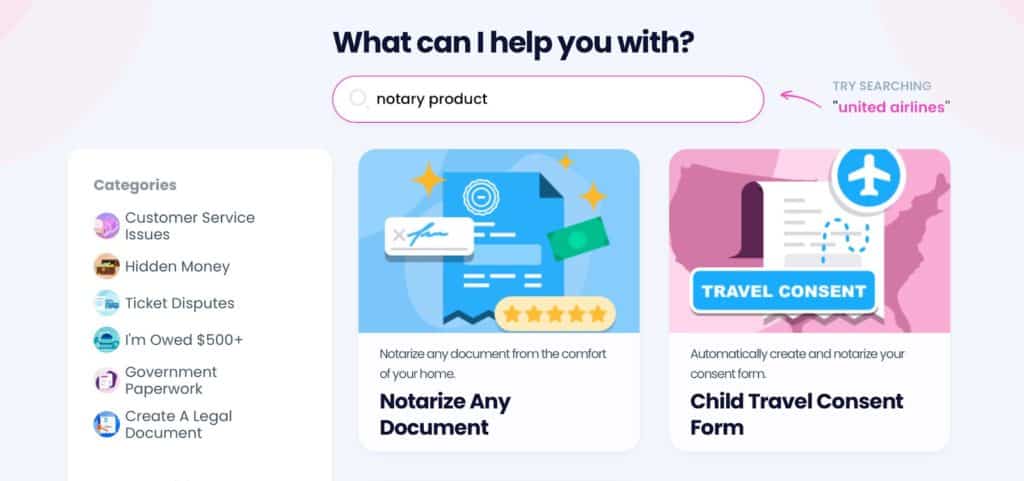 DoNotPay can take all the pain out of getting your documents notarized by connecting you with an online notary in seconds—all you need to do is:
in your web browser

Click on our

Notarize Any Document

product

Upload your document

Fill in your email address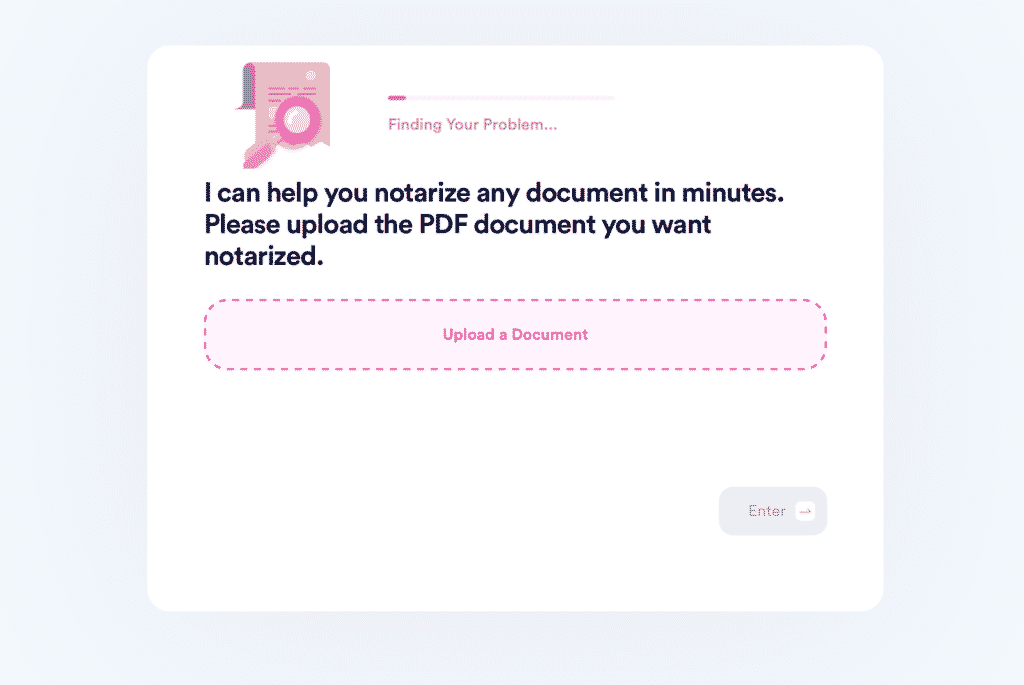 In a few short moments, you will receive an email with a link to schedule your appointment with an online notary.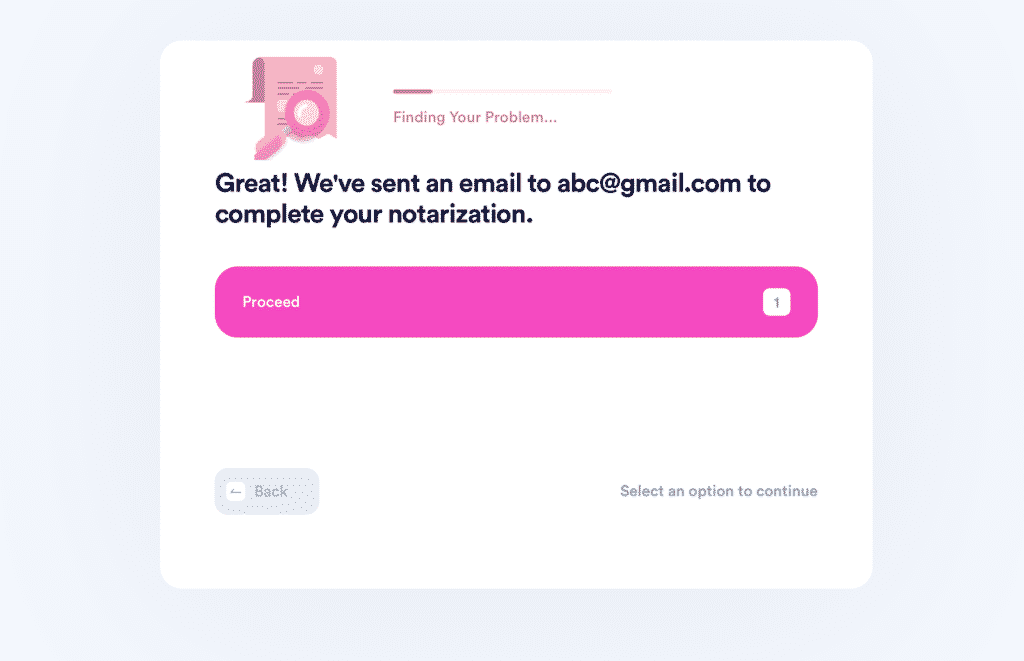 What About Creating Legal Documents?
DoNotPay knows that writing a contract is difficult, so we offer a range of legal documents and contract templates you can customize to your requirements.
To get your tailor-made document, follow these steps:
or sign in

Search for the document you want

Fill in the details you need included

Wait while we generate your document
Our fast-growing range covers business, property, and personal documents—here are some examples of what we can offer:
Property documents

Lease agreement

Real estate purchase agreement

Estoppel certificate

Quitclaim deed

Intent to purchase real estate

Business documents

Non-compete agreement

Non-disclosure agreement

Operating agreement

Independent contractor agreement

Bill of sale

General business contract

Personal documents

General affidavit

Custody agreement

Prenuptial agreement

Promissory note
Shortcuts and Solutions at Your Fingertips
DoNotPay provides both the easy way out and the easy way in. Use our app to get rid of spam emails, text spam, unwanted services, and unpaid parking tickets. We can also assist you in signing up for services without revealing your real number and getting free trials using our virtual credit card.
Our app is all about saving you time and money. Forget about the obsolete fax machine and post office—you can use DoNotPay to send faxes, mail letters, and connect with your incarcerated loved one.
DoNotPay Goes Above and Beyond To Help
We understand how bureaucratic hurdles get too much to handle. This is why so many of our products deal with these types of issues. From getting a document notarized, filing a warranty claim, and skipping the phone line when calling customer service to requesting a refund, booking a DMV appointment, and drawing up legal documents—there's not much we can't do for you.
Dealing with the never-ending paperwork is a thing of the past for DoNotPay users! Our app makes it easy to: