Where To Get a Will Witnessed and Notarized
With DoNotPay's Help
Your will ensures your legacy is safe and lasting. Once you have made all the big decisions on how to divide your estate between your beneficiaries, your final step is to have your will witnessed and notarized. The notary signature ensures that your will becomes a legal document and that it can't be contested after your death.
We know how important it is to understand how to notarize a document. DoNotPay is here to help you find out where to get a will witnessed and notarized easily.
What Is Involved in Witnessing and Notarizing a Will?
Before your will becomes a legally binding document, it must be witnessed and notarized. Both these steps are essential to make sure that no one can contest your will in court.
But what do these steps mean? Here is the explanation:
Witnessing

Notarizing
Witnessing
In most states, you need two people to verify that you are signing your will, are of sound mind, and are not under duress.
There are a few requirements for your choice of witnesses. They must be:
Of adult age (normally over 18, but some states may stipulate 21)

Not named as beneficiaries in your will

Not close relatives or the spouse of the will-maker or testator
Your witnesses must be present when you sign your will.
Notarizing
Using a notary service verifies that you are who you claim to be and that your will has been signed by you and your witnesses and not by someone else.
This means that you and your witnesses will have to sign your will in the presence of the notary, not beforehand. The notary then stamps, signs, and dates the document to attest to this.
The alternative to signing the will itself is to sign a self-proving affidavit, which is a separate document that attests that your witnesses understand what they are signing and why. The affidavit is attached to your will as proof of its validity.
Where Can I Have My Will Notarized?
There are many options for having your will notarized. You can find notaries in the following locations:
Type of Notary
Location

Notaries can be found in the following locations, among others:

Banks

, such as

Wells Fargo

or

Bank of America

Credit unions

Shipping facilities, like the

UPS

Accountancy practices

AAA

stores

Law firms

Courthouses

Public libraries

Car dealerships

Police departments

Realty agents

City or county clerk's offices

Mobile notaries travel to your location to perform their duties

Online notaries offer notarial services via video calls. Bear in mind that online notarization is currently only allowed in the following states:

Alaska

Idaho

Iowa

Minnesota

Montana

Nebraska

North Dakota

Tennessee

Vermont

Some states have introduced legislation to allow you to notarize documents via notaries from other states due to the COVID-19 pandemic, so it is best to check with your state authorities
How Do I Witness and Notarize My Will?
If you use any of the options above, you will need to go through the following steps:
Choose your witnesses, making sure they are acceptable under the law

Book an appointment

Take all the necessary documents with you

Attend the appointment together with your witnesses
You will have to arrange everything yourself, and you may have to wait a considerable time before an appointment slot becomes available. If you decide to visit a notary in person, you and your witnesses will have to travel to the notary's offices and possibly wait in line.
You can avoid all this hassle by using DoNotPay's notary service. DoNotPay can make witnessing and notarizing your will quick and painless.
How Does DoNotPay's Notarization Service Work?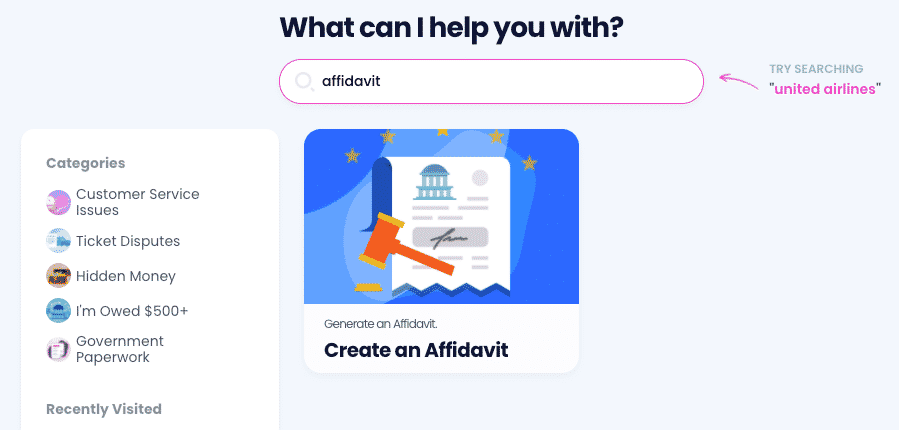 DoNotPay can arrange everything you need to get your legal documents notarized.
Our notarization service is easy to use—all you have to do is follow these steps:
Navigate to DoNotPay in your web browser and

sign up

Look for the

Notarize Any Document

section

Upload your will

Fill in your email address
Within a short time, we will contact you with a choice of appointments. Once you have chosen your slot, you and your witnesses should attend the online video meeting in which the notary will verify your identities and witness the signing of your will by all the parties. Your will is then notarized, and your legacy is secured.
DoNotPay knows that notarization can seem complicated, so we have a wealth of information to help you understand the process, including articles on:
What Other Services Can DoNotPay Offer?
In tandem with our notarization service, we can help you create customized legal documents for many of your needs.
On our website, you can:
Look for the legal document template you need

Fill in the details you want included

Wait briefly while your legal document is created
We offer the following contract templates and legal documents, among others:
Business
Personal
Property

Intent to purchase real estate letter

Quitclaim deed
DoNotPay Breaks Down Communication Barriers
Communication and new technologies walk hand in hand, and DoNotPay can smooth out any bumps on that road. On our platform, you can find useful tools for avoiding phishing emails and text messages, sending faxes online, stopping annoying robocalls, or signing up for new services without phone verification.
Contacting customer support is no party, but DoNotPay can make the process so much easier, whether you need to request a refund, demand compensation for a canceled flight, or file a warranty claim.
You can even use our platform for locating your loved ones in prison and sending them letters the proper way!
Can Your Virtual Assistant Do This?
Hey, Siri! Make me ready for my upcoming small claims court appearance. No luck? OK, Google! Prepare a DMCA notice for that website that uses my photos without authorization. Still nothing?
DoNotPay is the virtual assistant that won't back away from issues that require legal expertise. Our lawyer bots work around the clock to get you due date extensions for utility bills, reduce your property taxes, or stop stalking and harassment before it gets ugly.
The world's first robot lawyer will provide assistance even with securing compensation for victims of crime!