What a
Real Estate Notary
Does and How To Find One
If you need a notary for real estate and mortgage transactions, you require a real estate notary. Find out whether this is a special type of notary or whether any notary can notarize your documents. Follow our guide, and you'll get everything done online in minutes!
Who Can Notarize Real Estate Documents?
Real estate closing documents can be complex, especially with loans and mortgages. This is why most states only allow certain notaries to offer real estate notary services. Depending on the state, officials who can notarize real estate documents are:
Regular notaries

Notaries who became notary signing agents without any training

Notaries who passed training, exams, and even background checks to become notary signing agents
A
Mobile Notary Signing Agent
in a Nutshell
A notary signing agent is sometimes also called a mobile notary signing agent as they travel to their clients. They are also addressed as loan signing agents because they notarize real estate loan documents and help the borrower sign, initial, and date them.
Lenders, title companies, and mortgage finance companies hire loan signing agents to perform different tasks, such as:
Print loan documents

Fax or mail the paperwork

Meet with the signers

Assist a borrower with the documents

Notarize the signers' signatures by adding their seals and

signatures

Return the documents for processing

Handle real estate loan closing
Notary Signing Agent Requirements and Restrictions
While the requirements and restrictions vary by state, what they all have in common is that notary signing agents must be commissioned notaries. Here are several states that have special regulations regarding loan signing agents:
U.S. State
Regulations

New York

Vermont

Delaware

Georgia

Connecticut

Massachusetts

South Carolina

South Dakota

West Virginia

An attorney needs to be present or involved in the closing of real property transactions

Indiana and Maryland

A title insurance license is required for all closings

Nevada, Nebraska, and North Carolina

The fees that the loan signing agents can charge are limited. These fees also include an hourly travel fee based on the time of day when they travel
Where To Find Real Estate Notaries
Ways to find notaries who can notarize real estate documents depend on where you are. You may be able to look for any notary public or specific notary signing agent. Here are your options in the table below:
Method

Details

Finding notary signing agents online

Locating all kinds of notaries online

Visiting places that offer notary services

Banks

(e.g.,

Wells Fargo

and

Bank of America

)

AAA

locations

Courthouses

Real estate agencies

Public libraries

Credit unions and other financial institutions

Accountant offices

Insurance companies

Using DoNotPay

Sign up for DoNotPay

, and we'll find an

online notary

for you
Use DoNotPay To Get Any Document Notarized Online
With our app, you can have a document notarized online without any effort. Follow these instructions for an easy-breezy notarization:
Locate our

Notarize Any Document

product

Upload your document

Enter your email address
After completing these steps, you'll get an email from us. Tap on the provided link and schedule your virtual notarization appointment.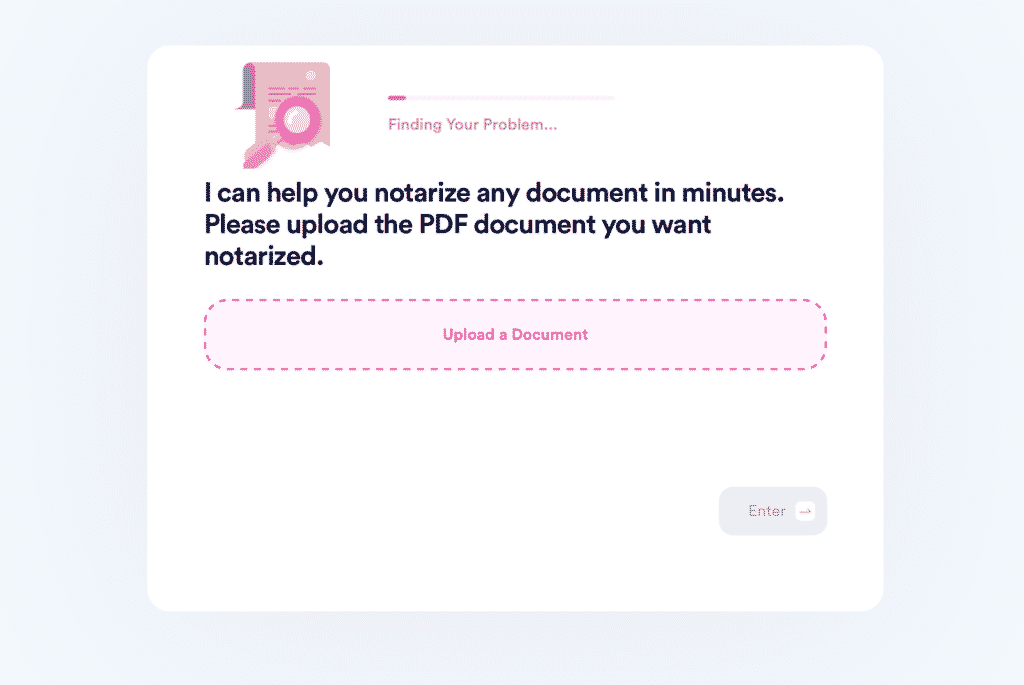 Answers to Your Notary Questions
DoNotPay offers other helpful guides that answer numerous questions regarding notarization, such as:
| | |
| --- | --- |
| General Notarization Questions | How Notarization Works in Different States |
| | |
DoNotPay Strikes Again—Create Legal Documents With Our Help
Once you have a DoNotPay account, all the features our AI-driven app has to offer are available to you. One of the tools we provide is the Standardized Legal Documents product, which draws up contracts and documents on your behalf.
Besides real estate documents—such as the estoppel certificate, quitclaim deed, residential lease agreement, and intent to purchase real estate—we can draft various documents, including:
General Affidavit

Promissory Note

General Business Contract

Child Care Authorization Form
We can also walk you through other agreements and provide helpful tips and guidelines when it comes to writing them. You may want to check out the following:
DoNotPay Has the Most Convenient Solution to Most of Your Problems
Whether you want to cancel subscriptions, request refunds for services, purchased items, or late delivery, or enjoy free trials without being charged, DoNotPay has a product for you. 
We strive to help you users solve their issues as quickly and effortlessly as possible. With us, you can enter various raffles and sweepstakes, claim warranties or insurance, report copyright infringement, and reduce your property taxes in less than five minutes. 
Protect Your Privacy With DoNotPay
Protecting your privacy can be challenging nowadays since most platforms require your phone number and email address upon registration. DoNotPay is here to ensure your personal info stays as secure as possible. Choose our Burner Phone product to register for services without phone verification or our virtual credit card if you want to use a randomly generated email address and payment details.
By using a fake phone number and email address, you can also avoid receiving annoying spam emails, text messages, and shady robocalls. DoNotPay can even make correspondence with inmates safer. If you don't feel comfortable sharing your address with an inmate, DoNotPay can receive the letters for you, scan them, and forward them to you risk-free.