Do I Need To Visit a Notary in San Bernardino To Get a Document Notarized?
Visiting a notary is no longer the only option when it comes to getting a document notarized. This article will walk you through various notarization methods at your disposal. Learn all about what a notary in San Bernardino does, what types of notaries there are, and what the quickest notary service is.
A
Notary Public
in
San Bernardino
101
Notaries in San Bernardino are appointed and commissioned by the California Secretary of State. California notaries have statewide jurisdiction, which means they can notarize anywhere in California. They are not allowed to perform notarization in any other U.S. state.
A notary can do the following notarial acts:
Take an

acknowledgment

Execute a jurat

Administer an oath or affirmation

Certify a

copy

of a power of attorney or a copy of the notary's journal entry

Note a protest of a negotiable instrument

Take a deposition or an

affidavit
During notarization, the notary:
Verifies your identity

Determines you will sign your document voluntarily

Establishes you are of sound mind

Checks the document for blanks spaces or any irregularities

Watches you sign the document

Signs

and stamps your document
Types of Notaries in San Bernardino
Before you start looking for a notary, you should get familiar with all the types. Check the table below for an overview of different notaries:
| | |
| --- | --- |
| Type | Description |
| Traditional notaries | You need to go to a notary's office so that they can notarize your paper document in person |
| Mobile notaries | A mobile or traveling notary can visit you or come to a location of your choice where they'll perform a notarial act |
| Electronic notaries | You can opt for an electronic notary if you want to notarize an electronic document. You have to visit them and upload or send your document so that the notary can notarize it |
| Notary signing agents | Notary signing agents or loan signing agents are employed to guide borrowers through loan documents and help them sign, date, and initial them |
How Can I Search for Notaries?
You can find a notary on different websites and set up an appointment or visit certain local offices that usually hire notaries and have your document notarized there.
Check out what places and websites you can visit:
Offices and Businesses
Websites

Courthouses

Real estate agencies

Public libraries

Credit unions and other financial institutions

Banks

(e.g.,

Wells Fargo

and

Bank of America

)

AAA

locations

Accountant offices

Insurance companies
If you , you won't have to bother looking for a notary on your own—we'll provide one for you in a flash!
Notary Fees in San Bernardino Explained
California notary fees are determined by the state notary statute. Notaries cannot charge more than the imposed cap on the notary cost. Here's what you can expect to pay for notary services:
Executing a jurat—$15.00

Taking an acknowledgment—$15.00

Certifying a copy of a power of attorney—$15.00

Administering an oath or affirmation—$15.00

Noting a protest—$15.00

Taking a deposition—$30.00

Administering an oath to a witness—$7

Providing a certificate to the deposition—$7

Notarizing signatures on vote by mail ballot identification envelopes or other voting materials—no fee

Notarizing an application or claim for a pension, insurance, allowance, allotment, compensation, or any other veteran's benefit—no fee
Mobile notaries and notary signing agents who visit their clients can charge more in addition to standard notary fees to cover their travel expenses. Administrative tasks such as copying, printing, and mailing can also be charged extra.
Is Remote Online Notarization Allowed in California?
Remote online notarization (RON) is not permitted in California at the moment. Many states have implemented RON due to the COVID-19 pandemic. The California Secretary of State suggests opting for mobile notaries following the advised social distancing or choosing an online notary from a state that allows RON, such as:
Online Notarization Made Possible With DoNotPay
If you want to get a document notarized online but looking for an out-of-state notary seems like a hassle, you're in the right place. DoNotPay will provide you with an authorized online notary so that all you have to do is and follow a few steps.
Do the following to schedule your virtual appointment with a notary:
Type in

Notarize Any Document

in the search field

Upload your document

Enter your email address

Follow the link we send you to book and confirm your appointment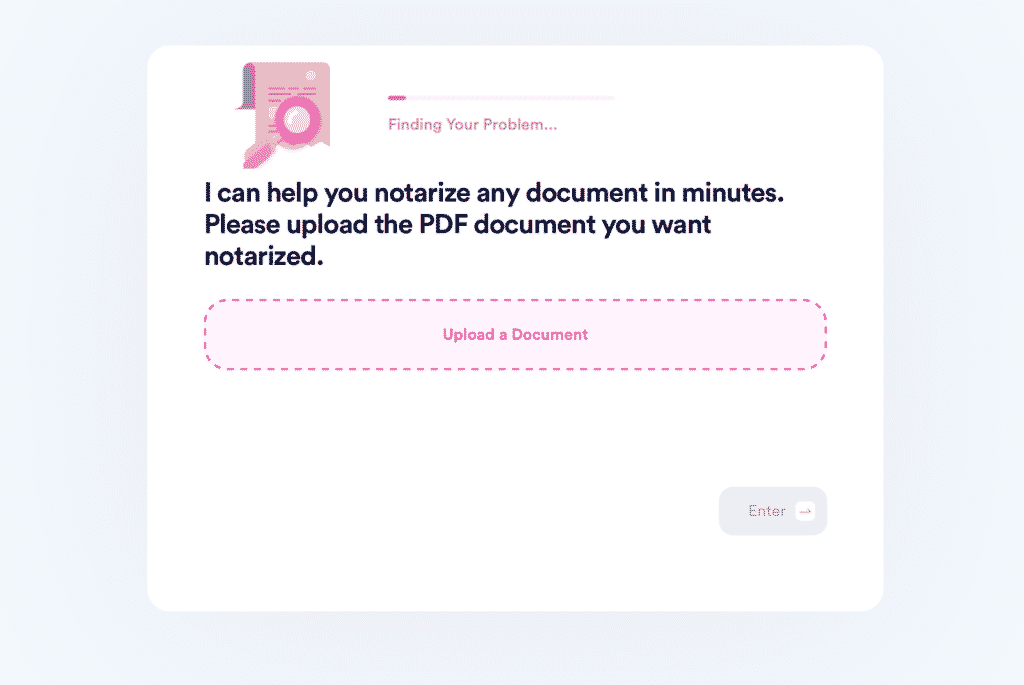 DoNotPay Provides Answers to Your Notary Questions
Turn to our learning center to find answers to your notary questions. We'll help you understand notarization better with our insightful articles, including the following:
Tired of Companies Not Taking You Seriously? Use DoNotPay To Put a Stop to It
If you're sick of companies that violate your consumer rights, DoNotPay is here to help. If you're struggling with reporting robocalls, requesting a refund, claiming any type of warranty, scheduling a DMV appointment, reporting spam text messages, or anything else, our robot lawyer will help you sue any firm or individual in small claims court.
With DoNotPay, you can also sign up for any free trial, cancel any subscription, avoid getting charged after your free trials end, and much more!
Want Your Money Back? DoNotPay Is Here To Help
Are you looking for your missing money? Do you want to get a refund for a delayed or canceled flight? Are you trying to flip the script on illegal robocalls and earn money off them? DoNotPay will assist you in dealing with any of these pesky issues!
We can also help you bypass phone number verification, sign up for clinical trials stress-free, ace any government test in a jiffy, and block spam emails for good.