Can I Notarize for a Family Member
? Find Out!
Can I notarize for a family member? Various factors come into play that will determine whether you can and should notarize a document for a family member. We'll help you figure out what you're allowed to do and suggest a course of action in case you aren't able to get your family member's document notarized by yourself.
Can a Notary Notarize for a Family Member
?
As a notary should be an impartial witness, it begs the question of whether they can notarize for family members. The answer depends on different factors, such as:
State regulations

Type of document or a notary's interest in the transaction stipulated in the document
The State Regulations
Some states don't allow notaries to notarize documents for their family members due to the conflict of interest. If you notarize for family, the document in question could be challenged or invalidated.
You should check your state's notary laws. You can do so by:
Visiting your state's official web page

Checking your state's notary law summary on the

National Notary Association (NNA) website

—select your state from the drop-down menu

Calling the NNA hotline and inquiring about it—

1-800-876-6827
The state laws vary considerably, and they're not always clear-cut, but they depend on which family member you want to notarize for. Check out how certain state view notarizing for family:
U.S. State

Notary Regulations

Texas

Doesn't restrict notaries from notarizing for relatives at all

Alabama, Montana, and

California

They allow notarizing for relatives but caution notaries against it

California doesn't allow notaries to notarize a document if they have a direct financial or beneficial interest (e.g., being named in the document, receiving a gift, or benefitting from a transaction the document mentions)

Florida

and

Massachusetts

Both states prohibit notarizing the signatures of a notary's spouse, children, or parents

Massachusetts extends this rule to domestic partners and half- and step-relatives

Oregon

, West Virginia, and North Dakota

These states only forbid notarizing for a spouse

West Virginia also cautions notaries to avoid notarizing for other family members

Pennsylvania

Notaries in Pennsylvania cannot notarize documents if the notary's spouse has a direct or financial interest in it
The Type of Document and the Notary's Interest
Even if the state you live in doesn't explicitly forbid notarizing for family members or relatives, you shouldn't notarize a document if you directly benefit from it—financially or otherwise. Your involvement in the document may discredit it in the future.
Sometimes, even if the document doesn't mention you by name, you would be considered a beneficiary. For example, in a community property state, a transaction involving your spouse could automatically include you too.
A notary should always maintain their integrity and avoid the appearance of bias since they are a disinterested third party providing a notary service.
Why Else Can Notaries Refuse To Provide Notary Services?
Regardless of whether you are allowed to notarize for a family member or not, there are certain instances where a notary can or should refuse to notarize a document:
Signer is a minor

Signer is not present

Document has blank sections or is missing pages

Signer doesn't own a valid photo ID or other acceptable identification

Signer is not of sound mind—intoxicated, heavily medicated, or mentally unstable

Notary detects signs of fraud or coercion

Signer cannot or won't pay the

notary fees

Document is in a foreign language the notary doesn't understand

Document does not include a notary certificate or other type of statement with a section for a

notary signature
Your Family Member Can Use DoNotPay To Get a Document Notarized
In case you're unable to notarize a document for your family member, they can use DoNotPay to notarize it! Our AI-powered app matches a person with an online notary within minutes and helps you set up an appointment.
The perks of using DoNotPay to obtain notary services are the following:
Skipping searching for notaries on your own

Getting documents notarized on any device

Notarizing from home

Using other DoNotPay products
Using our app to find and book a notary takes only several clicks! Here's how it works:
Type in

Notarize Any Document

Upload the document you want to notarize

Enter your email address
If you click on the link we send you via email, you'll be able to book a notary appointment with ease.
Draft and Notarize Documents Using DoNotPay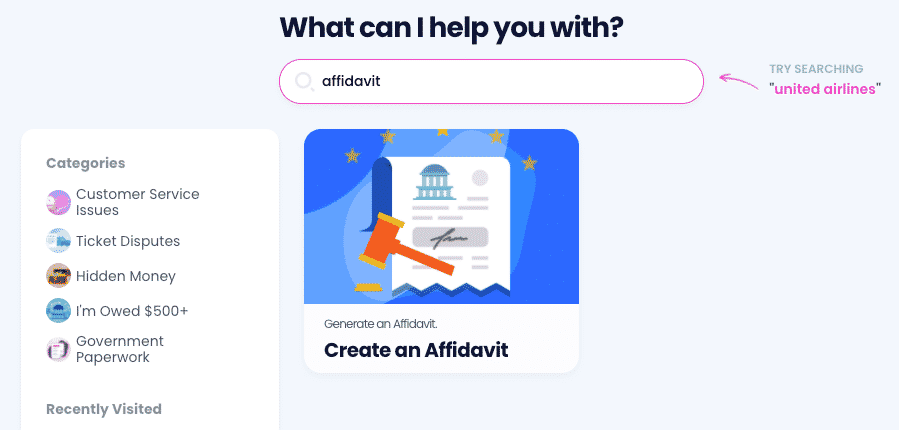 One of the numerous features our app has to offer is the Standardized Legal Documents tool. Before notarizing, this feature lets you create various legal documents with our assistance.
You can use DoNotPay to:
Draft a document

Fax and e-sign it

Notarize it
Rely on the world's first robot lawyer to draw up customized documents, such as:
Document Type
List of Documents

Real estate

Intent To Purchase Real Estate

Residential

Lease Agreement

Quitclaim Deed

Estoppel Certificate

Business

Other

Promissory Note

General Affidavit

Child Care Authorization Form
Tired of Companies Not Taking You Seriously? Use DoNotPay To Put a Stop to It
If you're sick of companies that violate your consumer rights, DoNotPay is here to help. If you're struggling with reporting robocalls, requesting a refund, claiming any type of warranty, scheduling a DMV appointment, reporting spam text messages, or anything else, our robot lawyer will help you sue any firm or individual in small claims court.
With DoNotPay, you can also sign up for any free trial, cancel any subscription, avoid getting charged after your free trials end, and much more!
Want Your Money Back? DoNotPay Is Here To Help
Are you looking for your missing money? Do you want to get a refund for a delayed or canceled flight? Are you trying to flip the script on illegal robocalls and earn money off them? DoNotPay will assist you in dealing with any of these pesky issues!
We can also help you bypass phone number verification, sign up for clinical trials stress-free, ace any government test in a jiffy, and block spam emails for good.