How Long Is a Notarized Document Valid? We Have the Answer!
How long is a notarized document valid? If you've had it for a while, you may wonder whether it can expire, or you may want to know it before notarization. We'll help you understand how notarizing documents works and answer your question. You can also count on our assistance for future notarizations. Sign up for DoNotPay to get a document notarized remotely with zero effort!
A Breakdown of Notarization
Notarization is the fraud-deterrent process that proves a document or a signature on a document is authentic. It is performed by a public official called a notary, who is appointed to witness the signing of a document and provide notary service by doing one of the following notarial acts:
Certify a

copy

Take an

acknowledgment

Administer an oath or affirmation (

affidavits

typically require oaths)

Take a verification on an oath or affirmation
Check the table below for a breakdown of the notarization process:
| | |
| --- | --- |
| Steps | Brief Description |
| Checking the signer's identity | The notary will check the signer's ID or another type of identification and ask several questions to verify their identity |
| Establishing the signer is willing to sign | The signer has to understand the content of the document and the terms they're agreeing to. They need to show they're signing it out of free will |
| Determining the signer is of sound mind | The signer needs to be sober and mentally stable during the notarization |
| Witnessing the signing | The notary witnesses the signer signing the document |
| Signing the document | The notary signs the document and adds a seal if necessary |
Notary Certificates, Signatures, and Seals Explained
Every document that is notarized needs to have a notarial certificate. This is a written statement certifying the notarial act that was performed. Depending on the notarial act, the certificate will have different wording.
The most important part of a notarized document is the notary's signature. The notary must sign the document in the exact same way as they did on their notary commission.
Most states require notaries to add their seals or stamps when notarizing. Typically, a seal should include the notary's name, the words "notary public," and the date when the notary's commission expires. The purpose of the seal should be to authenticate the notarial act.
With these three elements, the document is officially notarized.
Does a Notarized Document Expire?
The notarization of a document does not expire. If the date shown on the seal used in notarization is valid, so is the document. This means that as long as the notary notarizes a document before their commission expires, the notarization is valid.
When it comes to the document itself, it depends on the type of document and its content. If the document is a lease specifying a one-year rental period, the contract is no longer legitimate after the mentioned period ends.
If you're not sure whether your notarized document is still valid, you can seek an attorney's advice or help from the court.
When Can a Notarized Document Be Rejected?
The court or any receiving party of your notarized document may reject it and deem it invalid in certain instances, such as those including:
Correction fluid usage

Stamp over a section of text

Incomplete notarial certificate

Illegible or expired notary seal

Incorrect signer's name or place of residence
Find More Answers to Your Notary Questions
As notarization can be a confusing and complicated process that differs across the U.S., you are likely to have a lot of questions. Our learning center is here to provide answers! Here's only a part of what we can help you learn about—general notary questions and notarization in different states:
| | |
| --- | --- |
| Notary Questions | Notarization in Different States |
| | |
Need a Notary? Turn to DoNotPay!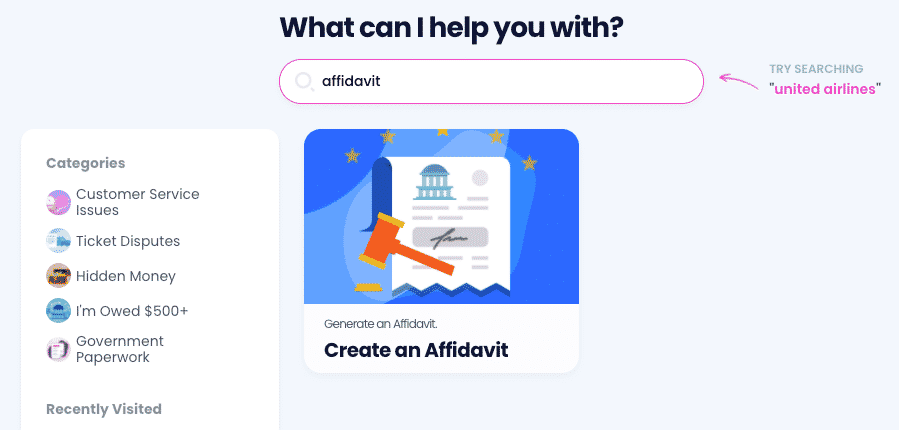 If you need to notarize a document, DoNotPay can help! Our app will match you with an online notary in a matter of minutes and help you arrange your remote online notarization.
Sign in to your DoNotPay account and follow these steps:
Navigate to our

Notarize Any Document

product

Upload your document

Give us your email address

Follow the link you receive via email
Once you follow this link, you can pick the date and time of your notary appointment and confirm it.
The Perks of Using DoNotPay To Book a Notary
Using our app to get your document notarized isn't all you can do with our help. Once you sign up, you can enjoy our other services, including faxing and drawing up legal documents. DoNotPay can help you draft a personalized document before you go about notarizing it.
Here's all you have to do to create numerous contracts and agreements:
Type in the document you want the app to generate

Answer a few questions to customize it
Admin Issues Giving You a Headache? Resolve Them With DoNotPay!
Scheduling a DMV appointment, applying for clinical trials, requesting refunds from companies, and getting in touch with your loved ones in prison are all difficult and time-consuming tasks. You have to take many steps before you can get any of these over with, and that's why our robot lawyer app is here to help.
No matter if you need assistance with appealing parking tickets, signing up for free trials, canceling various subscription services, or maybe preparing for government tests, DoNotPay will provide you with easy solutions.
Having Financial Struggles? Rely on the World's First Robot Lawyer
Many Americans struggle to make their ends meet at the end of each month. With that in mind, we've created plenty of features that will save you both time and money in the most efficient way. 
Using our AI-driven app, you can get help with bills, get refunds from airlines, find unclaimed money in any state, or earn off annoying robocalls or stalkers and harassers. If you want to fight for your right, DoNotPay will also assist you in suing any person or company in small claims court.
No matter the admin task at hand, our robot lawyer will provide swift and effective assistance.