Can a Notary Notarize a Document Already Signed
? DoNotPay Has the Answer!
Some documents, such as wills, affidavits, and powers of attorney, have to be notarized. The standard procedure is to sign the document in the notary's presence. But can a notary notarize a document already signed?
DoNotPay will answer this question and provide the most practical way to notarize any legal document!
Does a Notary Have To Witness a Signature
?
In most cases, but not always, a notary has to witness a person signing the document. Notaries sometimes receive already signed documents for notarization. The reasons can be trivial, including a person not knowing that the contract requires notarization in the first place. 
To know whether a notary has to witness a signature, you must first understand two types of notarial acts. Those are:
An acknowledgment is a person's declaration that they have signed the contract of their own free will. Since the individual is acknowledging their signature, they could have signed the document some time ago. As long as the person confirms the signature belongs to them, the notarial act can continue.
An oath requires that a person swears that the statement from the document is true and signs it as the acceptance of that statement. The execution of the jurat, including the signing, requires a notary's presence.
How Does a Notary Validate an Already Signed Document?
When presented with an already signed document, a notary has to follow a specific procedure. The first step is to check what type of notarization is required. The following steps depend on whether the document contains an acknowledgment certificate or a jurat.
You can see the details of both processes in the table below:
Notarial Act
Acknowledgment 
Oath

A notary must use a signer's ID to determine if the name, face, and signature on the ID match those of the person present. If the individual has already signed the document, a notary will compare the signature from the ID to the one on the document. A person doesn't have to re-sign the contract, as long as they  can confirm to the notary that they have signed it willingly

If there is a jurat at the bottom of an affidavit, the individual will have to re-sign the document. The notary will typically:

Cross out the previous signature

Explain why a new signature is required

Ask the individual to swear under oath that they are signing the document willingly

Wait for an affirmative response before asking for a new signature
In both cases, a notary will enter the current date of notarization in the notary certificate, regardless of when the document was previously signed. 
How To Notarize an Already Signed Document With DoNotPay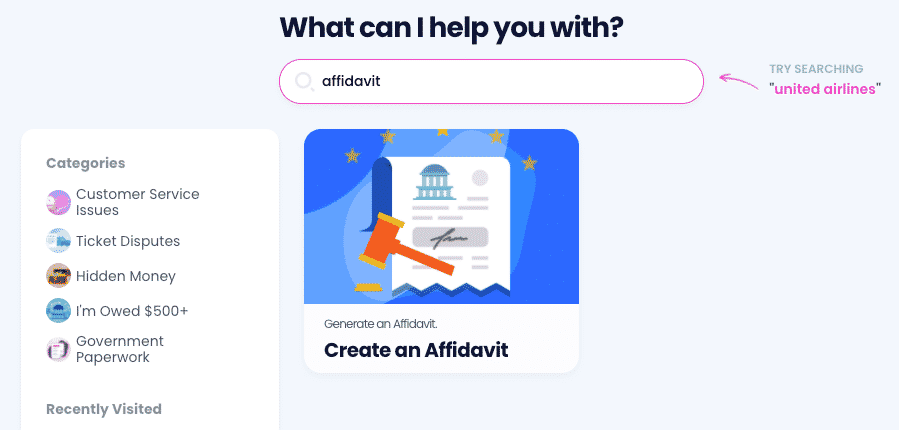 DoNotPay has developed a practical feature that can help you notarize any legal document within minutes. You won't have to look for local notaries and wait for weeks to get the notary's signature. Our app will enable you to schedule an online appointment with the notary at your earliest convenience!
Here is a step-by-step guide to accessing our service:
Choose our

Notarize Any Document

feature

Upload the document you want to notarize

Click on the link we'll send you via email
Once you click on the link, you will be able to confirm your appointment with the online notary. During the video call, you will be asked to re-sign the document or acknowledge your signature. The notary will send the contract back to you after completing the notarial act.
DoNotPay's Legal Documents Feature Will Blow Your Mind!
One of our numerous features can help you create legal documents! You won't have to pay for legal services or draw up the contracts yourself. If you provide essential info, DoNotPay will generate a personalized legal document for you. Here is how the process goes:
Enter the name of the document 

Answer the questions from our chatbot

Download your contract 
Our features integrate to give you the ultimate experience. After you receive your document, you can notarize and fax them from the same platform! 
Check out various legal documents we can create:
Business 

General Business Contract

Real Estate

Quitclaim Deed

Estoppel Certificate

Intent To Purchase Real Estate

Miscellaneous

General Affidavit

Promissory Note
What Other Notary-Related Questions Can DoNotPay Answer?
If you want to find out more about various notary services across the U.S, check out our knowledge base!  We can teach you how to notarize documents in Texas, Illinois, Florida, and Colorado. Our comprehensive articles will solve many more dilemmas, such as:
Forget About Bureaucracy With DoNotPay
There's no end to what our app can help you do. From drafting legal documents and asking for bill extensions and reducing property taxes to connecting with an inmate in a federal prison and contesting parking citations, DoNotPay can handle it all and cut through the red tape.
Need to pass a government test? Use our practice tests database to nail it. Looking to file an insurance claim? You've come to the right place. College applications drained your accounts? Request college fee waivers with our assistance.
The DoNotPay app is so versatile that it can easily locate any unclaimed funds under your name or any clinical trials that you're eligible to participate in. We can also schedule DMV appointments and take care of your small claims court documents.
Check Out What Else DoNotPay Has in Store
DoNotPay never stops upping the game. You can explore some of our latest features and see how you can access public records, receive free online fax, submit a warranty claim, or get compensation if you were a victim of a crime.
Alternatively, check out some of our most popular products that aim to reclaim your funds—from getting airline flight compensation and submitting refund and chargeback claims to canceling your unused subscriptions and getting class action cash from email, text, and robocall scammers.