Does a Promissory Note Need To Be Notarized
? Find Out With DoNotPay!
Most legal forms, such as wills, trusts, affidavits, and court documents, need a notarized signature. But does a promissory note need to be notarized as well? 
Promissory notes have to incorporate specific sections to be legally valid. If you want to find out whether notarizing them is a requirement, DoNotPay knows the answer.
We will share useful tips on how to notarize any legal document easily!
Does a Promissory Note Have To Be Notarized
?
Promissory notes don't have to be notarized to be enforceable in court. While it's not a requirement, a notarized promissory note can:
Strengthen the legality of the document

—It never hurts to add an extra layer of protection in case you have to use it in court 

Eliminate any disputes over its authenticity

—you may be asked to prove that the contract is authentic, and a notarized signature is all the proof you need
States have different requirements about notarizing promissory notes. You should talk to your attorney or research your state's related website for more information.
What Makes a Promissory Note Legally Valid?
Promissory notes are essential in the business world because banks and other companies use them to ensure the borrower will pay off the debt. 
If the debtor fails to meet the contract conditions, the lender can use the promissory note to enforce payment in court. 
Promissory notes have to meet specific requirements to be legally valid. Necessary sections of a valid promissory note include:
Parties involved in the transaction

Promise that one party will pay a specific sum to the other party

Debt amount and penalties for not paying on time

Signatures of involved parties
Where Can I Notarize a Promissory Note?
Notaries are fairly easy to find if you know where to look. Check out some common institutions that offer notary services:
Places Offering Notary Services

Details

Public libraries

Most public libraries not only offer notary services but provide them at an affordable price

Banks

and credit unions

Banks are the most common places to find notaries. If you are a bank employee, you may qualify for a free notary service 

Large companies

Big companies typically have a notary on staff to speed up in-office notarizations. If you work for such a company, one of your colleagues may be able to help you

Local businesses (real estate offices, insurance firms, and car dealerships)

Check if the businesses in your area have a notary on site

Government offices

Many local government offices, such as City Hall, Town Hall, or County Clerk, offer notary services
How To Notarize a Promissory Note 
You can notarize your promissory note in person or online. Notarizing online is a more practical option. Some states, such as Utah, Texas, Florida, or Kentucky, started to notarize documents online a long time ago, and others have joined recently due to the coronavirus outbreak. Before opting for online notary services, check if your state of residence allows it and what the process is.
Take a look at how the in-person and online methods work:
Steps for Notarizing in Person
Steps for Notarizing Online

Find a local notary

Schedule an appointment

Go in person (or arrange with a mobile notary to visit you)

Pay a fee

Provide an identification document

Sign the document 

Get a notarized signature and seal

Select an online notary service

Create an account

Upload your document

Sign a document during a live video call with the notary

Wait for the notary to send a signed and sealed document back to you
Notarize Your Promissory Note With DoNotPay in a Jiffy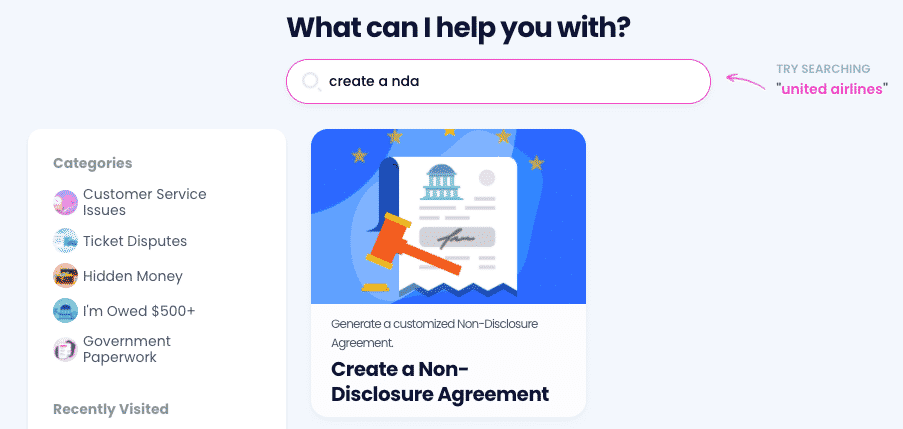 Notarizing a promissory note doesn't have to be complicated or time-consuming—if you use DoNotPay! 
We have designed a special feature to help you notarize legal documents without hassle. If you provide essential info, we will find the notary and schedule an online appointment. You can finish the whole process without leaving your home!
Take a look at some of the advantages our app provides:
Authorizing your document from any digital device

Validating your promissory note according to your schedule

Not wasting time on the lengthy in-person procedure
Here is what you have to do to authorize your promissory note:
Access DoNotPay from a

web browser

Enter

Notarize Any Document

in the search bar

Upload the promissory note

Provide your email address
We will send you a link via email, and your virtual appointment with the notary is a click away.
Create and Notarize Numerous Legal Documents With DoNotPay!
Our app doesn't stop there! DoNotPay provides so much more than notarizing legal documents. 
We have integrated the notarization service with our Standardized Legal Documents feature to let you create, notarize, and even fax your promissory note in the same app!
Take a look at some of the contracts and agreements you can create, notarize, and fax with our help:
Contracts
Agreements
Miscellaneous docs

General Business Contract

Estoppel Certificate

General Affidavit

Promissory Note

Quitclaim Deed

Intent To Purchase Real Estate
Forget About Bureaucracy With DoNotPay
There's no end to what our app can help you do. From drafting legal documents and asking for bill extensions and reducing property taxes to connecting with an inmate in a federal prison and contesting parking citations, DoNotPay can handle it all and cut through the red tape.
Need to pass a government test? Use our practice tests database to nail it. Looking to file an insurance claim? You've come to the right place. College applications drained your accounts? Request college fee waivers with our assistance.
The DoNotPay app is so versatile that it can easily locate any unclaimed funds under your name or any clinical trials that you're eligible to participate in. We can also schedule DMV appointments and take care of your small claims court documents.
Check Out What Else DoNotPay Has in Store
DoNotPay never stops upping the game. You can explore some of our latest features and see how you can access public records, receive free online fax, submit a warranty claim, or get compensation if you were a victim of a crime.
Alternatively, check out some of our most popular products that aim to reclaim your funds—from getting airline flight compensation and submitting refund and chargeback claims to canceling your unused subscriptions and getting class action cash from email, text, and robocall scammers.