How To Get Something Notarized Without Being Present—Use DoNotPay!
Having a seal and signature from an authorized notary public is how you get any document enforceable by law.
What happens when you can't find a notary service near you or you can't make it to your scheduled meeting? Seeing as you usually need those documents right away, having to go to a notary in person or failing to make it to the appointment is a strain.
Because people need to get documents notarized often these days, online notary services have become the norm—but do they imply you don't have to be present during the process?
In this article, you'll learn how to notarize a document without having to show up in person and how to get the quickest online notary appointment ever!
Can You Get a Document Notarized Without Being Present?
To find out whether you need to be present in front of a notary while they're performing a notarial act, you need to understand what notaries do.
The primary purpose of having a notary public certify your document is to prove you're signing the document willingly. It is illegal for a notary to seal and sign a document without witnessing your signature.
Having a notarized document also means that:
Your document is authentic and legally enforceable

No fraud was in place during the signing of the document

The identity of the signer was confirmed

Institutions will recognize the document as valid
What Services Can Notaries Perform, and Which Ones Require Your Presence?
In some instances, you can get a notary to perform their service without you being present, but that depends on what kind of service you need or what document is in question.
Here's a list of what some of the most common services a notary performs are and whether they require your presence:
Notarizing an affidavit

—An affidavit is a sworn statement. You, as an affiant, swear that the statement in writing is true and have to sign it in front of a notary

Witnessing an acknowledgment

—An acknowledgment is an act of confirming to the notary that you signed the document you need notarized willingly. Documents that usually require acknowledgments are deeds, contracts, or powers of attorney. While you don't have to sign the document in front of a notary, you do need to be present to make an acknowledgment. The document you bring needs to have your original signature

Notarizing a copy of a document

—A notary needs to have both the original and the copy of a document if you want to get a certified copy from them. This notarial act also requires your presence

Verifying a power of attorney document

—If you have appointed an agent to act as power of attorney for you, they can sign and notarize a document for you. To appoint a power of attorney is an action that requires notarization to begin with
As you can see, you need to be present during the notarization process in most cases.
The easiest and quickest way to get any document notarized is using our AI-driven app—DoNotPay. Sign up now if you're looking for a time-efficient and cost-effective way of notarizing any document!
Can You Get Something Notarized Remotely?
More and more states in the U.S. recognize remote notarization as a lawful method of certifying documents. Even the majority of those that didn't allow notaries public to perform services online started doing it in 2020.
Here's a noncomprehensive list of the states with permanent and temporary remote notarization in effect:
| | |
| --- | --- |
| Permanent Online Notarization Allowed | Temporary Online Notarization Allowed |
| | |
If you live in a state that lets notaries perform duties online due to the COVID-19 pandemic, you should double-check whether the decision is in effect at the time you need a document notarized.
How Does Online Notarization Work?
Getting a document notarized online is much more efficient than going to a notary's office. You don't have to start up your car and waste time, money, and patience to get a notary's signature.
Here's how the process works:
You set up a virtual appointment

The notary forwards you a link that lets you access the virtual appointment

You provide your identity documents, like an ID, a driver's license, or a passport

You e-sign the document that is displayed on the screen

The notary signs and seals the document
At one point during the online notarization process, you will have to pay a fee. Most remote notaries ask for up to $25 for a single page. This is a lot compared to a few bucks you would give if you went to a UPS or a Wells Fargo branch, but that is not the solution either.
Let DoNotPay Schedule a Virtual Notary Appointment for You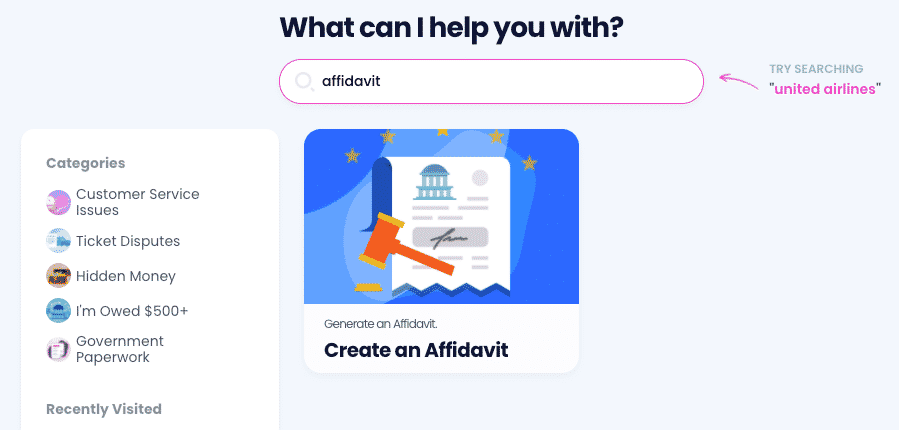 DoNotPay's Notarize Any Document feature allows you to get any document notarized remotely without paying exorbitant prices. You only need to:
Go to the

Notarize Any Document

feature

Upload the document you need certified

Type in your email address
You will quickly get an email with a link, and you will be able to schedule your online notary appointment in no time!
DoNotPay Helps You Scam Scammers
DoNotPay helps you stay safe from scammers and fraudsters! 
We have developed a Virtual Credit Card product that helps you sign up for free trials without revealing your real banking information to any suspicious company. We've joined our most popular feature with a Burner Phone functionality that allows you to verify online accounts with a temporary phone number. 
That way, you'll be free to enjoy services while they're free of charge, eliminate the possibility of robocalls, robo texts, and spam emails from the shady companies, and forget about canceling the subscriptions altogether—our product does it for you!
DoNot Pay can even shield you from cyberstalking and online harassment and get you compensation for the crime you've suffered. We'll even help you take individuals or businesses to small claims court by drafting the relevant paperwork for you, accessing any public records that might bolster your case, and supplying you with a court script that you can read to the judge on the day of the hearing.
DoNotPay Is Helping You Out Left and Right
Not only can DoNotPay handle bureaucratic nuisances on your behalf, but we can make your daily life easier too!
No more waiting in endless phone queues to make a warranty claim for a faulty product or wasting the day away in mile-long DMV lines—our app will do the hard work for you! We'll call the reps of any company—even major airlines—and schedule appointments on your behalf in a matter of minutes!