Does an Eviction Notice Have To Be Notarized
? Get the Scoop!
When creating a lease agreement, you should keep in mind all the future situations that can occur. It is not rare for landlords and tenants to disagree and for a landlord to evict the person they are renting the property to. 
Does an eviction notice need to be notarized? DoNotPay has the info and can tell you how to notarize any document you need!
So, Does an Eviction Notice Need To Be Notarized?
An eviction notice does not have to be notarized before a landlord gives it to the tenant. After the landlord serves the tenant, they need to complete a proof of service and sign it before a notary public. This is necessary for filing a lawsuit at court because a copy of the notice is required together with the proof of service and the notary's signature.
In case the tenant refuses to obey the eviction notice and does not move out, the landlord has the right to file a case to evict them. It is important not to file the case before the notice period expires. The tenant can have the court case dismissed if the landlord files too soon.
What Are the Documents That Need To Be Notarized?
If you want to make sure the legal document you plan on signing has legal weight, you may need to take it to the notary. The rules about document notarization are often state-specific, but there are some contracts that should be notarized no matter the state:
Wills

Loan documents

Real estate deeds

Trusts

Power of attorney forms

Business/employment contracts

Consent forms
You can also learn more about the available notarization techniques. All the states allow the traditional way of notarizing documents that involves you going to a notary's office. Modern times and requirements brought a more convenient option along—online notarization.
Not all states have online notaries, but when using DoNotPay, you will be able to navigate this limitation with ease.
Why Is Online Notarization a Better Choice Than In-Person Notarization?
When states allow it, you may choose between notarizing a document in person or online. The latter option is easier and more efficient. Online notarization takes less time and no trips to the notary's office. 
Take a look at the table below to learn what steps these two methods usually involve:
In-Person Notarization
Online Notarization

Locate a notary in your vicinity

Make an appointment

Visit the notary's office in person

Pay a necessary fee

Provide an identification document

Get a notarized signature and seal

Choose an online notary service

Make an account

Upload your document

Sign a document when you have a virtual meeting with the notary

Wait for the notary to send a signed and sealed document to you
Utah, Florida, and Kentucky are some of the states that offer online notarization. Many states have recently started allowing this procedure due to the global pandemic. You always need to check the rules for a state you are located in. 
Even though some states don't allow in-state online notarization, you can get online notary services from another state in no time if you use DoNotPay!
DoNotPay Can Help You Notarize a Legal Document Fuss-Free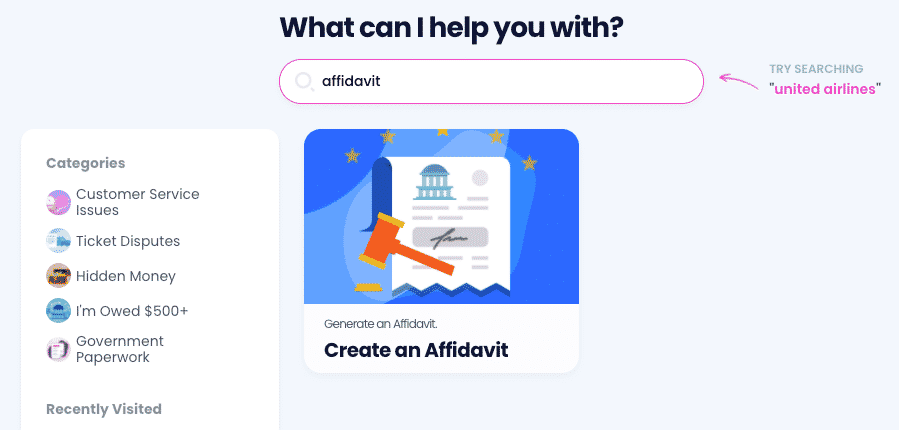 If you want to get a document notarized fast and stress-free, you should turn to DoNotPay for help. Our app will assist you in a matter of minutes. You only need to follow four simple steps:
Sign up for DoNotPay

in your favorite web browser

Locate and open the

Notarize any Document

product

Upload the document you wish to get notarized

Enter your email address in the provided field
The only part left is to wait to get an email from us and confirm an appointment with a notary. The meeting will be virtual, and the notary will verify your signature during the process.
If you want to draw up another legal document, you won't have to leave our app to do so! DoNotPay offers an option of generating contracts and agreements of all kinds.
DoNotPay Generates Legal Documents in the Blink of an Eye!
If you want to create a legal document the easiest way, you should open DoNotPay in any web browser. When you find the Standardized Legal Documents tool, follow the simple on-screen instructions.
Our database of legal documents is extensive and keeps on growing. Take a look at the table below for the currently available choices:
Real Estate
Business Agreements
Miscellaneous

Quitclaim Deed

Intent To Purchase Real Estate

Estoppel Certificate

General Business Contract

General Affidavit

Promissory Note
DoNotPay will make sure you get a legal document tailored for you specifically, unlike the generic contract template options you can find online. If you wish to learn more about other agreements, you can research more of our guides:
Keep Your Money in Your Pocket and Save Time
With our assistance, you can also appeal parking tickets in any city, get help with bills, make an appointment with the DMV, protect your copyright, and avoid phone number verification!
If you feel like you were wronged either by a faulty product or a delayed or canceled flight, DoNotPay will also help you request a refund from any company or airline hassle-free.
Being on a tight budget isn't easy—knowing that, we've developed features that will get you free trials, unclaimed money, extended warranties, college application fee waivers, and so much more!
Fend Off Scammers With DoNotPay's Help
Are you sick of having a cluttered inbox or getting robocalls? So are the majority of Americans. If you want to get rid of email spam, text message spam, or annoying robocalls, DoNotPay can help you put a stop to them once and for all.
Do you feel like serving justice to companies that wronged you or stalkers and harassers that won't give you a break? Use our AI-driven app to fight for your right!