Understanding a Notary Signing Agent's Job
A notary signing agent may seem like they are a regular notary, but there are vast differences between the two. We'll explain what notary signing agents do and compare them to other types of notaries and their notary services. Regardless of what type of document you need to notarize, you can count on DoNotPay for help!
Notarization Explained
Before we get into the differences between a notary public and notary signing agent, you should understand what notarization is. When a notary notarizes a document, it's called notarization. Here's a breakdown of the entire process:
Steps

Explanation

Verifying your identity

You must bring your ID to the notary appointment. The notary will check it and ask you several questions

Establishing your willingness to sign the document

You need to say that you are not forced into a contract

Ensuring you are of sound mind

A notary can refuse to notarize a document if you are intoxicated or mentally unstable

Witnessing the signing

You must sign a document in the presence of a notary

Signing the document

A notary adds their

signature

and a seal. They should also keep a record of the notarization in their journal
What Is a Notary Signing Agent
?
A notary signing agent is a certified notary who handles and notarizes loan documents. They are essentially notaries with additional training to perform other services. They usually need to pass a background check as they manage private and sensitive information.
Typically, lenders, title companies, and mortgage finance companies hire notary signing agents to help carry out the loan process and make it easier for the borrower.
What Does a
Certified Notary Signing Agent Do?
The responsibilities of notary signing agents include the following:
Printing loan documents

Meeting with the signers

Helping a borrower initial and sign certain pages

Notarizing the signers' signatures

Returning the documents for processing

Handling loan closing

Faxing or mailing paperwork
Finding
Notary Signing Agencies
You can search for notary signing agencies or independent agents online or use different websites, such as Signing Agent, Notary Quest, and Superior Notary Services.
How Much Does a
Loan Signing Notary
Charge?
Notary signing agents usually charge a flat fee for their services. Depending on the state, it ranges from $75 to $200. The signing agents can also charge for their extra work, such as printing and delivering documents.
The services of notary signing agents are much more expensive than those of notaries public. They typically charge per signature, while some may charge per document. The notary cost is between $0.25 to $25.
Other Types of Notaries Besides the
Notary Loan Signing Agent
A notary signing agent and a notary public can be mobile notaries. This means that they can travel to their clients' homes or other locations and operate there. Another type of a notary is a remote or online notary. While both the regular and mobile notaries notarize documents in person, online notaries do so via a video call. Check out the comparison of the two notary services:
In-Person Notarization
Online Notarization

Search for a notary

Set up an appointment

Visit the notary or have them visit you

Bring your document and a valid ID with you

Sign your document before a notary

Receive a notary signature

Pick an online notarization service

Sign up

Upload your document

Join a video call with a notary

Sign the document

Get a digital notary signature
Turn to DoNotPay for
Notary Signing
DoNotPay can help you get any document notarized online. You can rely on us to employ a notary and help you set up your appointment in a flash. Follow these instructions for a care-free notarization:
Visit our app in a

Locate our

Notarize Any Document

feature

Upload a document

Enter your email address
After these steps, you'll get an email from us. This email will contain a link that you should follow to schedule your notary appointment.
The Advantages of Using DoNotPay for Notary Services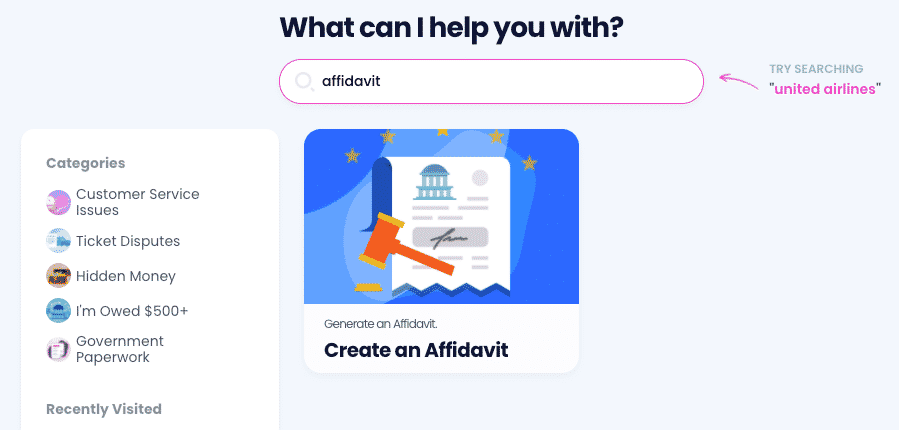 Online notarization offers convenience and guarantees a faster process than in-person notarization. If you're still uncertain which one you should choose, 's perks may convince you to forget all about in-person notarizing:
You don't have to look for a notary

You can stay home and get your document notarized

DoNotPay lets you use all our products along with the

Notarize Any Document

one

Our

Legal Documents

feature creates contracts and agreements on your behalf
Our app makes it possible to draft, fax, and notarize a legal document using one device with the help of a virtual assistant.
Find Answers to More Notary Questions
We can provide more answers regarding notaries and notarization. Check our articles for guidance, tips, and tricks if you're asking the following questions:
Tired of Companies Not Taking You Seriously? Use DoNotPay To Put a Stop to It
If you're sick of companies that violate your consumer rights, DoNotPay is here to help. If you're struggling with reporting robocalls, requesting a refund, claiming any type of warranty, scheduling a DMV appointment, reporting spam text messages, or anything else, our robot lawyer will help you sue any firm or individual in small claims court.
With DoNotPay, you can also sign up for any free trial, cancel any subscription, avoid getting charged after your free trials end, and much more!
Want Your Money Back? DoNotPay Is Here To Help
Are you looking for your missing money? Do you want to get a refund for a delayed or canceled flight? Are you trying to flip the script on illegal robocalls and earn money off them? DoNotPay will assist you in dealing with any of these pesky issues!
We can also help you bypass phone number verification, sign up for clinical trials stress-free, ace any government test in a jiffy, and block spam emails for good.